Insect Effect Home
Turning part of your yard into an insect-friendly habitat is one of the number one ways you can help curb global insect decline.  See below for four ways to turn your yard into a bug paradise.
1. Diversify your landscaping.
Why?
The U.S. is home to about 40 million acres of traditional western lawns or turf grass, which are like deserts to insects and support very few wildlife species.
How?
We recommend allowing natural vegetation to grow freely by removing at least a small portion of your lawn to attract pollinators and provide habitat for native insects. When left untouched, your yard will produce seeds and flowers that are important to many insects and birds. Fallen leaves in this area should be left untouched and vegetation should not be trimmed or cut as many insects depend on newly grown plant material and overall plant structure. If every home, school and park converted at least 10% of their lawn for this purpose, in the U.S. alone we would potentially increase usable habitat for insects by more than 4 million acres.
If you're looking to revamp your yard and don't know where to start, we recommend visiting the Florida-Friendly Landscaping website that has great tutorials and recommendations for doing so.
Did you know? Florida's roadways can also serve as important insect habitats when mowed less frequently. This is because less frequent mowing can boost both pollinator and wildflower biodiversity. Learn more about how you can protect Florida's roadside wildflowers at the Florida Wildflower Foundation website.
Bonus:
Converting your lawn to native vegetation requires less money, upkeep and water!
2. Plant native species.
Why?
Native insects evolved with and prefer native plants. Additionally, native plants can help increase the diversity of local insects by providing a sustainable food web that helps other insects and animals thrive.
How?
Visit a native plant nursery to learn about and purchase plants that will thrive in your landscape. Novice gardeners should start with plants that are easy to maintain. This is a great step toward converting a small portion of your lawn into an insect-friendly space. If you live in an urban area where space is limited, you can also plant these plants on balconies, rooftops and sidewalks! Visit the Florida Association of Native Nurseries to find a native plant nursery near you. And learn more about which native plants will thrive in your region by visiting the Florida Native Plant Society.
Bonus:
Native plants are beautiful, use less water and are adapted to local climates. Having a diversity of native vegetation in your yard can also limit damage from pest species by attracting their natural insect enemies.
3. Reduce the amount of pesticides and herbicides.
Why?
Pesticides can have a detrimental effect on natural insect populations. Additionally, pesticides can leech into groundwater and streams.
How?
Many pesticides and herbicides affect other organisms that are not the primary target. Reduce or eliminate pesticide use by considering approaches that are specific to the pest of concern. If you live in a homeowners' association, you can advocate for less pesticide and herbicide use in your neighborhood. By cultivating insect-friendly outdoor spaces, you will also increase the amount of beneficial insects that can help control pests naturally. 
But, what about mosquitoes? One of the most effective ways to control mosquitoes is to remove all standing water in your yard from buckets, bird baths and gutters. Although pesticides may be necessary to control disease-carrying mosquitoes, this should be seen as a last resort. Visit the Florida-Friendly Landscaping Program website for tips on how to manage pests responsibly.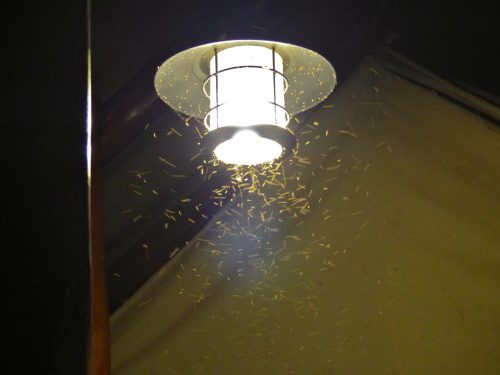 4. Limit outdoor lighting.
Why?
Many nocturnal insects are attracted to artificial lights which can kill them. Light pollution is one of the major drivers of insect decline — since the 1990s, light pollution has doubled in some of the most biodiverse areas on our planet.
How?
Turn off unneeded lights and dim necessary light sources. Motion-activated lighting can be a great way to limit light use.  If a large amount of light is required outdoors, bulbs that produce amber- or red-colored light are best because insects are least attracted to those wavelengths.  Additionally, UV-blacklight "bug zappers," which are meant to purposely kill insects, should not be used.
---
Are you ready to take action?