The University of Florida Thompson Earth Systems Institute is excited to welcome two new Environmental Communicators to its team!
TESI Environmental Communicators develop social media content, write newsletter articles, create videos and more, all focused on communicating Earth systems issues to Floridians, and beyond. During their time with us, students hone their science communication skills and broaden their knowledge about key environmental issues in Florida and across the globe.
Specifically, our Environmental Communicators serve as a critical arm of the TESI Digital Outreach team, researching and creating content for TESI's Instagram campaign, Know Your Florida, and producing content for the TESI website and monthly environmental newsletter, Earth to Florida.
Elise Plunk is an undergraduate student pursuing a bachelor's degree in journalism with a minor in English. She is passionate about creative nonfiction storytelling, environmental conservation, and sustainable living, and hopes to build a career with these passions at the forefront.
Plunk looks forward to using her time at TESI to push forward environmental education through creative, comprehensive digital strategies and encourage Floridians to foster close connections to the natural world. Outside of her work at TESI, Plunk is an author and staff member at Atrium Magazine who loves touring state and national parks, crocheting, reading new books, and working out with the Gator Club Weightlifting Team.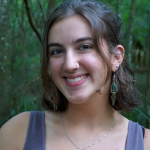 Aleida Wells is an undergraduate student pursuing a bachelor's degree in wildlife ecology and conservation. She loves all things animals and hopes to follow a career combining global cultural and environmental issues in research and education.
Wells looks forward to using her time at TESI to explore ecosystem and wildlife issues throughout Florida and share them with a wider audience. In her free time, she enjoys spending time with her cat, rowing with the UF team, painting, and traveling.