In June, I left for Europe completely alone, having never flown internationally before, thinking it was the scariest thing I had ever done. In July, I came home with 17 new friends, newfound knowledge about sustainable development, a new outlook on the world, and a thought in the back of my head that I could see myself living abroad. This summer, I grew so much as a person—while taking college classes!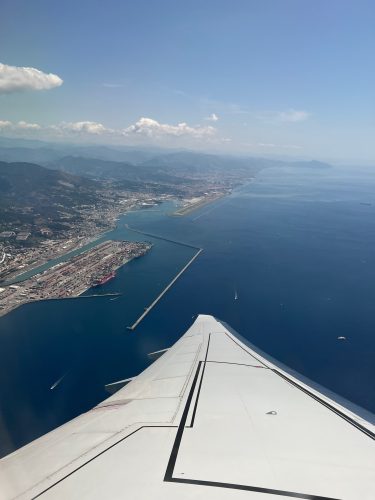 That was my experience during the University of Florida in Europe: Environmental Ethics and Politics of Sustainability study abroad program. For 4 weeks, I had the chance to learn about different sustainability projects all over Europe, including Freiburg, Germany; Strasbourg, France; Geneva, Switzerland; Turin, Italy; and Genoa, Italy.  
Aside from getting the opportunity to travel internationally, the program was extremely eye-opening from my perspective as a TESI Environmental Communicator. As a marine science major, I tend to relate my social media posts and stories at TESI to the ocean, or topics I am already familiar with. But, because this program covered everything from policy to wind energy to agriculture to marine protected areas, I was able to broaden my knowledge of sustainability as a whole.  
Here are a few new bits of knowledge, cool experiences, and highlights from my sustainability study abroad program: 
Traveling Sustainably
Sustainable travel wasn't a focus of the program's academics, but it was obviously a factor that played into the planning of the program. We visited less popular places that we could reach via train or bus to avoid constant carbon-emitting air travel. In every city (even the smaller ones), I was able to get everywhere by foot or public transport.  I also felt that being able to enjoy the atmosphere of a smaller city and directly supporting the local economy was an extremely valuable experience. Though it was brief, it was a truly life-changing experience.

 
Renewable Energy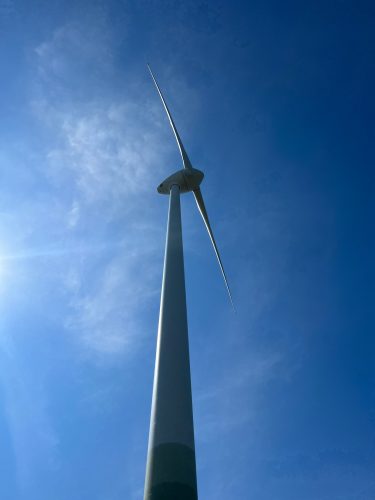 One of my main takeaways from traveling to Europe was the difference in the sentiment surrounding renewable energy compared to the U.S., as well as the sheer amount of renewable energy sources that exist. Not only were there solar panels everywhere, but I also had the opportunity to visit a small village in Germany where the citizens had financed their own wind turbine farm to power their community. I also had the opportunity to visit a biogas plant and The Heliotrope House, a house that rotates with the sun to capture the most light via solar panels to power it. Renewable energy is simply more widely accepted and used in Europe, which is certainly a sentiment America could replicate.
Sustainable Agriculture and Slow Food
The topics I learned the most about were definitely agriculture, food, and their relationship to sustainability. An overarching theme from the trip and the classes I took was the importance of supporting local farms and knowing where your food comes from. Visits to multiple local farms, restaurants that only cook using locally sourced food, the first Eataly location, the Guido Gobino Chocolate factory, and the Slow Food International headquarters really drove home the idea of sustainably sourced food. Even a trip to the French grocery store Auchan was eye-opening due to the noticeably lower prices for produce. I left Europe with a stomach full of sustainably sourced food and a hunger for multiple visits to my local farmer's market.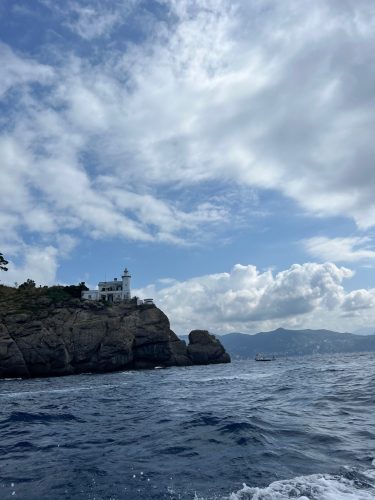 Wildlife

Conservation

 
Some of the other amazing opportunities I had while abroad were visits to organizations like the World Wildlife Fund (WWF) and the International Union for Conservation of Nature (IUCN) where we learned about the intersection of sustainability and wildlife conservation. At IUCN we also got to hear the history of the Red List of Threatened Species. Additionally, in Italy, we got to visit the ReLife hatchery, which is dedicated to rehabilitating the populations of a limpet species in the Ligurian Sea. Afterward, we toured the San Fruttuoso marine protected area, where I got to learn about how marine area management works in Italy!
New Findings
One of the coolest things I learned about in Europe was biochar. In Freiburg, Germany, we visited Carbonfuture, a company that connects businesses wishing to lower their carbon footprints to carbon removal projects from which they can buy carbon credits. During this visit, I learned about biochar, which is a material that results from a process called pyrolysis and a stable way to sequester carbon.

Notre Dame Cathedral in Strasbourg.
Once in a Lifetime Experiences
On this study abroad trip I learned so much valuable information and ideas that I can use in my work at TESI, but I also had many once-in-a-lifetime experiences that allowed me to grow as an individual. Visiting the European Parliament in Strasbourg and the United Nations in Geneva were things I never thought that I would do. I was also able to take a trip up to the Le Brévent peak in Chamonix, France, which had an amazing view of Mont Blanc (the tallest mountain in the Alps), swim in the Mediterranean Sea and Lake Geneva, and go to the Fête de la Musique in Switzerland and France. Not to mention the frequent visits to beautiful cathedrals, castles, and munsters, one of which was the breath-taking Notre Dame Cathedral of Strasbourg.

 
As a TESI Environmental Communicator and marine science student, learning more about sustainability abroad was truly a once-in-a-lifetime experience, and I gained so much knowledge that I can use in my work. As a college student who had never traveled internationally before, studying abroad was one of the best decisions I ever made. Traveling abroad is truly an indescribable experience that I encourage everyone to do, regardless of when and where. I hope to use my new sustainability knowledge in my work and academics, but I will use what I learned about myself and the world in everything I do, for the rest of my life. 
To learn more about this study abroad program, or other study abroad programs, visit the UF International Center website.