Alan Ivory, a recent graduate of the University of Florida's department of wildlife ecology and conservation, has been named the K-12 Smallwood Foundation Fellow for the UF Thompson Earth Systems Institute's Scientist in Every Florida School Program. In his new role, Ivory will be working to expand SEFS programming into Marion and Levy counties, with a focus on Title 1 schools.  
Ivory's position is funded in part by a $20,000 grant from the Smallwood Foundation, which supports early-career professionals for K-12 outreach and engagement.  
"The SEFS team was ecstatic to hear the news about the Smallwood Foundation funding," said Brian Abramowitz, K-12 education and outreach coordinator with SEFS. "With Alan's help, we will be able to increase the number of students and teachers engaged in SEFS by the thousands." 
In its first year, SEFS has been working to connect scientists with teachers in five pilot counties: Alachua, Escambia, Lee, Palm Beach and Seminole. With these extra funds, programs can now be expanded to Levy and Marion county public schools, 98% of which are considered Title 1, or schools with a poverty rate of 75% or higher. These counties are largely rural, and many students belong to families of migrant farmworkers and speak English as a second language. 
One of Ivory's first projects will take place at the Silver River Museum in Ocala where he will lead regular science activities via Zoom to local classrooms. He will also be collecting data on manatee sightings and water quality at Silver Springs State Park to show students the tools and methods used to conduct scientific research, a topic known in education as the nature of science.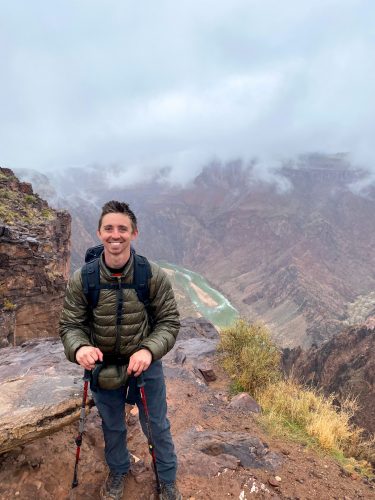 Ivory is no stranger to SEFS. After earning his bachelor's degree in wildlife ecology and conservation from the University of Florida and working on a habitat restoration project for an endangered fish in the Grand Canyon, Ivory was hired for a SEFS internship in West Palm Beach. During his internship, he worked with the Loggerhead Marinelife Center to visit Title 1 schools and deliver hands-on classroom activities focused on sea turtles using virtual reality software.  
"This was a valuable experience for these students because many children have only been exposed to learning via books, so seeing science happen in front of them can spark wonder and drive that they may not have had otherwise," Ivory said. "This was often an eye-opening experience for children because they could see how their daily choices can affect the health of the world around them." 
Growing up, Ivory says he had his heart set on becoming a pharmacist. It wasn't until he was invited on a field sampling trip during his sophomore year of college that he changed his mind. Through this fellowship, Ivory hopes to spark this same kind of curiosity and show the students he works with that environmental science can be a fun and rewarding career.   
"Providing these students with an opportunity to do what I now do every day in the field is something I would have loved to have experienced as a kid," Ivory said. "I am excited to be able to do so thanks to the Scientist in Every Florida School program and Smallwood Foundation."