In the past year, my internship with the Thompson Earth Systems Institute has allowed me to substantially grow my knowledge of Florida's natural wonders.
Much to the annoyance of my friends, I now have the ability to turn just about any normal occurrence into a learning experience. When a friendly frog peers into my apartment from the sliding glass door, I tell my roommates all about the green tree frog's characteristics, and how you can differentiate them from the similar but invasive Cuban tree frogs. As bats screech and fly across the darkening Gainesville sky, I can't help but go on about the winged animal's importance in pollinating plants and acting as nature's pest control. Ever since I was a young child, I have had a deep love and appreciation for all things environmental, and now TESI has given me the knowledge and tools to truly express that. 
Outside of the practical knowledge I've gained, this experience has also been rewarding in giving me the opportunity to further develop my skills in writing, design, and research.
My personal favorite part of evolving these skills has been the times when I get to act as a true journalist and investigator. The process of finding experts, reaching out to request an interview, and preparing well-thought-out questions is not easy, but the chance to talk one-on-one with a scientist is certainly worth it.
I also look back at my time creating the ArcGIS Storymap for the ESRI and National Geographic contest as one of the biggest highlights of this internship. Not only did the other interns and I get to learn how to use a completely new program for this project, but we also managed to place top 10 in the worldwide competition. I still have so much pride in my team for the way we took the Storymap challenge head-on and worked together to create such a thorough and detailed piece about Florida manatees. This project not only introduced me to the basics of ArcGIS, but also required lots of researching, writing, and interviewing, which boosted my confidence in those skills.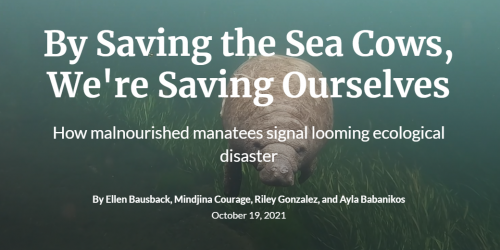 One of the best parts about interning for TESI is the ability to incorporate topics I am personally passionate about in my work. At the start of my college career, I was a wildlife conservation major. I then switched over to agricultural education and communication. Even though it is no longer the focus of my studies, TESI has allowed me to keep learning and educating others about wildlife conservation, and that has been so immensely rewarding. Now as an agriculture student, I often take inspiration from my classes to create new TESI content, such as infographics on citrus greening, avian influenza, and the green revolution. I was once a suburban kid with little to no knowledge of agriculture or where my food came from, and now I get to help educate other Floridians on those exact topics. 
I still remember the giddy feeling of my first week at TESI. It's quite a unique experience to walk past a giant mammoth fossil, a butterfly rainforest, and groups of excited kids learning about science, all on your way to the office every day. Since TESI's office is located in the Florida Museum of Natural History, that means that there is always someone just downstairs, learning and growing their love for science and nature in real-time. What could be a better motivation to keep on creating? 
As this chapter of my life comes to a close, I know that it is one I will always look back on fondly. I hope to stop in at the museum and visit the TESI staff again before I graduate this fall. At one point I had absolutely no clue what I was going to do after college. Now I feel that there is such an abundance of opportunities, the hard part is simply picking what I want to explore first. While I would like to gain more hands-on experience in agriculture, I also have grown to really love the communication side of things and could picture myself doing a bit of both.  All I know for certain is that I hope my future career allows me to be a true steward of the environment, just as I was at TESI.