The University of Florida Thompson Earth Systems Institute has awarded two education and outreach grants to support projects led by UF students and postdoctoral researchers. The selected projects are intended to communicate Earth systems science research to lifelong learners.   
This annual grant competition helps foster collaboration and leverage the Institute's capacity to reach a broader audience, said TESI director Bruce MacFadden.  To date, TESI has awarded 13 education and outreach grants, totaling around $25,000. 
"Core to the mission of TESI is advancing communication and education about the environment in a way that encourages people to become effective stewards of the planet," MacFadden said. "This funding incentivizes students to think about how they can effectively communicate their own science in a way that's relatable and accessible."  
Read below for more information about the 2020-2021 recipients and their projects.   
---
Feathered, Fearless, and Fabulous Friends: Get to Know Your Backyard Birds!
Recipient: Stephanie Wheeler, Ph.D. student, UF Department of Biology 
As development continues to exacerbate urban sprawl, there is a growing need for the public to understand the issues facing surrounding ecosystems. Because of their successes, casualties and interesting adaptations, birds provide an easy outlet to help the public better understand these issues.   
With funding from TESI, Stephanie Wheeler is designing a pop-up exhibit to help the public better understand the birds with which they share the city as well as how people affect birds and vice versa. The exhibit will feature touchable specimens, useful facts, interactive activities, and collectables that engage visitors and encourage new habits that are good for birds and people. 
Wheeler said the exhibit will be aimed at underserved urban and suburban families. 
"It can be really empowering to realize that you can identify even the most common birds, plants, or other things that you are surrounded by. I want to help people tap into that pride and joy that can be found in the wildlife closest to them. And I think knowing what something is, and a few facts about it also helps people to form a sense of stewardship. Being aware of something improves our ability to take care of it." 
Once the exhibit is complete, it will be set up at community parks on Saturday mornings every other week throughout the summer. 
As families interact with the exhibit, they will be able to pick up binoculars to observe birds taking flight nearby. A whiteboard will allow participants to document birds they see along with their name and a message. Pokémon-like cards with short biographies about the birds will also be available for children and adults to take home and reference later. As they leave, children and adults will have the chance to play a small quiz game to test their knowledge. 
"This past year has also emphasized the importance of equity and an understanding of science and the world around us," Wheeler said. "I'm excited to provide something fun and educational in Gainesville after such a difficult year for kids and families."
---
Creating Earth's 
Dipolar Magnetic
Field in a Jar: A Combination of Science and Art
Recipient: Scott Miller, Ph.D. Candidate, UF Department of Geological Sciences 
Earth's dipole magnetic field protects life from harmful ultraviolet radiation and retains necessary elements for life such as oxygen in Earth's atmosphere. 
With funding from TESI, Scott Miller is developing Do It Yourself (DIY) Earth magnetic field jar kits to help non-scientists better understand the science behind and importance of Earth's magnetic field.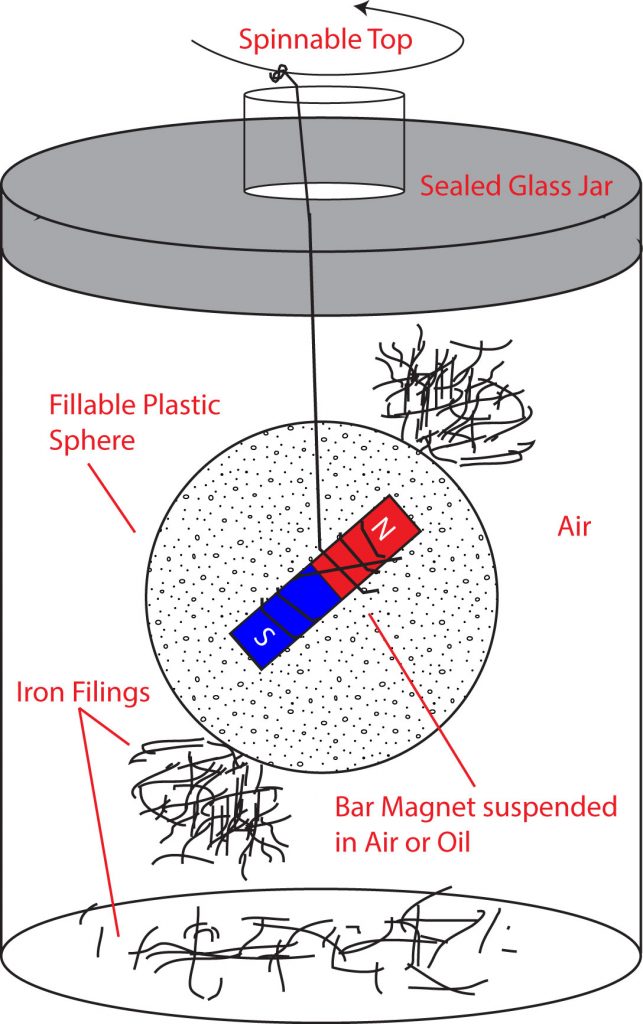 Consisting of a few simple items — mason jar, a bar magnet, copper wire, fluid, and magnetic fillings — the kits will be given at either in-person events or mailed to participants for virtual events so they can create, observe and keep their own visual models of Earth's magnetic dipole. The jars will also have spinnable tops to simulate Earth's rotation. 
Miller is a paleomagnetist who studies Earth's ancient magnetic field, and how it formed and evolved. Miller explains that Earth's magnetic field is best represented by a dipole — which can be thought of as a bar magnet with north and south poles — located at Earth's center and parallel to its spin axis, or the imaginary line around which Earth spins. Paleomagnetists like Miller study how the dipole moves away from Earth's spin axis, a phenomenon known as an excursion, and flips, a movement called a reversal.  
  "I think it's important to teach people about Earth's magnetic field in a tactile, visual way because the magnetic field is most often invisible, imperceptible, and evolving on longer-than-human timescales," Miller said. "We're still prototyping, but hope to simulate excursions and reversals, and certainly expect the DIY magnetic field jars will spark the curiosity of people of all ages and backgrounds to learn more about Earth's magnificent magnetic field." 
Miller's specific research focuses on measuring the directions of Earth's dipole magnetic field recorded in ancient rocks and converting them to specific latitudes on Earth to reconstruct what the supercontinents would have looked like. He believes that scientists can do a better job communicating complex scientific concepts across the board, and that through this project, he hopes to play his part. 
"[Poor science communication] has resulted in distrust and disdain for the scientific profession, and a lack of visibility and opportunities in research careers, especially in the natural sciences, for underrepresented groups," Miller said. "In fact, geoscience is the least racially diverse STEM field. For all of these reasons, the culture of academia needs to shift greater focus towards science communication."