Learn about wildflowers from Florida Museum team members and representatives from community organizations as they plant thousands of wildflowers!
Join us at the Florida Museum of Natural History's Florida Wildflower Garden on Saturday, August 20th from 10 AM – 1 PM to celebrate Florida Wildflower Day.
Find out what you can do to make your yard friendly for pollinators and even bring home some native wildflower seeds! Find out more at: floridamuseum.ufl.edu/event/florida-wildflower-day/
Do your research
Find out which native wildflowers do well in your area. Check out resources such as the Florida Native Plant Society and the Florida Wildflower Foundation to determine which flowers will work best with your yard's soil, moisture level, light, and landscaping needs. You can even find out which plants are easy to grow for beginners!
Hoping to make your yard a hotspot for butterflies, birds or bees? You can also find out the best plant combinations to attract your favorite visitors!
Remove invasive species
Native pollinators need native plants to thrive, but increasingly, invasive plants are taking over their habitats. If you discover invasive plants in your yard, you can help by removing them and replacing them with new natives!
Native plants also are adapted to their local climate and tend to require less water.
Get out into nature
There are lots of trails in Florida that feature native plants including wildflowers. Some, called interpretive trails, even have reference signs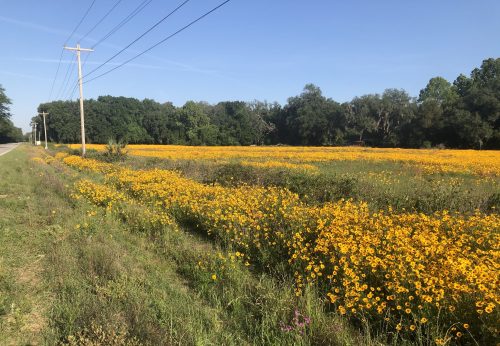 to help you learn about native plants and their ecosystems. For maps and other resources, see the links below!
Resources
The Florida Wildflower Foundation: https://www.flawildflowers.org/
The Florida Native Plant Society:    https://www.fnps.org/
Map of Interpretive Trails: https://www.fnps.org/natives/interpretive-trails
Map of Native Plant Hotspots: https://www.fnps.org/natives/hotspots
Learn about Insect Decline and How Native Plants Can Help: https://www.floridamuseum.ufl.edu/earth-systems/the-insect-effect/
Learn about Pollinator Gardens: https://sfyl.ifas.ufl.edu/media/sfylifasufledu/pinellas/lawn-and-garden/TheDirtJan2017.pdf
Info from the Florida Museum of Natural History and the Florida Native Plant Society.
Wildflower signage photo by photo by Karen Parker, FWC via Flickr (CC BY-NC-ND 2.0)
Wildflower covered shrub by Steven Martin via Flickr (CC BY-NC-ND 2.0)
Pink Wildflowers by Steven Martin via Flickr (CC BY-NC-ND 2.0)
Wildflower Covered Field by Steven Martin via Flickr (CC BY-NC-ND 2.0)
Wildflowers of Florida by PM Reddy, Florida Wildflower Foundation via Flickr (CC BY-NC-ND 2.0)