PCP PIRE has experienced a lot of change this December. Our Fall 2014 cohort of field interns will be finishing up their work at FLMNH this Thursday and will be leaving on Friday morning.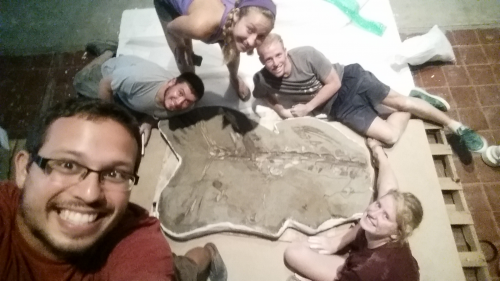 We were happy to have them at the museum and in the field in Panama and wish them luck with their future endeavors.
In January, a new batch of field interns will be heading to Panama and the first set of museum interns will be arriving at FLMNH.
A few of the leadership positions in PCP-PIRE have also changed. Our former Project Manager and post-doctoral associate, Aaron Wood, has moved on to a new job with the Department of Geological and Atmospheric Sciences at Iowa State University as the new director of the Carl F. Vondra Geology Field Station. We wish Aaron the best of luck at his new job and thank him for his service with PCP-PIRE.
Our new Project Manager and post-doctoral associate is former Project Assistant Cristina Robins and the new Project Assistant is museum intern Dawn Mitchell. We look forward to seeing what these changes and the new year will bring us!