I'm super excited to be rolling up my sleeves and finally getting some 3D imaging experience. My big passions being fossils and art, I found preparation to be a happy medium between the two. I learned how to do fossil prep at Stony Brook University under Joe Groenke after a semester of undergraduate research that led to my first presentation at the annual meeting of the Society of Vertebrate Paleontology. After graduating and spending the summer doing field work and prep at the Grand Staircase in Utah, I accepted a Preparator position at the American Museum of Natural History in New York, where I worked for 5 years. Now I am gearing up for grad school in the fall. I think 3D work will be the same happy medium between research and digital art.
We are learning to use Avizo 8.1 to post process CT scans of horse and shark teeth into manipulatable 3D images. The process looks way more overwhelming than it's actually been. There are just many little steps to remember, but I'm sure with a few run-throughs, and our trusty protocol by our side, we'll be cranking them out in no time.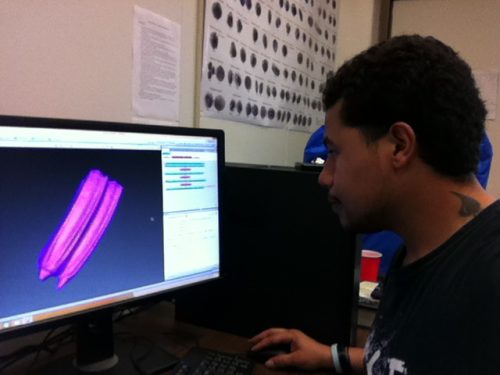 I am very interested in seeing how far we can push this technology and what novel applications Avizo can be used for that may have been overlooked. For now, though, we are just happy learning the basics. These 3D images will not only be used for research and visualizing the intricacies of tooth morphology, but I'm proud to say they will also be hosted online as part of the MorphoSource digital science library and downloaded by classes all over the world for use in research, teaching science and fossil outreach initiatives. It's very exciting.
Outside of learning Avizo, we have spent much of the beginning of the program doing fossil prep and organizing the Panama collections. We've spent a good amount of time getting up close and personal with the collection as we decide what our research projects will be for the duration of the internship. I'm eyeing a fossil trionychid turtle skull that I would learn to do a morphometric analysis on, and a fossil carnivore tooth which may be the earliest record of these guys in Central America. I'm eager to get to work on these projects and accomplish great things.