Montbrook keeps on giving with the discovery of our first fossil stork!
The fossil found is a tarsometatarsus which is an elongated bone in birds between the foot and lower leg bones. It's somewhat equivalent to our ankle area but way longer.
The discovery was extra exciting because it was made in several different phases.
First, volunteer, Sharon Shears, found the lower half of the bone in her assigned one-meter by one-meter digging square on April 18th, 2023. The sedimentary layers in this area are steeply dipping, at about a 45-degree angle, so at least another 8 inches would have to be removed to find the other half of the bone. Which is just what happened exactly one week later on April 25th, 2023! The discovery of the upper half of the tarsometatarsus was made by volunteer, Maya Lahti.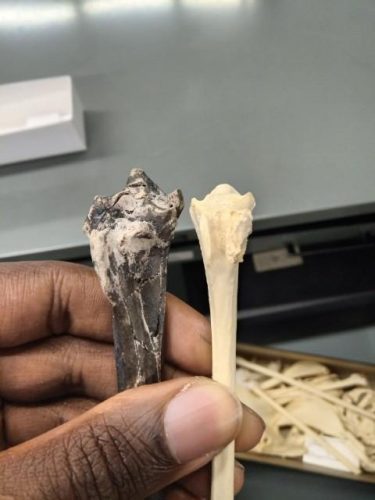 The fossils went through the screenwashing process by volunteer Steve Zoellner and made their way to volunteer, Bob Tarnuzzer, who puzzled the pieces back together. Bob pulled out Maya's washed collection fossils first and immediately realized how important the find was. Collections manager, Aaron Woodruff, took this half of the tarsometatarsus to our Ornithology skeletal collection for comparisons. As Aaron was comparing, Bob found Sharon's lower half of the same bone which he handed off to collections manager, Rachel Narducci. The two halves fit together perfectly and were confirmed to be the tarsometatarsus of a stork!
Volunteer, Ken Marks, delicately prepared the two pieces and glued them back together, leaving room in case we found the few missing fragments.
Ken also took high-quality images for future publication of this magnificent fossil. The entire bone is 11.5 inches long. Can you imagine your ankle being that long?!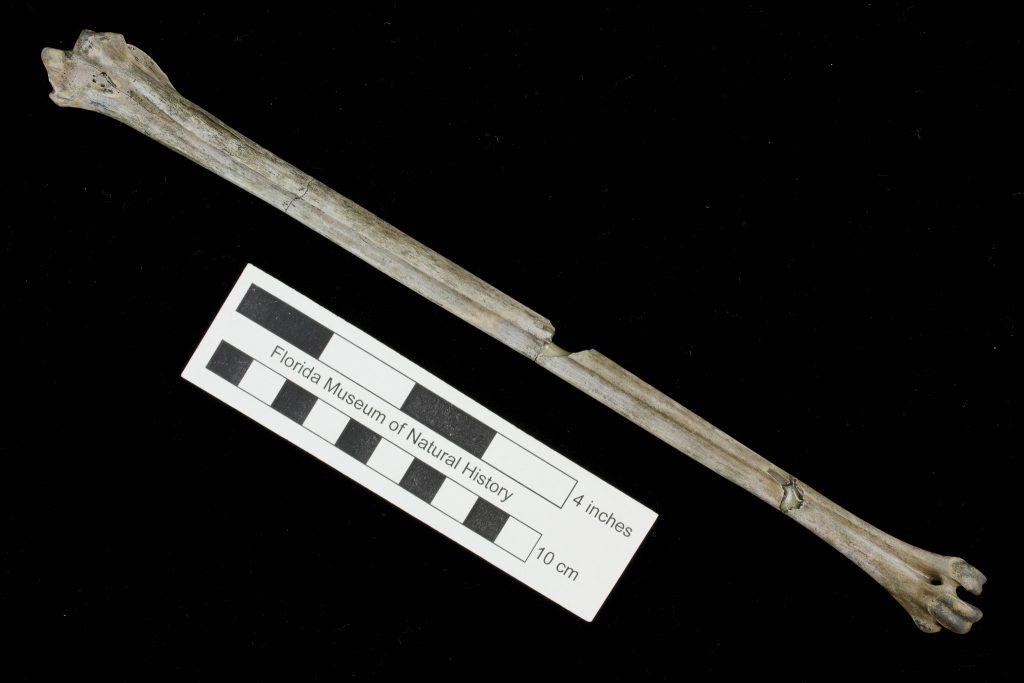 Now for the fun part. Come up with whatever story you'd like about this, but the stork was found very near all of the baby gomphotheres (~ 7 individuals) we found during the same digging season. Did the stork bring the babies?
The next big research question, that we have yet to answer is, which type of stork is this? There are two genera known from the fossil record of Florida, but one is usually found in deposits younger than Montbrook (Ciconia) and the other is typically found in deposits older than Montbrook (Mycteria).
Stork fossils are quite rare in deposits older than the Pleistocene. At ~5.5 million years old, the Montbrook discovery is likely the 5th oldest stork known from Florida and the 6th oldest known from North America. Florida sites with pre-Pleistocene stork fossils include the Love Bone Bed, Mixson's Bone Bed, McGhee Farm, and the Bone Valley Formation. The only other area in North America with stork fossils older than Montbrook is the Valentine Formation of Nebraska.
Brief Stork History Lesson:
From the earliest stork fossil record to the more recent
(† = extinct; NALMA – North American Land Mammal Age)
†Mycteria milleri (Miller's Stork)

Late Middle Miocene (late Barstovian NALMA)- Crookston Bridge local fauna of the Valentine Formation in Cherry County, Nebraska

Could be †Mycteria wetmorei, according to Olson, 1991

Mycteria sp.

Late Miocene (latest Clarendonian NALMA)- Love Bone Bed, Florida
Late Miocene (early Hemphillian NALMA)- McGhee Farm, Florida

Ciconia sp.
†Ciconia maltha (Asphalt or La Brea stork)

Upper Pliocene- Hagerman Lake beds, Barbour Ranch, Snake River, Idaho
Pleistocene- Idaho: American Falls; Florida: Vero, Melbourne, Itchetucknee River, Marineland, Seminole Field, and Venice
Late Pleistocene- California: Rancho La Brea Tar Pits, Los Angeles (type locality) and near Manix, San Bernardino County
Late Pleistocene- left carpometacarpus and right tarsometatarsus, Itchetucknee River, Florida

Mycteria americana (wood stork)

Pleistocene- Florida: right humerus, Itchetucknee River.
An earlier report of this species from Rancho La Brea is now assigned to †Mycteria wetmorei (Howard, 1935).

†Mycteria wetmorei (Wetmore's stork)

Pleistocene- described from the tar pits at Rancho La Brea, California
Pleistocene- Florida: 

Aucilla River,

Ichetucknee River and were originally reported as M. americana

Mycteria sp.

Pleistocene- Fossil vertebrates associated with paleo-Indian artifacts at Little Salt Spring, Florida
References:
Becker, J.J., 1987, The fossil birds of the Late Miocene and Early Pliocene of Florida. I. Geology, correlation, and systematic overview: Travaux et Documents des Laboratoires de Géologie de Lyon, v. 99, p. 159–171.
Holman, J.A., and Clausen, C.J., 2010, Fossil vertebrates associated with paleo-Indian artifact at Little Salt Spring, Florida: Journal of Vertebrate Paleontology: Vol 4, No 1, https://www.tandfonline.com/doi/abs/10.1080/02724634.1984.10011994
Howard, H., 1936, Further Studies upon the Birds of the Pleistocene of Rancho La Brea: The Condor, v. 38, p. 32–36, doi:10.2307/1363591.
McCoy, J.J., 1963, The Fossil Avifauna of Itchtucknee River, Florida: The Auk, v. 80, p. 335–351, doi:10.2307/4082892

.
Olson, S.L., 1991, The Fossil Record of the Genus Mycteria (Ciconiidae) in North America: The Condor, v. 93, p. 1004–1006, doi:10.2307/3247735.
Voorhies, M.R., 1990, Vertebrate paleontology of the proposed Norden Reservoir Area, Brown, Cherry and Keya Paha counties, Nebraska. Technical Report, Division of Archeological Research, Department of Anthropology, University of Nebraska 82-09.
Wetmore, A, 1956, A check-list of the fossil and prehistoric birds of North America and the West Indies. Smithsonian Miscellaneous Collections, v. 131-5.