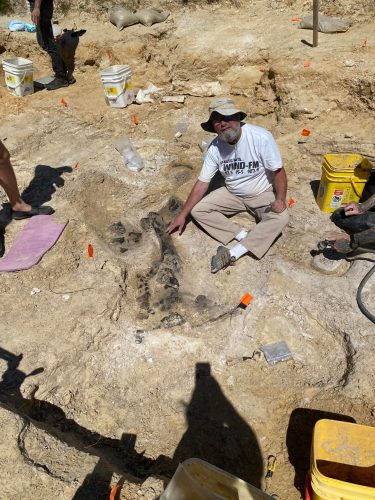 As you maybe heard, the "BIG" news from Montbrook is what appears to be an articulated skeleton of a large proboscidean (elephant relative) coming out of the ground.
So far we have at least one front leg all the way to the shoulder (about 8 ft long), ribs, and vertebrae all in anatomical position! We are hoping to find the back and front ends soon. It may be a large gomphothere, or possibly a mastodon. These are rare at Montbrook but are found. We need to see the skull to find out!
To make things complicated, we are finding a lot of a baby gomphothere on top of the big skeleton. Today we found lots of tiny vertebrae, what looks like parts of the skull with teeth, and a small tusk of this smaller animal! Maybe the skull of the big one is under all of this–elephant toes crossed!