The Montbrook Site is very productive and almost all volunteers will find some fossil specimens on their first day. The most commonly found fossils are bones from the shell of freshwater turtles and vertebrae, spines, scales, and skull bones of fish, including gar, catfish, snook, and drum. Fossils of alligator, birds, and mammals are also found, but less frequently.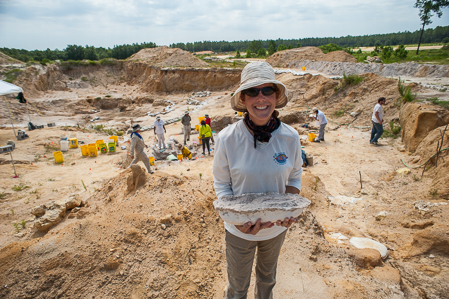 Volunteers must be at least 15 years old. Volunteers age 15 to 17 will be accepted but must be accompanied by an adult sibling (18+ years old), or a parent or guardian.
Volunteers must be physically fit enough to work outdoors for several hours and be able to walk up and down irregular slopes. Be aware that the site is in direct sunlight and sandy. We will have a porta-potty at the site.
Volunteers can work just a single day, a few days, or a regular schedule one or more times per week.  There is no limit to the number of times a volunteer can work at the site.
Volunteers are more than welcome to drive themselves or carpool to meet us at the fossil site. We can sometimes drive about 5 volunteers in the museum van but we need to plan this in advance.
View Dig Schedule
---
What to Expect
WORK SCHEDULE
Field work typically begins at 10:00 AM and continues through the day until about 4:00 PM.  Plan your arrival time so that you will not get there much earlier than 10:00 AM.  You can begin work any time of the day between 10 AM and 1:30 PM.  You will be expected to work for at least 3 hours (not counting if you break for lunch).
RAINOUTS
We will contact you via email in the event of a "rainout" and to schedule a make-up day. This decision will normally be made the day before. If you do not receive an email from us, assume that we will be digging at the site, even if rain is forecasted for that day. If it begins to rain heavily while we are digging, we may have to stop for the day.
WHAT TO BRING AND WEAR
The museum will provide all necessary digging tools, field equipment, and supplies for collecting fossils.  Volunteers should bring their own water, hats, gloves, sunscreen, cushions or towels to sit/kneel on, any special medication items, and food.  Wear comfortable clothing that corresponds to the weather forecast.  Wear shoes instead of sandals or flip-flops.  Cameras of all types are welcome at the site.
---
Volunteer In the Field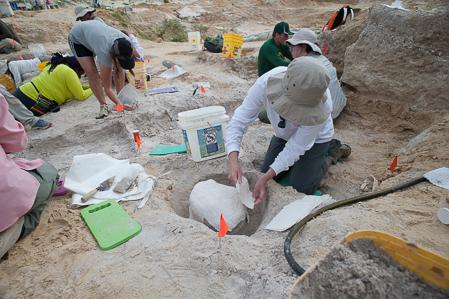 The Spring 2018 digging season has begun. We will dig 5 days per week, Wednesdays thru Sundays. The last day of the season is Sunday, May 13th.
Application: 
To volunteer in the field, download an application form with more information (including which days we are digging at the site):
Send in the filled-out form using the directions on the back or second page of the form. If you have any questions about volunteering at the site, please email Rachel Narducci.
---
Volunteer In the Collection
If you are interested in what happens to the fossils once they are brought back to the lab, or just prefer to work indoors, you can volunteer in the vertebrate paleontology collection at Dickinson Hall. Volunteers prepare specimens out of plaster jackets, screen wash, glue bone fragments back together, pick microfossils, or help with the cataloging process.
Because of the time invested in training our volunteers for work in the collection, we only accept individuals who can work at least three hours per week and who can work for a minimum of six weeks (ideally longer).
Volunteers must be a minimum of 18 years old (or full-time UF student). Normal working hours for volunteers are between 8:30 AM and 5 PM, Monday through Friday. To volunteer in the collection, please contact the Florida Museum vertebrate paleontology collections manager, Richard Hulbert or call 352-273-1821.