T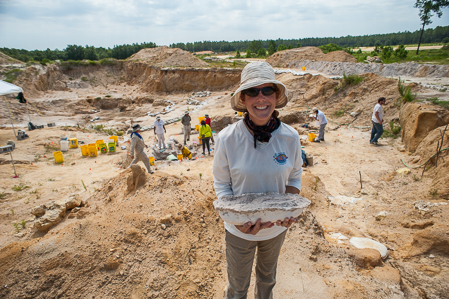 he Montbrook Site is very productive and almost all volunteers will find some fossil specimens on their first day. The most commonly found fossils are bones from the shell of freshwater turtles and vertebrae, spines, scales, and skull bones of fish, including gar, catfish, snook, and drum. Fossils of alligator, birds, and mammals are also found, but less frequently.
---
Volunteer In the Field: Spring 2021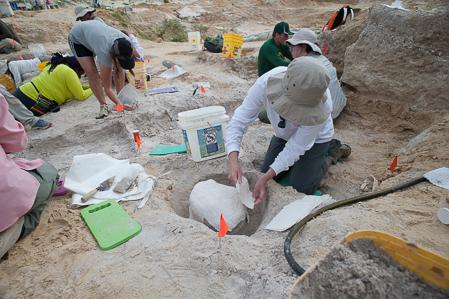 IMPORTANT NOTICE!
We are excavating at Montbrook four days per week from mid-January to early May. Up to six volunteers can work each day. To help ensure everyone's safety and health, volunteering at the site this spring is limited to those who meet certain criteria. For more information on volunteering for the 2021 Spring dig, please go to this web page.
---
Volunteer In the Collection
If you are interested in what happens to the fossils once they are brought back to the lab, or just prefer to work indoors, you can volunteer in the vertebrate paleontology collection at Dickinson Hall. Starting in 2020, volunteers can alternatively work at our new warehouse in NW Gainesville, off of US 441. Volunteers prepare specimens out of plaster jackets, screen wash, glue bone fragments back together, pick microfossils, or help with the cataloging process. All volunteers, new or returning, must follow the University of Florida's Return to Campus Covid protocols.
Because of the time invested in training our volunteers for work in the collection, we only accept individuals who can work at least three hours per week and who can work for a minimum of six weeks (ideally longer).
Volunteers must be a minimum of 18 years old (or a full-time UF student). Normal working hours for volunteers are between 8:30 AM and 5 PM, Monday through Friday.
To volunteer in the collection, please contact the Florida Museum vertebrate paleontology collections manager, Richard Hulbert or call 352-273-1821.