The Florida Museum and First Magnitude Brewing Co. invite you to a fundraiser to help support butterfly conservation in Florida. As part of the event, First Magnitude will release a special brew called "Tiger Tail Pale Ale," highlighting the eastern tiger swallowtail butterfly.
The eastern tiger swallowtail is among the largest, boldest, and most captivating Florida butterflies.  A widespread and common species, it is a frequent visitor to many yards and gardens.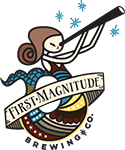 Tiger Tail Pale Ale is a light golden pale ale with a bold hoppy nose featuring notes of orange marmalade, passion fruit, and a hint of pine. The beer will also be available from April 18 to 28 at multiple beverage locations inside Disney's Animal Kingdom in celebration of Earth Month.
The first 100 customers to purchase a 4-pack will receive a Green Ash tree with their purchase! The tree is a larval host plant for the Tiger Swallowtail butterfly.
10% of each can sold will directly support imperiled butterfly recovery efforts in Florida.
Save the Date on Facebook
Learn more about at-risk butterfly conservation work in our Daniels Lab.
Explore our guide to Florida's 50 most common native wildflowers and butterflies.
---
The Florida Museum may photograph or video visitors for educational and promotional purposes. Attendance to a Florida Museum event constitutes the attendee's consent regarding the possibility of appearing in Museum marketing materials.