Plant for pollinators! The Florida Museum and First Magnitude Brewing Co. invite you to a festival to kick off  Pollinator Week 2023 and help support pollinator conservation. Pick up free plants, enjoy live music, grab a bite to eat and try out special beers at Pollinator Palooza.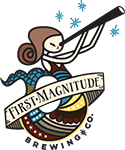 Pollinators are an extremely important part of the ecosystem but you don't have to be a researcher to help protect them. Planting native flowering plants in your yard, patio and even in pots can provide vital habitats and food for bees, butterflies, moths and other pollinators. Learn about the importance of native plants, wildflowers and more at this family-friendly event!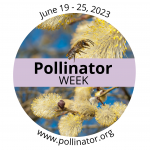 The free plants that will be available:
Florida Skullcap
Simpson's Stopper
Compact Firebush
Firebush
As part of the event, First Magnitude has brewed some special pollinator-themed beers which will be available on draft and in cans to go, with 10% of proceeds helping support imperiled butterfly recovery efforts in Florida:
Calamintha Hibiscus Wit A Belgian-Style White Ale brewed with locally sourced hibiscus (roselle) from Hyldemoer + Co and with solar-grown honey. Highlighting the rare blue Calamintha bee, a special draft-only batch was brewed with yeast isolated from the special Florida bee.
Frosted Elfin Session Hazy IPA highlights the rare frosted elfin butterfly and is as unique as its butterfly namesake. A draft-only batch was brewed with yeast isolated from the butterfly itself.
Honey Bee Citrus Blonde Ale Celebrating our pollinators, this light, slightly sweet citrus honey ale has a crisp, clean finish and was brewed with orange zest, and honey harvested from flowering, pollinator-friendly solar farms.
Additional merchandise will also be available for purchase.
More details on food trucks and live music to come.
Want to support the research but can't attend the event? Make a gift to the Butterfly Conservation Initiative to support research, education and conservation.
Explore more
---
The Florida Museum may photograph or video visitors for educational and promotional purposes. Attendance to a Florida Museum event constitutes the attendee's consent regarding the possibility of appearing in Museum marketing materials.