I fully fell in love with Florida after starting my position as an environmental communications assistant at the Thompson Earth Systems Institute. From capybaras to horseshoe crabs, here at TESI, I don't just get to teach others about the special secrets of our state, but I get to unearth them for myself. And though the majority of my internship was completed virtually due to COVID-19, my days are made colorful by fun facts, zoom laughs and a supportive, talented team that has made my time at TESI one of the highlights of my college career.
One of my tasks at the Thompson Earth Systems Institute is to craft multimedia feature stories for Earth to Florida, TESI's environmental newsletter. Through these stories, I've gotten to do everything from interview climate change experts to photograph Brahman cattle. And though every piece is a pleasure to put together, my favorite story happens to be my first: The March of Mangroves. I was able to highlight how climate change and saltwater intrusion have impacted the range of mangroves, allowing them to grow farther north and farther inland. Growing up in Miami, I've always enjoyed these tropical trees, and so writing this piece felt like sharing a story about one dear friend to another.
Another duty of mine at TESI is to research and create educational content for our Instagram page, @KnowYourFlorida. Now, instead of deep diving into one subject for a feature story, I get to discover fun facts all about our state that I can share with a growing audience. Over the past year at TESI I've crafted content based on Florida's Indigenous history, native plant species and even our best 'dark sky destinations' for stargazing! It's because of @KnowYourFlorida that I've really fallen for the Sunshine State.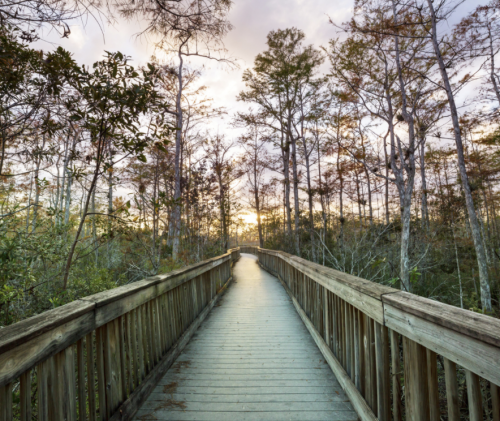 Though being able to publish a finalized feature story or educational post is a favorite feeling at TESI, the true enjoyment lies in the effort behind these pieces. While crafting stories and putting together content, I've been able to both challenge my creativity and communications skills while developing completely new ones. It's because of TESI that I now also think of myself as a researcher, video producer, graphic designer, environmental educator and more.
This internship has allowed me to combine my love for the environment with my passion for communications alongside a truly talented team of professionals. With the support and guidance from my supervisors and fellow interns, I've been able to gain valuable work experience and expand my skills in environmental communication more than ever before. In the future, I hope to carry their kindness and communication skills into everything I do!