GAINESVILLE — When Rosalyn Rohling entered the Florida Museum of Natural History's 5-million-year-old Montbrook dig site, she wasn't expecting to uncover a rare find.
The fifth-grade teacher from Pensacola simply wanted to live a day in the life of a paleontologist. Her goal was to gain firsthand experience to supplement her lesson plans and get her students excited about science.
Rohling was one of 17 teachers across the state to participate in a November 23 professional development field trip hosted by the Scientist in Every Florida School program (SEFS). SEFS is an initiative led by University of Florida Thompson Earth Systems Institute that aims to connect scientists with every K-12 public school in Florida.
In addition to matching teachers with working scientists, the SEFS program provides opportunities like this one for teachers to get into research labs and out into the field so they can show their students what science in action looks like.
During the field trip to the Montbrook site, which is located in Levy County, teachers worked alongside Florida Museum scientists to uncover pieces of Florida's past.
As Rohling whittled away delicately at the ground with a screwdriver and dental tools, she realized she found something that looked different from the other turtle and fish bones she had found earlier that day. Scientists on site confirmed she discovered a tooth from an extinct horse, Nannippus.
Nannippus lived throughout much of North America from about 15 million years ago until it became extinct about 2 million years ago.  The horse was of tiny stature, with the full-grown adults only the size of a small foal of a horse today.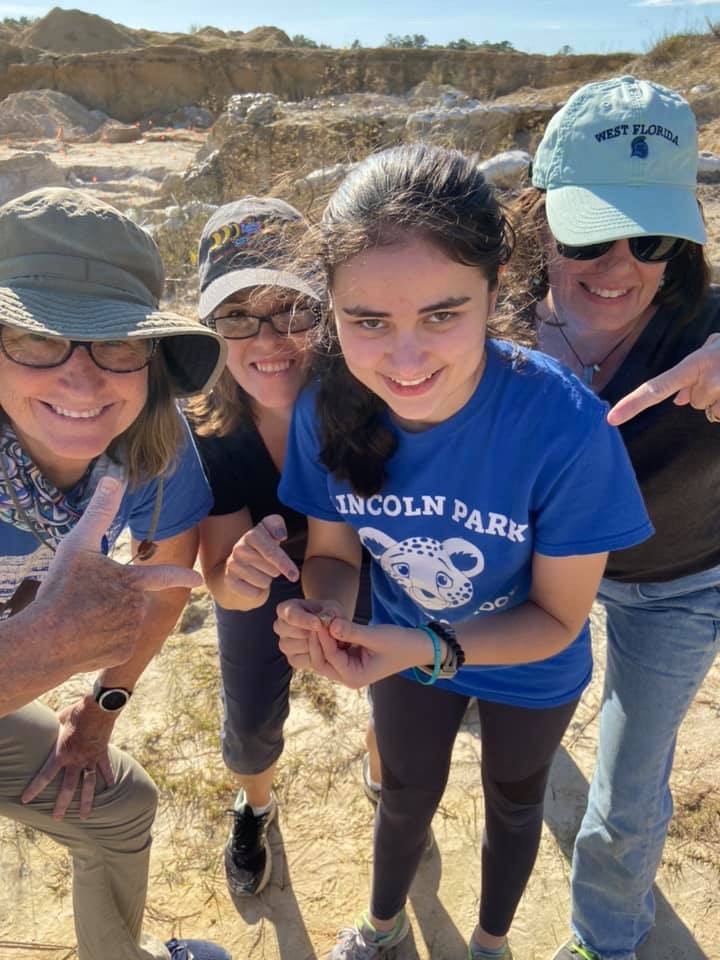 "I can't believe I was lucky enough to find something so scientifically important," Rohling said. "My students have been incredibly energized by my explanations of my adventure at Montbrook!"
Although paleontologists and volunteers have discovered fragmentary fossils of Nannippus at Montbrook, the upper molar tooth that Rohling found is one of only a few from this important dig site. Unlike fossil bone fragments, fossil teeth are diagnostic and help paleontologists identify exactly which species are represented at fossil sites such as Montbrook.
Suzanne DeLay, K-5 science specialist for the Escambia County School District, said this opportunity has given teachers in her district a new perspective on paleontology.
"Being able to be part of this dig and having the opportunity to better understand the types of organisms that lived in Florida 5 million years ago has been such an incredible experience for all of us involved," DeLay said. "Having the opportunity to work with teachers from across the state was an added bonus."
Bruce MacFadden, director of UF TESI and an expert on fossil horses, was ecstatic when Rohling found the tooth.
"The teachers and scientists collected hundreds of bone and tooth fragments, but Rosalyn's discovery of Nannippus was by far the most scientifically important fossil found that day."
But Brian Abramowitz, K-12 education and outreach coordinator for SEFS, said even if they didn't make an extraordinary discovery, the teachers still walked away with something valuable.
"These teachers were able to walk away with personal anecdotes they can share with students and encourage them to develop science skills in school they can one day use out in the field themselves," Abramowitz said. "That is what the Scientist in Every Florida School Program is all about."
Interested teachers can find out more information by contacting Brian Abramowitz at babramowitz@floridamuseum.ufl.edu.
For more information about the Scientist in Every Florida School Program, and for upcoming professional development opportunities, visit: https://www.floridamuseum.ufl.edu/earth-systems/scientist-in-every-florida-school/
To learn more about the Florida Museum of Natural History's Montbrook Site, visit: https://www.floridamuseum.ufl.edu/montbrook/about-montbrook/
---
Source: Brian Abramowitz, babramowitz@floridamuseum.ufl.edu, 516-225-9390
Media contact: Rebecca Burton, rlburton@floridamuseum.ufl.edu, 352-273-4935