This past weekend June 19-21, 2015 I finally had the chance to visit Dawson Clay Pit at Henry County Tennessee, where the fossilized leaves that I am studying were collected. I was accompanied by Nathan Jud, Terry Lott, Dawn Mitchell and Kefren Arjona. We departed from the Museum at 8:30 am towards Tennessee….
Well, its a long way from Gainesville, rollin' north on 75. We pass through the state of Georgia, heading towards Milan, Tennessee. It was a 14 hour drive to reach Dr. Roger Moore's house whom was kind enough to give us a place to spend the night. He guided us through the Dawson Pit locality, were we spent most of the day on Saturday collecting new specimens for the museum collection. Most of the fossil leaves were collected from a dark colored shale which is part of an oxbow lake deposit interpreted by Dilcher (1973) . We didn't find any new species from which we didn't already have in the museum's collections but we did find leaves with well preserved cuticle which we will analyze under a epifluorescence microscope.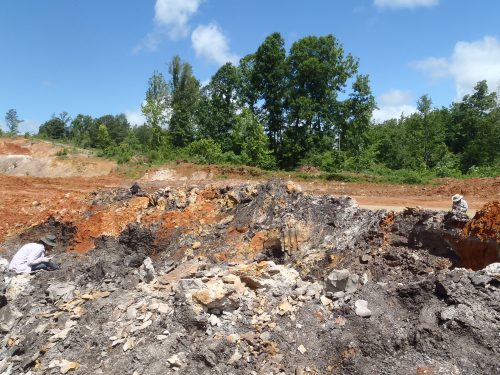 The cuticle shows the cellular or epidermis details of the leaf's surface. The cuticle is like a waxy layer that prevent excess water loss and it help controls the gas exchange from the leaf to the atmosphere. Studying the cuticle can be very useful for the identification of plant species, since each species has its own epidermal features and pattern.
We had a great weekend up in Tennessee, now to analyze the cuticle of the leaves and if possible add them to my research manuscript.
References:
Taylor T. N, Taylor E. L., Krings M., 2009, Paleobotany: The biology and evolution of fossil plants, second edition,  USA, 13-15pp