Journalist Irlanda Sotillo and Photographer Maydeé Romero Sprang recently visited the Center for Tropical Paleoecology and Archeology (CTPA) of the Smithsonian Tropical Research Institute (STRI), and met the PCP-PIRE field interns. We told Irlanda about the field activities in the canal area and showed her several samples recently collected by the interns.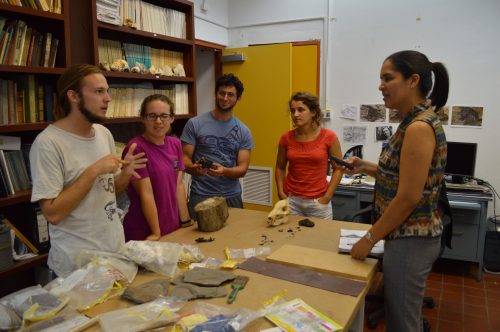 Irlanda was originally interested in the PCP-PIRE program and the research on Panamanian fossils, and became particularly curious on the daily work conditions in the canal and how the interns adapted to Panama´s culture and environment. Irlanda´s note was published yesterday in the Panamanian newspaper La Prensa. This note highlights the work of interns and researchers along the Panama Canal, and also invites to visit this blog.
La periodista Irlanda Sotillo y la Fotógrafa Maydeé Romero Sprang visitaron recientemente el Centro de Paleoecología y Arqueología Tropical (CTPA) del Instituto Smithsonian de Investigaciones Tropicales (STRI), y se reunieron con los pasantes de campo del proyecto PCP-PIRE. Le contamos a Irlanda acerca de las actividades de campo en el área del canal y le mostramos varias muestras recientemente recolectadas por los pasantes.
Irlanda estaba originalmente interesada en el programa PCP-PIRE y la investigación de los fósiles panameños, y su curiosidad se enfocó de modo particular en las condiciones de trabajo que se encuentran a diario en el canal y en como los pasantes se adaptaron a la cultura y medio ambiente de Panamá. La nota periodística de Irlanda fue publicada ayer en el periódico panameño La Prensa. Esta nota resalta el trabajo de los pasantes e investigadores a lo largo del Canal de Panamá, y también invita a visitar este blog.