The first project I got started on at FLMNH was preparing a fossil dugong from the Culebra formation of the Panama Canal.
My main focus has been on a cluster of vertebrae that are held together by a carbonate and siltstone matrix. The process of preparing this fossil is rather slow going because the matrix is extremely hard and nearly the same color as the bone.
To help distinguish them, the fossil is sprayed or brushed with water to remove dust and help bring out the color of the bone. While it is damp, I use carbide picks and airscribes (basically handheld jackhammers) to remove the matrix.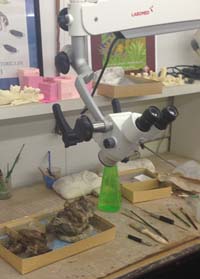 The goal at this step of preparation is to remove as much matrix as possible while leaving a thin layer just above the bone and to leave any areas where it is too difficult to distinguish between bone and matrix. Next, a thin layer of PVA, a glue reversible with acetone, is added to protect the bone when it is placed in a diluted formic acid bath. The acid breaks down some matrix but does not damage the bone, although some etching can occur over time. The fossil is then soaked in running water to remove any remaining acid and the PVA is removed to begin the process of manually removing matrix over again. Broken pieces of bone often become loose after the bath and must be secured with glue before continuing.
Preparing this fossil has taken a lot of time and the effort of many people, and it still requires much more before it is finished. But progress is being made; when I started I couldn't see through the neural canal of one vertebra, but now I can! Once preparation is completed, this fossil promises to provide us with interesting new information on Miocene dugongs from the Panama Canal area.
To learn more about the dugong fossil, check out this article written by former PCP-PIRE intern Sarah Widlansky: http://www.flmnh.ufl.edu/panama-pire/archived-enews/2014/v4i1r/.