Greetings and Happy (belated) American Independence Day from the Summer 2014 PCP PIRE Intern cohort! Last night we celebrated the 4th of July with classic American cuisine including hotdogs and apple pie. We hope you had a safe and enjoyable celebration as well!
This week, we travelled from the Pacific to the Caribbean with a giant snake, collected and prospected along the Panama Canal, and screenwashed sediments for vertebrate microfossils.
Our week began at STRI in Panama City, where we closed up crates containing the world's second life-sized model of Titanoboa, the largest snake that ever lived. It was discovered nearly a decade ago in a massive coal mine in Colombia, and was first published and named in 2009. It has captivated the world ever since, inspiring a documentary film, a (first) life-sized model (currently on exhibit at the University of Nebraska State Museum in Lincoln, Nebraska, USA; formerly on exhibit at the Florida Museum of Natural History in Gainesville, Florida, USA), and even a cell phone game! Once the crates were ready, they were loaded via forklift into a truck that went to the Caribbean city of Colón; from there it will be taken by boat to Colombia for further exhibition (it was formerly on exhibit at Albrook Mall in Panama City).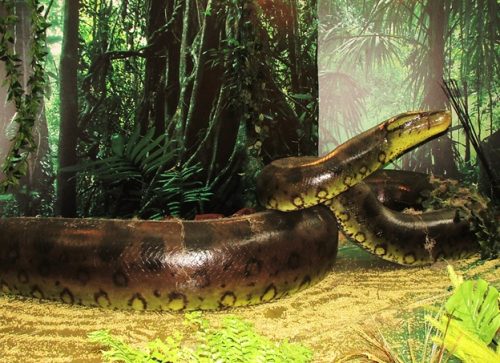 Following our day of packing and transporting Titanoboa to Colón, we resumed our collecting efforts along the Panama Canal. This week wasn't as successful as the previous, unfortunately, but sometimes that's just the way it goes. Finding fossils in the tropics is difficult, and there's always an element of luck that plays into it. We still collected some mammal and croc teeth, though, and I found a partial turtle shell on Thursday that I'll return and collect early next week after making a plaster jacket for it. Also on Thursday, University of Florida Ph.D. graduate student Aldo Rincon, PCP PIRE Intern Supervisor Jorge Moreno-Bernal, and I scouted for new (and rediscovered old) fossil localities along the Panama Canal. We were very successful, and have significantly increased the number of available outcrops to prospect and quarry at.
We finished our work week at a facility in the canal-side neighborhood of Corozal, where we screenwashed sediments bagged and collected from one of our most productive Panama Canal localities, in search of vertebrate microfossils. After setting up the screenwashing apparatus and preparing the sediment to be washed, we worked through several bags and produced concentrate that will be "picked" for microfossils later on (I found a number of small caiman teeth during screenwashing though, which was exciting). It was a nice end to our work week, and a great way to start our 4th of July celebration. Thanks for reading, and farewell until my next blog post!