This past Friday, we finished cataloging all of the fossils that we collected during the past week of fieldwork, which totaled over 60 specimens!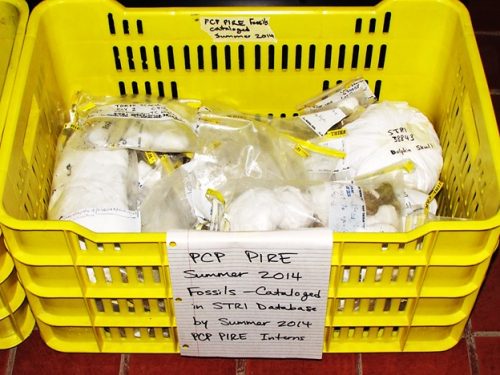 It was a busy and productive first week of collecting along the Panama Canal and shores of Lake Alajuela (the previous 3 weeks were spent conducting geological fieldwork in the Azuero Peninsula, see our May 29 blog post for more details); our first week of fieldwork in the canal basin, led by PCP PIRE Project Manager Dr. Aaron Wood, yielded numerous fossil mammal teeth, turtle shell fragments, a snake vertebra, a partial crocodylian skull, and a camel jaw with several teeth!
Earlier last week, I made my first plaster jacket for a fossil specimen in Panama! On Monday, I found a very fragile fossil camel jaw with most of its teeth intact, but a tropical downpour prevented us from being able to collect it. A few days later, the weather finally held out long enough for us to return to the site and make a plaster jacket to protect the camel jaw for safe and secure transport back to the lab. The process of making a plaster jacket in the field can be seen in the PCP PIRE March 2014 eNewsletter.
Overall, it was a very good first week in the Panama Canal and surrounding areas, following our 3 week adventure in the Azuero Peninsula. Hopefully we'll have a lot more success in the Panama Canal basin as this summer continues!