Join us at First Magnitude Brewing for an evening for both kids AND adults! We're raising awareness and funds for our Miami Blue butterfly conservation efforts, plus we're bringing our Saving Species Pop-Up Museum with us.
Miami Blue Bock Launch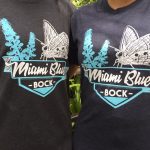 The Florida Museum and First Magnitude Brewing invite you to celebrate the launch of Miami Blue Bock, a refreshing, full-bodied lager named for one of the most charismatic and critically endangered butterflies in North America.
Donations & Swag
$10 includes $1 off all beers
$15 includes signature glass and $1 off all beers
T-shirts will also be available
All proceeds will directly support imperiled butterfly recovery efforts in Florida.
Pop-up Museum: Saving Species!
Join us as we venture outside our walls and bring the Museum to you! This themed event features hands-on activities and natural science exploration. Enjoy a unique, participatory experience between the Florida Museum and the community. We need YOU to make it happen. All ages are welcome. Come prepared for an adventure you will never forget!
Cost: FREE
Partner: The McGuire Center for Lepidoptera and Biodiversity's Special Projects Lab 
Be sure to keep an eye out for future Pop-up Museum events each month, coming soon to a location near you!
---
The Florida Museum may photograph or video visitors for educational and promotional purposes. Attendance to a Florida Museum event constitutes the attendee's consent regarding the possibility of appearing in Museum marketing materials.