Join Florida Museum Director Douglas S. Jones for the launch of All Things Beautiful: Wonders from the Collections of the Florida Museum of Natural History. Lushly illustrated with over 300 color plates, this volume is a celebration of the beauty of natural history collections and the work of curators dedicated to understanding and conserving our natural world.
Take a special look at the making of this book and hear from author Heather Dewar and photographer Kristen Grace at this free event! The book will be available for purchase at the gift shop and copies can be signed after the talk. There will be a special 20% discount on books purchased at this event.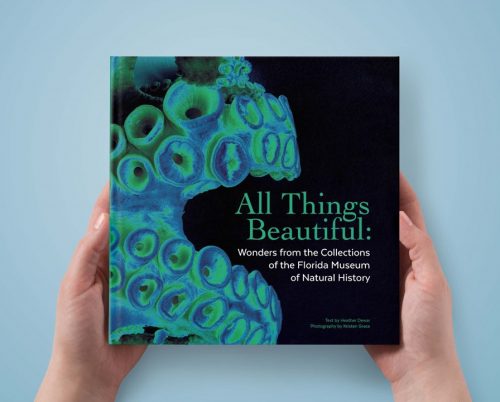 Natural history museums are libraries of life. All Things Beautiful reveals some of the remarkable animals, plants, fossils, and cultural heritage materials that make up the 40 million+ specimens and objects of the Florida Museum of Natural History. With 10 chapters exploring diverse themes including the collector's impulse, fields of adventure, remembering the lost, and saving the imperiled, award-winning environmental journalist Heather Dewar captures the vast scope of the museum's activities to document and discover all forms of life on Earth. Profiles of pathbreaking curators explore the excitement of generating new knowledge, from living in the field with Komodo dragons to discovering new species and using cutting-edge technologies to see and share collections worldwide.
Extraordinary color, form, pattern, and texture are revealed in the stunning images of Florida Museum photographer Kristen B. Grace. Focusing on rare, beautiful, and fascinating highlights from the collections, these images, along with their compelling stories, will inspire those who love nature, science, museums, and the thrill of discovery.
Special Event by Invitation
This event is for Museum members, donors, volunteers and staff only. Invitations are sent by email.
RSVP is required by Monday, Nov. 28.
Not a member yet?
Become a Member
Schedule
5:30 p.m.
Doors open. The Collectors Gift Shop is open so check out what's for sale and purchase a copy of All Things Beautiful before the talk begins!
5:45 p.m.
Talk followed by Q&A.
6:20 p.m.
Book signing by Heather Dewar and Kristen Grace.
---
The Florida Museum may photograph or video visitors for educational and promotional purposes. Attendance to a Florida Museum event constitutes the attendee's consent regarding the possibility of appearing in Museum marketing materials.