By Carolyn Thornton, Jeremy Dunham, and Alyssa Tucker | PCP PIRE Fall 2015 Museum Interns
Editor's Note: As our museum interns wrap up their internship, they look back on the knowledge and experience they have acquired in the areas of paleobotany, vertebrate paleontology, and invertebrate paleontology.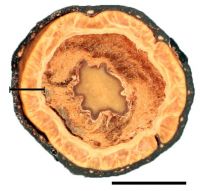 Carolyn Thornton
Throughout my internship I have helped the Paleobotany department by preparing and cataloging Panama fossils. Primarily, though, I have been describing extant fruits from the tropical plant family Chrysobalanaceae (Fig. 1). Nathan Jud and Chris Nelson of the Florida Museum of Natural History along with Fabiany Herrera of the Chicago Botanic Garden identified fossil fruits and wood from the Cucaracha Formation in Panama as members of the genus Parinari in the family Chrysobalanaceae. The goal of my project is to describe the endocarps of the genera of Chrysobalanaceae so fossil fruits can be more easily identified and to use this information to reconstruct a new phylogeny of the family.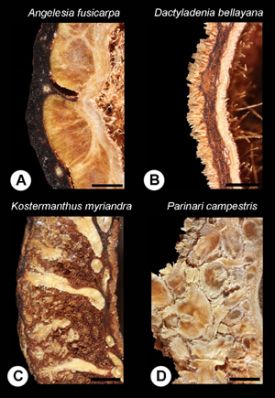 Several weeks were spent learning the dig sites that we quarry in the Canal. Using screwdrivers, paint brushes, rock hammers and sometimes heavier equipment like shovels, sledge hammers and pick axes we hacked away at the exposed rock on the sides of the Panama Canal. A machete was carried in the field every day to cut down the elephant grass that would grow up within days. In the beginning we would ask our supervisor if every little piece of rock was something important, and as time went on we were able to decipher the fossils from the rock. We found fossilized turtle shell, bones and teeth of horses, camels and crocodiles. Some days we found nothing. Sometimes after hours of digging you would feel a silent presence behind you, as you turned instinctively to see what was there you would be surprise by the enormity of a giant ship sailing silently through the canal.
Jeremy Dunham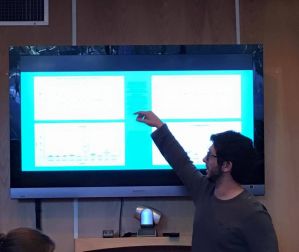 I have had the good fortune of experiencing the PCP-PIRE project through both the field and museum internships over the course of this year, and so I feel I have formed a holistic perspective that few have shared before. I offer here some reflections on my journey from beginning to where I find myself now. When I began the "boots on the ground" internship, I had no idea what might be in store. I felt I had a fairly good background in fieldwork, but as I stepped off the plane into a blanket of humidity I realized that working in the tropics was going to present a challenge the likes of which I had never seen. Though days were long in the heat of Panama's dry season, I gained a true appreciation for the methods that go into hunting and collecting fossils, especially the incredible patience it requires; I had previously assumed fossil hunting would be as quick and rewarding as portrayed in movies. Under the watchful gaze of Jorge Moreno-Bernal, we were fortunate enough to come out with some great finds— including the largest mammalian bone yet collected from Lago Alajuela, likely a scapula from either a gomphothere or rhinoceros.
After my journey in Central America, a new door opened for me back in Gainesville, Florida, where I became the Vertebrate Paleontology Museum Intern for the fall. This position allowed me to experience paleontology post-collection, which before I couldn't truly appreciate. Countless hours were spent unpacking, preparing, and cataloging hundreds of Panama's fossilized treasures for display and research purposes, and I participated in research related to the geochemistry of Lago Alajuela and its fossils for a deeper understanding. Looking back, I find myself truly grateful for the amazing opportunity provided to expand my horizons, and develop skills here I would not have been afforded otherwise.
Aly Tucker
This internship has allowed me to go to Panama, Duke University, and several other day trips to the field. Not only was I able to further experience with museum work and field work I was also able to dabble in vertebrate paleontology and paleobotany, which has been a learning experience. Of course Panama has been one of the most notable parts; from long field days to dinner feasts, it was quite the trip.
My main focus has been preparing invertebrate fossil specimens and cataloguing. I have worked mostly with Lake Alajuela material and have made countless silicone peels of molds and been busy getting everything ready to be put into the collection.
I have also been able to work with a program called Avizo, which creates 3D renderings of specimens from CT data. We are doing reconstructions of fossilized crabs, a camel skull, seeds, and a shrimp claw. We went to Duke University to use their Micro-CT scanner and were able to enjoy the fall weather for a few days as well. Once we got everything scanned you put it into the program and are able to do all kinds of things with the data. The finished product is a 3D image that can be used in research and for teaching purposes.
---
Por Carolyn Thornton, Jeremy Dunham, y Alyssa Tucker | PCP PIRE becarios del museo
Traducido por Lucy Taylor
Nota del editor: Mientras los becarios del museo finalizaban su pasantía, ellos reflexionaron sobre el conocimiento y la experiencia que han ganado en paleobotánica y en paleontología de vertebrados e invertebrados.
Carolyn Thornton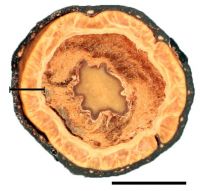 Durante mi pasantía en el museo, he ayudado al departamento de paleobotánica por preparar y catalogar los fósiles de Panamá. Me he enfocado en las frutas ya vivas de la familia de plantas tropicales conocida como Chrysobalanaceae (Fig. 1). Nathan Jud y Christopher Nelson, del Museo de Florida de Historia Natural, también con Fabiany Herrera del Jardín Botánico de Chicago, identificaban frutas y maderas como miembros del género Parinari de la dicha familia, que fueron fosilizadas en la formación Cucaracha en Panamá. La meta de mi proyecto es describir los endocarpios de las plantas de Chrysobalanaceae para que las frutas fosilizadas puedan ser identificadas más fácilmente, y para crear una nueva filogenia de la familia.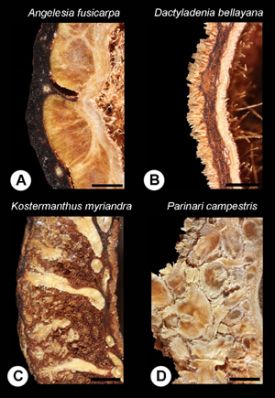 Habían sido varios intentos a descubrir una filogenia de esta familia usando las características morfológicas. Sin embargo, nada de esas investigaciones tenían en cuenta la extensión de la diversidad de la anatomía de los endocarpios, que son los órganos más importantes para identificar las frutas fosilizadas (Fig. 2). La pared del endocarpio, indicada en la Figura 1, tiene muchos estratos que varían de número, tipo, y orden. Seleccionamos características de los estratos que varían entre los géneros para agrupar los especies por sus semejanzas, para organizar la filogenia. Algunas características específicas que elegimos fueron el grosor del endocarpio, los tipos de pelo al dentro de la pared del dicho, y la ubicación de las fibras que atraviesan la longitud de la fruta. Estas fibras están visibles como puntos blancos en el estrato superficial de la Figura 2A. Añadimos nuestra data de los endocarpios a los matrices que contienen datos de hojas y flores, producidos por investigadores previos, y hoy en día estamos haciendo el proceso de producir la filogenia y de descubrir relaciones entre los géneros.
Jeremy Dunham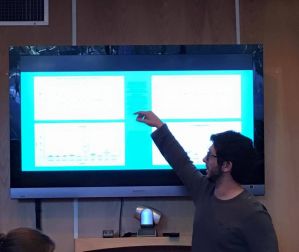 He tenido la buena fortuna de experimentar el proyecto de PCP PIRE en el campo y en mi pasantía en el museo este año, y me siento que haya formado un punto de vista holístico que pocos han experimentado antes. Escribo aquí unas reflexiones de mi viaje, desde el primer día hasta ahora. Cuando empecé la pasantía de campo, no tenía ninguna idea de lo que me esperaba. Yo pensaba que yo tenía buena experiencia de campo, pero cuando desembarqué del avión y sentí la humedad, me di cuenta de que trabajar en los trópicos me presentará un gran reto que no había enfrentado antes. Aunque los días fueron largos durante la temporada seca de Panamá, yo gané un reconocimiento verdadero de los métodos de buscar y recoger los fósiles, especialmente la paciencia increíble que requieren; antes de llegar, suponía que buscar fósiles sería tan rápido y gratificante como en las películas. Con la dirección de Jorge Moreno Bernal, tuvimos la suerte de encontrar unos especímenes fantásticos, incluyendo el hueso de mamífero más grande encontrado en el Lago Alajuela, probablemente la escápula de un gonfotérido o un rinoceronte.
Después de mi viaje a Centroamérica este verano pasado, ha abierto una nueva puerta en Gainesville, Florida, donde he ganado el puesto de Becario del Museo de Paleontología Vertebrada para el otoño. Esta posición me ha permitido a experimentar la paleontología después de recoger, que antes yo no podía apreciar. He pasado un montón de horas descargando, preparando, y catalogando cientos de los tesoros fosilizados de Panamá para mostrar e investigarlos, y he participado en una investigación de la geoquímica del Lago Alajuela y sus fósiles, que me dio un conocimiento más profundo. A lo largo, me siento agradecido para la oportunidad increíble que he recibido para expandir mi mundo y para desarrollar nuevas habilidades que no pudiera aprender sin ir.
Aly Tucker
Esta pasantía me ha concedido viajar a Panamá, a la Universidad de Duke en Carolina del Norte, y en varios otros viajes cortos al campo. Yo ganaba más experiencia del trabajo de museo, además de aprender más de la paleontología vertebrada y la paleobotánica. Claro que Panamá fue una parte más importante para mí; con días largos en el campo y banquetes de cena, fue un viaje inolvidable.
El foco principal para mi ha sido preparar los especímenes de fósiles para catalogarlos. He trabajado por la mayoría con los fósiles del Lago Alajuela y he hecho muchos moldes de silicona; he estado ocupada preparando y organizando a todo para añadir los especímenes a la colección.
También he trabajado con un programa de computadora llamado Avizo, que crea representaciones de 3D de los especímenes, basadas en data de un escaneo de TAC. Estamos usando este programa a crear representaciones de cangrejos fosilizados, el cráneo de un camello, unas semillas, y la pinza de un camarón. Fuimos a la Universidad de Duke para usar su escáner Micro-TAC y nos disfrutamos el clima fresco del otoño acá. Después de escanear a todo, la data se pone en el programa, que nos enseña mucho. El producto final es una imagen de 3D que se puede usar para informar las investigaciones y para educar a los estudiantes.