Nathan Jud | PCP PIRE Post Doc
PCP PIRE Post-doctoral research associate Nathan Jud and research assistant Chris Nelson recently returned from the 23rd Mid-Continent Paleobotanical Colloquium (MPC). MPC is an annual student-oriented paleobotany conference where researchers come together to share and discuss recent research progress prior to the larger society meetings held annually in the summer and fall.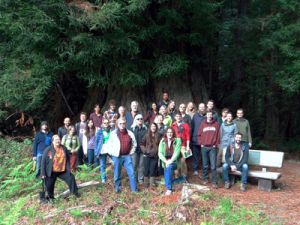 This year the meeting was hosted by Mihai Tomescu at Humbolt State University in Arcata, CA. The meeting consisted of a full day of talks and posters on Saturday and a field trip to Prairie Creek Redwoods State Park where the world's tallest trees grow over 90 meters high.
Nelson gave a talk on the fossil lianas, or climbing plants, collected along the Panama Canal from the Cucaracha Formation. Although previous work on pollen and fruits provided indirect evidence of lianas, these new fossil stems provide direct evidence of the climbing habit in several different species. Nelson showed how fossil liana stems can be distinguished from those of self-supporting plants like trees and shrubs, and went on to discuss their implications for understanding the larger plant community. Lianas are indicative of structurally complex rainforests, and both liana diversity and abundance are known to increase with both seasonality and canopy disturbance in modern forests. Because evidence for seasonality is limited, the presence and diversity of lianas so far indicates that the forest experienced regular disturbance. Independent evidence suggests that fluvial processes, megafauna, and especially volcanism were sources of disturbance in Panama during the Early Miocene.
Jud presented on fossil wood attributable to the tropical conifer family Podocarpaceae from the Eocene of Panama. Molecular phylogenetic studies have suggested that modern podocarps colonized Central America from South America via the Isthmus of Panama ~3.5 million years ago, but this new evidence shows that podocarps colonized the Central American Island Arc prior to the formation of the isthmus.
The field trip to the redwoods was illuminating. As local experts identified many of the understory plants, the group noticed the lack of seedlings in the understory. We discussed the role of fire and canopy gaps for forest health and recruitment of new trees.​
---
Nathan Jud | Post Doc del PCP PIRE
El post-doctorante del PCP PIRE, Nathan Jud, y el asistente de investigación, Chris Nelson, regresaron recientemente del 23° Coloquio Mid-Continental de Paleobotánica (MPC). El MPC es una conferencia de paleobotánica, orientada a estudiantes, donde los investigadores se reúnen para compartir y discutir sus últimos avances antes de presentar los resultados en encuentros más grandes durante el verano y el otoño.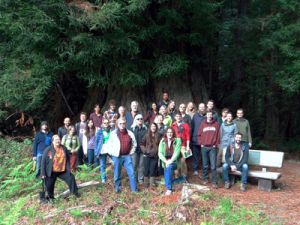 Este año, la reunión fue organizada por Mihai Tomescu en la Universidad Estatal de Humboldt en Arcata, California. La reunión consistió en un día lleno de charlas y pósters y una excursión al Parque Estatal Bosques de Secuoyas, donde crecen los árboles más altos del mundo, por encima de los 90 metros de altura.
Nelson dio una charla sobre lianas fósiles, o plantas trepadoras, recogidas a lo largo del Canal de Panamá, en la Formación Cucaracha. Aunque trabajos previos sobre polen y frutas proporcionaron evidencia indirecta de lianas, estos nuevos tallos fósiles proporcionan evidencia directa del hábito escalador en varias especies. Nelson mostró cómo pueden distinguirse los tallos de liana fósiles de los de árboles y arbustos, y discutió sobre sus implicancias para la comprensión de la comunidad vegetal. Las lianas son indicadoras de selvas tropicales estructuralmente complejas y tanto la diversidad como la abundancia de lianas son conocidas por aumentar la estacionalidad y la perturbación del dosel en los bosques modernos. Debido a que la evidencia de estacionalidad es limitada, la presencia y diversidad de lianas hasta el momento indica que el bosque sufrió perturbaciones regulares. Fuentes de evidencia independientes sugieren que los procesos fluviales, la megafauna y especialmente el vulcanismo eran fuentes de perturbación en Panamá durante el Mioceno temprano.
Jud presentó un trabajo sobre madera fósil atribuida a la familia de las coníferas tropicales Podocarpaceae del Eoceno de Panamá. Estudios filogenéticos moleculares han sugerido que los podocarpos modernos colonizaron América Central desde América del Sur a través del Istmo de Panamá hace ~3.5 millones de años, pero esta nueva evidencia muestra que los podocarpos colonizaron América Central antes de la formación del istmo.
La salida de campo a los bosques de secuoyas fue reveladora. Como expertos locales identificaron muchas de las plantas del sotobosque, el grupo se dio cuenta de la ausencia de plántulas en el sotobosque. Se discutió el papel de los incendios y los huecos en el dosel para la salud del bosque y el reclutamiento de nuevos árboles.