By Paris Morgan | PCP PIRE Summer 2015 Field Intern
A little over three months ago, four strangers boarded airplanes departing from different cities all over the United States. All were headed to the same destination, the campus of the University of Florida (Go Gators!) in Gainesville, Florida with an ultimate final destination of the Republic of Panama.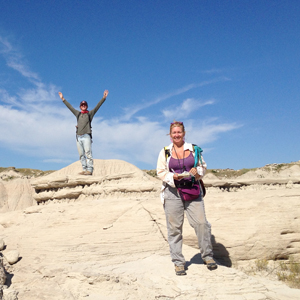 I was one of these four people, and we were chosen to be the PCP-PIRE interns for summer 2015. It was the start of an educational adventure that would take us to the University of Florida, tropical forests of Panama, the Panama Canal and the badlands of Nebraska.
The internship was initiated with two weeks of training in Gainesville. We were tutored in the delicate art of fossil preservation and identification. We learned to apply paraloid B-72, a special glue to stabilize the fossils and then utilize tiny dental picks and paint brushes with water to remove the sediment from the delicate fossils. Charts, books and previously identified fossils were used to help us recognize ankle bones and femurs along with many other bones and a wide variety of teeth from many different species. We spent a day learning how to screenwash sediment by using three screening boxes in the attempt to find very small fossils. Lectures on the formations that make up the geology of the canal region, the Azuero Peninsula and on extinct fauna whose fossils we would encounter were given by professors, post docs, graduate students and interns. These professionals that took the time to teach us about Panama became the backbone of our experience, our lifeline, and it was a welcome sight to see them in Panama and again in Nebraska. Armed with this knowledge we boarded the plane for Panama.
We had been invited to join students from Colombia in a field course given by the Universidad de los Andes Professor Camilo Montes. So every day of the first three weeks in Panama was spent alongside our new Colombian friends, hiking up rivers in the tropical forest of the Azuero Peninsula, looking for rock outcrops to document and sample. This was all in an effort to accurately define the geological history of the region and translate that information to a geological map, which was very intensive. We learned many mapping, geophysical, structural and stratigraphic field techniques. On the final day of the field course a completed map was presented and we made our way back to Panama City to do the painstaking job of logging all of the samples. After saying good-bye to our Colombian associates we settled in to our routine of quarrying fossils in the Panama Canal expansion.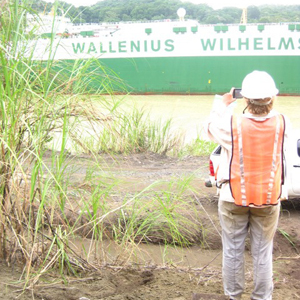 Several weeks were spent learning the dig sites that we quarry in the Canal. Using screwdrivers, paint brushes, rock hammers and sometimes heavier equipment like shovels, sledge hammers and pick axes we hacked away at the exposed rock on the sides of the Panama Canal. A machete was carried in the field every day to cut down the elephant grass that would grow up within days. In the beginning we would ask our supervisor if every little piece of rock was something important, and as time went on we were able to decipher the fossils from the rock. We found fossilized turtle shell, bones and teeth of horses, camels and crocodiles. Some days we found nothing. Sometimes after hours of digging you would feel a silent presence behind you, as you turned instinctively to see what was there you would be surprise by the enormity of a giant ship sailing silently through the canal.
The teachers of GABI-RET came to explore Panama and learn about field techniques and how to integrate the experience into the classroom. We accompanied them to the field at Lago Alajuela and Lago Bayano. Traveling to Colon we were introduced to the Chagres Formation and the beach at Pina. They included us in their cultural excursions and we were able to see many important Panamanian landmarks that otherwise we would have missed. Many bonds were formed for future collaborations between the teachers and the interns, who also worked together in workshops on lesson planning. The teachers wrapped up their trip with a final dinner and said good-bye in Colon. They were a dedicated and creative group of teachers, and we missed them as they departed and we went back to our dig sites in the canal.
Soon we were leaving Panama on a plane to Nebraska to meet a new group of dedicated teachers and to assist with fossil collecting in the Badlands around Fort Robinson, Nebraska. The Fort with its history was a great backdrop for our final educational adventure and we were able to visit some famous fossil sites right in our own backyard in the United States.
As we board airplanes to different cities all over the United States, we are no longer strangers and we have learned a lot about geology, paleontology, Panama, ourselves and each other. And so it is with sad hearts and anticipation for the future we say good-bye to our fellow interns, supervisors, managers, mentors and all the friends that we made along the way. We will miss you and hope to see you again soon! You made an impact in our lives that we will always remember. Now, on to the next great adventure!
---
Por Paris Morgan | Practicante del PCP-PIRE verano 2015
Hace poco más de tres meses, cuatro desconocidos abordaban aviones que partían de diferentes ciudades de los Estados Unidos. Todos se dirigían al mismo destino, el campus de la Universidad de Florida (Vamos Gators!) en Gainesville, con destino final en la República de Panamá.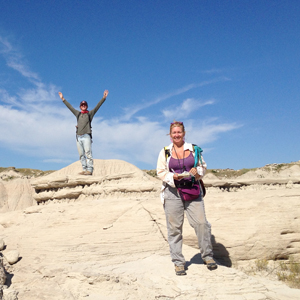 Yo era una de esas cuatro personas y fuimos elegidos para ser los practicantes del PCP-PIRE del verano del 2015. Fue el comienzo de una aventura educativa que nos llevaría a la Universidad de Florida, a los bosques tropicales de Panamá, al Canal de Panamá y a las tierras baldías de Nebraska.
La pasantía se inició con dos semanas de entrenamiento en Gainesville. Fuimos entrenados en el delicado arte de la preservación de fósiles y su identificación. Aprendimos a aplicar Paraloid B-72, un pegamento especial para estabilizar los fósiles y luego utilizar pequeños palillos de dientes y pinceles de pintura con agua para eliminar el sedimento de los delicados fósiles. Cuadros, libros y fósiles previamente identificados fueron usados para ayudarnos a reconocer huesos del tobillo, fémures y una amplia variedad de dientes de muchas especies diferentes. Pasamos un día aprendiendo a tamizar sedimentos mediante el uso de tres cajas de selección con el propósito de encontrar fósiles muy pequeños. Profesores, post doctorantes, estudiantes de postgrado y pasantes dieron conferencias sobre las formaciones geológicas que componen la región del Canal, la península de Azuero y sobre la fauna extinta cuyos fósiles fueron encontrados. Estos profesionales que se tomaron el tiempo para enseñarnos acerca de Panamá se convirtieron en la columna vertebral de nuestra experiencia, nuestra línea de vida, y fue muy agradable verlos en Panamá y otra vez en Nebraska. Armados con este conocimiento, nos embarcamos en el avión con destino a Panamá.
Fuimos invitados a unirnos a estudiantes de Colombia en un curso de campo dado por el profesor de la Universidad de los Andes Camilo Montes. Así que todos los días durante las primeras tres semanas en Panamá las pasamos al lado de nuestros nuevos amigos colombianos, haciendo caminatas por los ríos de la selva tropical de la península de Azuero, en busca de afloramientos de roca para documentar y muestrear. Todo esto lo hicimos en un esfuerzo para definir con precisión la historia geológica de la región y traducir esa información en un mapa geológico. Aprendimos muchas técnicas de mapeo, geofísica, estructurales y estratigráficas. En el último día del curso de campo se presentó un mapa completo y regresamos a la Ciudad de Panamá para hacer el laborioso trabajo de registrar todas las muestras. Luego de decir adiós a nuestros socios colombianos, nos instalamos en nuestra rutina de búsqueda de fósiles en las canteras de la expansión del Canal de Panamá.
Varias semanas fueron gastadas conociendo los sitios de excavación del Canal. Usando destornilladores, pinceles, martillos de roca y equipos a veces más pesados como palas, martillos y hachas abrimos la roca expuesta en los lados del Canal de Panamá. Un machete era llevado todos los días al campo para cortar el alto pasto que crecía en cuestión de días. Al principio preguntábamos a nuestro supervisor si cada pequeño pedazo de roca era algo importante; con el paso del tiempo fuimos capaces de discernir los fósiles de la roca. Encontramos caparazones fosilizados de tortuga, huesos y dientes de caballos, camellos y cocodrilos. Algunos días no encontramos nada. A veces, después de horas de excavación sentíamos una presencia silenciosa detrás nuestro, mientras volteábamos instintivamente para ver lo que estaba allí nos sorprendíamos por la enormidad de un barco gigante navegando en silencio a través del canal.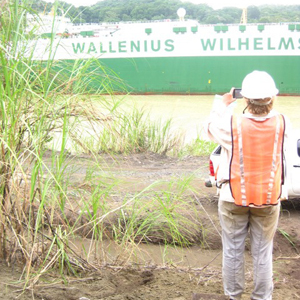 Los maestros del proyecto GABI-RET vinieron a explorar Panamá y aprender sobre técnicas de campo y cómo integrar esta experiencia en el aula. Los acompañamos al trabajo de campo en el Lago Alajuela y el Lago Bayano. Al viajar a Colón conocimos la Formación Chagres y la playa de Pina. Ellos nos incluyeron en sus excursiones culturales y pudimos ver muchos monumentos panameños importantes que de otra manera nos hubiéramos perdido. Muchos lazos se formaron para futuras colaboraciones entre profesores y practicantes, quienes también trabajaron juntos en talleres sobre planificación de lecciones. Los profesores terminaron su viaje con una última cena y se despidieron en Colón. Eran un grupo dedicado y creativo de maestros y los extrañamos cuando partieron mientras nosotros regresamos a nuestros sitios de excavación en el canal.
Pronto tomábamos un avión de Panamá hacia Nebraska para conocer a un nuevo grupo de dedicados profesores y para ayudar en la recolección de fósiles en las tierras baldías de los alrededores del Fuerte Robinson, Nebraska. El Fuerte, con su historia, fue un gran telón de fondo para nuestra aventura educativa final y pudimos visitar algunos sitios de fósiles famosos en nuestro propio patio trasero de los Estados Unidos.
Mientras tomábamos nuestros aviones a diferentes ciudades de los Estados Unidos, ya no éramos extraños y aprendimos mucho sobre geología, paleontología, Panamá, nosotros mismos y sobre los demás. Y así es con corazones tristes y expectativas sobre el futuro que decimos adiós a nuestros compañeros practicantes, supervisores, gerentes, mentores y todos los amigos que hicimos a lo largo del camino. ¡Los vamos a echar de menos y espero volverlos a ver pronto! Ustedes impactaron nuestras vidas y siempre los recordaremos. Ahora, ¡a la siguiente gran aventura!