By Gina Roberti | PCP PIRE Summer 2015 Field Intern
Trekking through the countryside of rural Panama, the pursuit of a geologic field mapper is to learn the layout of the land…by foot.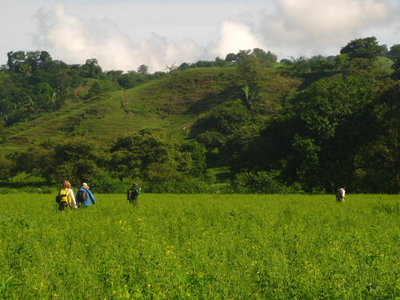 The first step in understanding the geologic history of an area is to create a map. What different types of rocks outcrop on the surface and what is their relationship to other rock units? With such information, one can begin to piece together the story of their formation. The history of geology in the tropics is sparse; the climate and vegetation makes it difficult for scientists to access and, historically, our understanding of geology comes primarily from studies in the northern latitudes.
For geologists in the tropics, accessing the bedrock, the layer of rock that forms the base of the land–underlying all soil and bodies of water–, is especially tricky. Hot and humid weather year round in tropical latitudes makes for incredible biological productivity, and happy microbes convert rocks into soils at a startling pace. Thus, to find exposures of rock outcrops that were fresh enough to determine their lithology, or composition, required a bit of effort.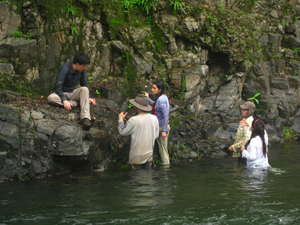 In the Azuero peninsula of western Panama where we worked for the first part of our summer 2015 PCP-PIRE internship, it was difficult to uncover the bedrock beneath thick layers of red iron-rich tropical soils. Deforestation, which has replaced the dense tropical forest with pastures and farmland, has transformed the landscape of much of Panama in the last 50 years. This is especially true in Azuero, where the majority of land in the past few decades has been converted for cattle grazing. Yet, even without the thick carpet of the jungle, the thick soil layer obscures the underlying rock. To solve our bedrock problem, we followed rivers which, when the topography was steep enough, carved into fresh rock below.
In a caravan of pickup trucks, gear strapped in place with blue tarps to prevent soaking from the frequent afternoon downpours, our summer internship began with a trip out to the rural countryside of western Panama. For 28 days, we participated in a geologic field mapping course led by Dr. Camilo Montes, a Colombian geologist renowned for his work analyzing the paleomagnetic and structural geology of Central America and northern Colombia.
For the month of June, we lived in a small fishing village called Torio, sharing two large houses with a crew of over 20 students from the University of the Andes in Bogota.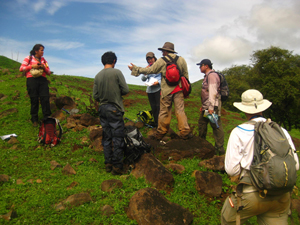 Our goal was to learn more about the tectonic history of the region, to better inform our understanding of the 'how' and 'why' of the closure of the Isthmus of Panama. To do this, we spent our days hiking through rivers and along beaches to access outcrops ('afloramientos' in Spanish), where we would diligently document (using colored pencils and printed topographic maps) the rock types we encountered, their orientation and extent. By compiling bits of color day after day, it was possible to draw connections between similar rock types and infer (or, quite literally 'color-in') the bedrock geologic map of the south-western portion of the peninsula.
To cover ground, we broke into small teams, hiking along rivers until we found a suitable outcrop. Step one: hammer away to break off a fresh rock surface. Then, identify the type of rock, measure any important planes of deformation or deposition (fractures, faults, joints, bedding), note the location, size and extent of the outcrop. The scale and size of different rock units often only became apparent after laying out notes and maps at the end of the workday. Yet, excitingly, seemingly unrelated rock units exhibited patterns, in the direction of principal faults or bedding planes that pointed to a larger structural story. Though much of our work in the field was preliminary mapping, it was extremely rewarding to see these patterns emerge.
When reading geology in the field, one quickly learns that very little in the natural world is 'random.' The land as we experience it, from the height of mountains, to patterns in vegetation, the angles and shapes of topographic highs, and location of rivers, all that we see results from changes in the underlying bedrock. Our time in Azuero was a lesson in how to recognize patterns: in observing relationships between rock types, uniformity in the direction of fractures and faults, even patterns in evidence as subtle as centimeter-scale striations. Noting carefully these features offers not only a new aesthetic lens with which to experience the natural world, but also provides the foundation for highly detailed scientific interpretations of the geologic history.
---
Por Gina Roberti | Practicante del PCP PIRE Verano 2015
Caminando por el campo de las zonas rurales de Panamá, la búsqueda de un mapeador geológico es conocer la disposición de la tierra… a pie.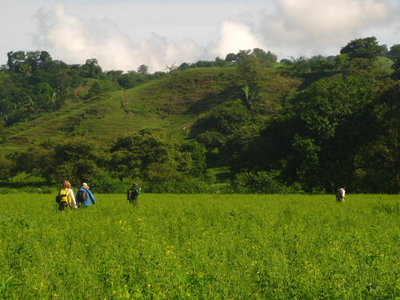 El primer paso en la comprensión de la historia geológica de un área es la creación de un mapa. ¿Qué tipos diferentes de rocas afloran en la superficie y cuál es su relación con otras unidades de roca? Con esta información, se puede empezar a reconstruir la historia de su formación. La historia de la geología en las zonas tropicales es escasa; el clima y la vegetación hace que el acceso sea difícil para los científicos e históricamente, nuestra comprensión de la geología proviene principalmente de estudios en latitudes septentrionales.
Para los geólogos en los trópicos, el acceso a la roca madre, la capa de roca que forma la base de la tierra – que subyace en todos los suelos y cuerpos de agua– es especialmente difícil. El clima caliente y húmedo durante todo el año en las latitudes tropicales hace que la productividad biológica sea grande, y los microbios, felices, convierten piedras en suelos a un ritmo alarmante. Por lo tanto, para encontrar afloramientos rocosos expuestos que sean lo suficientemente frescos para determinar su litología o composición se requiere un poco de esfuerzo.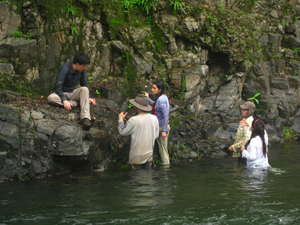 En la península de Azuero, en el oeste de Panamá, donde trabajamos durante la primera parte de las prácticas del verano 2015 del PCP-PIRE, era difícil descubrir el lecho de roca debajo de gruesas capas de suelos tropicales ricos en hierro rojo. La deforestación, que ha sustituido a la densa selva tropical con pastos y tierras de cultivo, ha transformado el paisaje de gran parte de Panamá en los últimos 50 años. Esto es especialmente cierto en Azuero, donde la mayor parte de la tierra en las últimas décadas se ha convertido en pastizales para ganado. Sin embargo, incluso sin la gruesa alfombra de la selva, la espesa capa de suelo oscurece la roca subyacente. Para resolver nuestro problema de la roca madre, seguimos los ríos que, cuando la topografía era bastante empinada, tallaba y exponía la roca fresca.
En una caravana de camionetas, con el material de campo atado en su lugar con lonas azules para evitar que se empape con los frecuentes chaparrones de la tarde, nuestra pasantía de verano comenzó con un viaje a la zona rural del oeste de Panamá. Durante 28 días, participamos en un curso de cartografía geológica de campo dirigido por el Dr. Camilo Montes, un geólogo colombiano reconocido por su trabajo en el análisis de la geología paleomagnética y estructural de América Central y el norte de Colombia.
Para el mes de junio, vivíamos en un pequeño pueblo de pescadores llamado Torio, compartiendo dos grandes casas con una tripulación de más de 20 estudiantes de la Universidad de los Andes en Bogotá.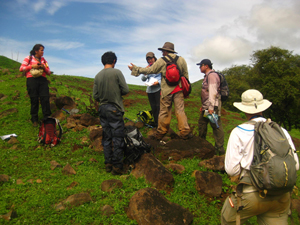 Nuestro objetivo era aprender más sobre la historia tectónica de la región, para mejorar nuestra comprensión de "cómo" y "por qué" del cierre del Istmo de Panamá. Para ello, pasamos nuestros días haciendo caminatas a través de los ríos y playas para acceder a afloramientos donde documentábamos diligentemente (utilizando lápices de colores y mapas topográficos impresos) los tipos de roca encontrada, su orientación y su extensión. Al compilar trozos de color día tras día, fue posible establecer conexiones entre tipos similares de roca y deducir (o, literalmente 'colorear') los fundamentos del mapa geológico de la parte sudoccidental de la península.
Para explorar mayor terreno, nos dividimos en pequeños equipos, caminando por los ríos hasta que encontrábamos un afloramiento adecuado. Paso uno: martillar para alcanzar la superficie de una roca fresca. Luego, identificar el tipo de roca, medir cualquier plano importante de deformación o deposición (fracturas, fallas, articulaciones, tipo de lecho), y tener en cuenta la ubicación, el tamaño y el alcance del afloramiento. La escala y el tamaño de las diferentes unidades de roca a menudo sólo se hicieron evidentes después de trazar notas y mapas al final de la jornada laboral. Sin embargo, emocionantemente, unidades de roca aparentemente no relacionados exhiben patrones, en la dirección de las fallas principales o planos de estratificación que apuntaban a una historia estructural mayor. Aunque gran parte de nuestro trabajo en el campo fue el mapeo preliminar, fue muy gratificante ver que estos patrones emergían.
Izquierda: Diminutos granos brillantes de un mineral metamórfico azul-verde (muy probablemente epidota) que se forma cuando los basaltos volcánicos se alteran hidrotermalmente. Observe la capa delgada de color naranja (quizás microbiana) en la superficie, lo que muestra la erosión o degradación de la roca (meteorización). A menudo se requiere un martillo para romper la roca y ver más allá de esta corteza superficial. Foto cortesía de Gina Roberti.
Derecha: Estrías revelan la deformación (deslizamiento) a lo largo de un plano de falla. Al analizar las características estructurales, éstas eran importantes pistas sobre el tipo de deformación (una grieta versus un desplazamiento), incluyendo la dirección del deslizamiento. Como geólogos de campo, tomábamos nota de estas características y otros aspectos de la roca, sintetizando y discutiendo la información de los equipos al final del día. Foto cortesía de Gina Roberti.
Al leer la geología en el campo, uno aprende rápidamente que muy poco en el mundo natural es "aleatorio". La tierra como lo experimentamos, desde lo alto de las montañas, a los patrones de la vegetación, los ángulos y las formas de los altos topográficos y ubicación de los ríos, todo lo que vemos resulta de los cambios en el lecho de roca subyacente. Nuestro tiempo en Azuero fue una lección de cómo reconocer patrones: observando las relaciones entre los tipos de roca, la uniformidad en la dirección de las fracturas y fallas, incluso patrones en evidencias tan sutiles como estrías a escala de centímetros. Observar atentamente estas características no sólo ofrece un nuevo lente estético con el cual experimentar el mundo natural, sino que también proporciona la base para las interpretaciones científicas altamente detalladas de la historia geológica.