By Claudia Grant| GABI RET Project Coordinator
Over the past 4 years, the PCP PIRE has had the privilege to collaborate with Gary Bloom, Superintendent from the Santa Cruz City Schools in California. A passionate fossil hunter and collector, Gary understands the importance of the fossil record for scientific research and has much appreciation for what scientists do. As an education advocate and leader, he knows of the importance and need for teachers' professional development.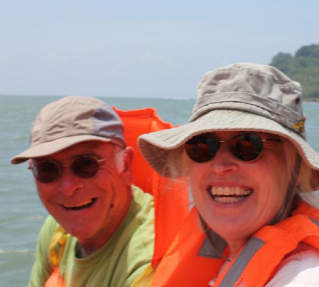 To date, the PCP PIRE had the opportunity, thanks to NSF and Superintendent Bloom, to bring 12 teachers to Panama for field and research experiences. These experiences have impacted teachers' careers in a positive way. Tangible outcomes reported include increased teacher collaboration, increased student interest in STEM careers and several upcoming projects involving new technologies and teacher collaboration with scientists.
These outcomes are a result of Gary's outreach efforts during a trip to Panama in 2011 when he worked with Carlos Jaramillo (PCP PIRE Co-PI) and his team at STRI (Smithsonian Tropical Research Institute) collecting fossils and related geological materials. Gary found it a very enriching experience and was motivated to involve his teachers in similar international field experiences that can be translated back into the classroom.
Today, the PCP PIRE thanks Gary for this opportunity for collaboration and for leaving a legacy that will continue to grow and thrive. Gary is moving onto another stage of his life and, although he will no longer collaborate with us as a superintendent, he will do so as a mentor and a friend in upcoming professional opportunities for teachers. With this note, we want to wish him a happy retirement full of joy, wonderful family moments, and many fossils to discover!
---
Por Claudia Grant | Coordinador del proyecto GABI RET
Con una extensa carrera como líder y defensor de la educación, el PCP PIRE ha tenido el privilegio de conocer y colaborar con Gary Bloom, Superintendente de las Escuelas de la ciudad de Santa Cruz, en California. Como apasionado cazador de fósiles y coleccionista, Gary entiende la importancia del registro fósil para la investigación científica y tiene mucho aprecio por lo que hacen los científicos. Y desde el punto de vista profesional en el campo de la educación, sabe de la importancia y la necesidad de desarrollo profesional de los docentes.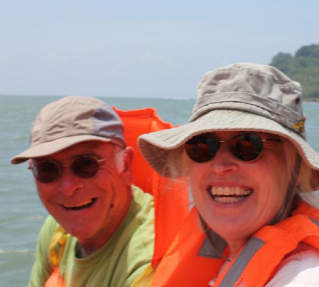 El PCP PIRE ha tenido la oportunidad, gracias a la NSF y al superintendente Gary Bloom, de llevar a 12 docentes a Panamá y proporcionarles experiencias de campo y de investigación. Estas experiencias han impactado las carreras de los profesores de una manera positiva. Varios resultados tangibles se han generado gracias a la colaboración entre maestros, como un aumento de interés de los estudiantes en las carreras de ciencias, nuevos futuros proyectos relacionados con nuevas tecnologías, y colaboración de docentes con científicos. Todos ello, como resultado de los esfuerzos de difusión de Gary durante un viaje a Panamá en el 2011, cuando trabajó con Carlos Jaramillo (PCP PIRE Co-PI) y su equipo del STRI (Smithsonian Tropical Research Institute) recogiendo fósiles y materiales geológicos relacionados. Fue una experiencia enriquecedora y por lo tanto, quiso involucrar a sus maestros en experiencias de campo internacionales similares que pudieran traducirse en el salón de clases.
Hoy sólo podemos decir gracias por esta oportunidad de colaboración y por dejar un legado que continuará creciendo y prosperando. Gary está comenzando una nueva etapa de su vida, y aunque no colaborará con nosotros desde una postura de superintendente, lo hará como mentor y amigo en próximas oportunidades profesionales para los maestros. Con esta nota, queremos desearle una feliz jubilación llena de alegría, momentos maravillosos en familia, y muchos fósiles por descubrir!