By Cristina Robins, PhD | PCP PIRE Project Assistant
On Wednesday, May 28, four new PCP PIRE interns headed down to Panama. They spent the previous week training at the Florida Museum of Natural History, learning about invertebrate, vertebrate and paleobotanical fossils. This is part of the new internship "boot camp" detailed in an earlier issue of the eNewsletter. Training activities included curation, preparation and collecting fossils in local outcrops around Gainesville, FL. The interns are now familiar with basic cataloging and identification methods; the use of air scribes, air abrasive units, and rock saws; and have some experience collecting fossil material in the subtropical heat of Florida.
These four new interns all bring different strengths to the PCP PIRE and we look forward to hearing more from them. All are interested in science education and outreach, so look for more from them on our Facebook and Twitter feeds!
The first three weeks of the internship will be spent in a field course on the Azuero Peninsula with Dr. Camilo Montes of the University of the Andes, Colombia and his students, as well as Dr. Austin Hendy and PhD candidate Aldo Rincon of the Florida Museum of Natural History. The website for the field course is found here. In late June, following the field course, they will return to regular excavations along the Panama Canal.
A mini-biography of the interns, including their research interests, is presented below:
Michelle Barboza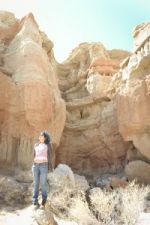 Michelle Barboza is a rising senior at California State University-Fullerton, majoring in Geological Sciences with a minor in Geography. She has had extensive field experience through her coursework at CSU Fullerton. Once she completes her undergraduate degree, she intends to pursue graduate studies in paleontology. Barboza describes her research interests in Panama: "As a student of paleontology, I am interested on the effect of the isthmus on biodiversity, and as a student of geography, I am excited at the possibilities of reconstructing the paleogeographic progression of the continents. It is my hope that through working with the PCP-PIRE internship I will gain a more holistic understanding of the historical climatic and migrational events that occurred due to the formation of the Isthmus of Panama."
Robyn Henderek
Robyn Henderek is a rising senior at Lafayette College, with a dual major in Geology and Anthropology/Sociology. She is heading to Panama having just completed field work in the Turkana Basin, Kenya at the Turkana Basin Field Institute School. She intends to pursue a graduate degree in paleontology. Her motivations for research in Panama relate to her previous work. She states, "Through my research [at the Turkana Basin Field Institute School], I have found that changes in climate, estimated by dental morphology, correlate with changes in both type and diversity of flora and fauna in the Turkana Basin. As a result, I would be interested in contrasting appearance and abundance data, with respect to changes in climate, throughout the Neogene in the New World Tropics."
Wesley von Dassow
Wesley von Dassow graduated from Lafayette College in 2013 with a major in Geology. He has spent extensive time working in the field at the Rudyard Field Station (Museum of the Rockies) excavating dinosaurs in Montana as well as fieldwork in the Galapagos. He plans a career focusing on geoscience and public science education. As to his larger research goals in Panama, he states, "I have recently developed an interest in geochronological dating methods and their applications. I would be interested to learn how they're being applied to dating fossil stratographic horizons in relation to Panama's past biogeography as well as to timing the events leading to the Isthmus of Panama's emergence."
Evan Whiting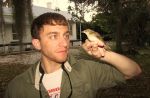 Evan Whiting is a 2014 graduate of the University of Florida, with a major in zoology and a minor in geology. As part of a seminar class in Spring 2014, he went to Panama for a week to aid in the study and excavation of fossils. He has worked for the Florida Museum of Natural History as a fossil preparator, as well as participating in many collecting field trips. He will begin studies on a Master of Science degree at the University of Nebraska-Lincoln this fall. Whiting is exploring fossil reptiles as possible climate change indicators. Whiting states, "Increasing our collection of Miocene Neotropical herpetofaunas via screenwashing and prospecting in fine sediments in Panama would provide useful information about the history of biodiversity and species richness, evolution, ecology and biogeography of these important vertebrates that comprise important parts of modern ecosystems. Herpetofaunas…are also more intimately linked to climate change than mammals. Thus, fossil herpetofaunas can be utilized as paleoclimate proxies with greater precision, and help us better understand how changing climate and its accompanying environmental pressures are linked to changes in biodiversity and evolutionary processes in the Neotropics and elsewhere."
---
Por Cristina Robins, PhD | Proyect Assistante
El miércoles 28 de mayo, cuatro nuevos practicantes del PCP PIRE se mudaron a Panamá. Ellos pasaron la semana previa entrenándose en el Museo de Historia Natural de Florida, aprendiendo sobre invertebrados, vertebrados y fósiles paleobotánicos. Esto forma parte de la nueva pasantía "campo de entrenamiento", detallada en un número previo del eNewsletter. Las actividades de entrenamiento incluyeron la conservación, preparación y colecta de fósiles en afloramientos alrededor de Gainesville, Florida. Los practicantes están ahora familiarizados con los métodos de catalogación básica e identificación; el uso de percutores neumáticos, unidades de aire abrasivo y sierras para cortar roca y tienen algo de experiencia colectando material fósil bajo el calor subtropical de Florida.
Estos cuatro nuevos practicantes proveen diferentes cualidades al PCP PIRE y estamos ansiosos de oír sobre ellos. Todos ellos están interesados en educación de ciencia y divulgación, así que vean más sobre ellos en nuestras cuentas de Facebook y Twitter .
Las primeras tres semanas de pasantía serán dedicadas a un curso de campo en la Península Azuero con el Dr. Camilo Montes de la Universidad de los Andes, Colombia, y sus estudiantes, así como el Dr. Austin Hendy y el estudiante de doctorado Aldo Rincón del Museo de Historia Natural de Florida. La página web del curso de campo se encuentra aquí. A fines de junio, después del curso de campo, ellos retornarán a las excavaciones regulares en el Canal de Panamá.
Breves biografías de los practicantes, incluyendo sus intereses de investigación, se presentan a continuación:
Michelle Barboza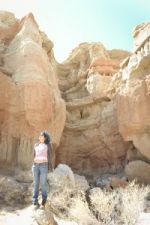 Michelle Barboza es estudiante de Ciencias Geológicas en la Universidad de California, en Fullerton, con estudios secundarios en Geografía. Ella ha tenido amplia experiencia de campo a lo largo de sus estudios en la Universidad de California. Cuando culmine sus estudios de pregrado, intenta proseguir con estudios de postgrado en paleontología. Barboza explica de la siguiente manera sus estudios de investigación en Panamá: "Como estudiante de paleontología, estoy interesada en el efecto del istmo sobre la biodiversidad; como estudiante de geografía, estoy emocionada por las posibilidades de reconstruir la progresión paleogeográfica de los continentes. Es mi deseo que durante mi trabajo con el PCP PIRE, desarrolle un entendimiento holístico de la historia climática y eventos migracionales que ocurrieron debido a la formación del Istmo de Panamá".
Robyn Henderek
Robyn Henderek es estudiante de las carreras de Geología y Antropología/Sociología en el Lafayette College. Se encamina a Panamá luego de haber realizado trabajos de campo en la Cuenca de Turkana, en Kenia. Ella planea proseguir estudios de paleontología. Sus intereses de investigación en Panamá se relacionan con sus trabajos previos en Kenia. Dice: "A través de mi investigación [en el Instituto de la Cuenca de Turkana], descubrí que cambios en el clima, calculados por la morfología dentaria, se correlacionan con cambios en el tipo y diversidad de flora y fauna de la Cuenca de Turkana. Como resultado, me interesaría contrastar los datos de aparición y abundancia con respecto a los cambios del clima a lo largo del Neógeno de los trópicos del Nuevo Mundo".
Wesley von Dassow
Wesey von Dassow se graduó en geología en el Lafayette College en el 2013. Ha pasado bastante tiempo haciendo trabajo de campo en la Estación de Campo Rudyard (Museum of the Rockies), excavando dinosaurios en Montana, así como en la isla Galápagos. Planea una carrera enfocada en geociencias y divulgación de ciencia. En cuanto a sus objetivos de investigación, dice: "Recientemente he desarrollado un interés en los métodos de datación geocronológica y sus aplicaciones. Estaría interesado en aprender cómo estos son aplicados para datar horizontes estratigráficos fosilíferos en relación con el pasado biogeográfico de Panamá, así como la datación de eventos que desencadenaron la emergencia del Istmo de Panamá".
Evan Whiting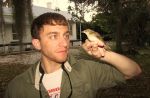 Evan Whiting es graduado en zoología en la Universidad de Florida, y posee estudios secundarios en geología. Como parte de un curso en la primavera del 2014, fue a Panamá por una semana para ayudar en el estudio y excavación de fósiles. Ha trabajado en el Museo de Historia Natural de Florida como preparador de fósiles y también ha participado en varias misiones de colecta. Comenzará sus estudios de maestría en la Universidad de Nebraska, en Lincoln, este otoño. Sus motivaciones para trabajar en Panamá están relacionadas con el uso de reptiles como herramientas para entender el cambio climático. Whiting dice: "Incrementar nuestra colección de herpetofauna del Mioceno Neotropical a través del tamizado y prospectando los sedimentos en Panamá proveerán información útil sobre la historia de la biodiversidad, riqueza de especies, evolución, ecología y biogeografía de estos importantes vertebrados que comprenden parte importante de los ecosistemas modernos. Las herpetofaunas están también más intimamente ligadas al cambio climático que los mamíferos. Así, las herpetofaunas fósiles pueden ser utilizadas como herramientas paleoclimáticas de gran precisión y ayudarnos a entender cómo el clima cambiante y las presiones ambientales que lo acompañan están ligadas con cambios en la biodiversidad y procesos evolutivos en el Neotrópico y en todas partes".