By Claudia Grant | GABI-RET Project Coordinator
Working with science teachers in the PCPPIRETeach project has been not only a rewarding experience but one that has had a positive impact in the classroom.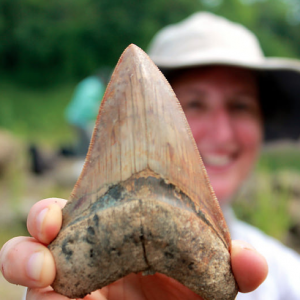 Based on the results from two years working with teachers in Santa Cruz, California, we submitted a new proposal to NSF to expand and further develop our efforts to engage teachers in the science and practice of paleontology For this project, we proposed to recruit 10 teachers per year (from California, New Mexico and Florida) over a period of 3 years. During the spring of 2014, we received news from NSF that our proposal was going to be funded and soon after we had everything in place for year 1 of GABI RET (Great American Biotic Interchange – Research Experiences for Teachers).
The GABI RET experience has four components. The first is a 3-day orientation in the U.S. where teachers have the opportunity to meet and talk to teachers from previous cohorts; are introduced to scientific concepts and current research related to GABI; receive an overview of the project and travel logistics; and are provided time to ask questions. Second is a 10-day international component in Panama where teachers do field work, attend lectures, visit scientists in their labs and brainstorm about lessons related to GABI, among other activities. The international component is followed by a 3-day wrap up session in the U.S. where teachers visit a natural history museum and experience a "behind the scenes" tour to learn about museum collections, specimen preparation and collections digitization. The wrap up session also has a fieldwork component where teachers visit localities that have fossils of the same age or type as those present in Panama.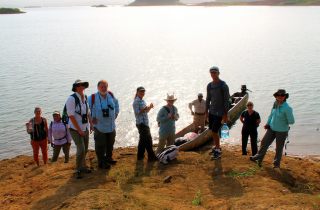 The fourth and final component is an online Community of Practice where we continue the conversation and help each other to bring the international experience into the classroom. The broader impacts of this project are to foster teacher-scientist collaborations so that teachers can learn about science and scientists can learn about K12 education. The intellectual merit consists of teachers investigating and co-publishing with scientists about new discoveries that could challenge current GABI theories.
Our first group of GABI RET participants recently returned from Panama. The trip was fantastic; a great sense of humor and flexibility combined with a huge desire to learn and a passion for science is one way of describing this year's cohort. Scientists Bruce MacFadden and Gary Morgan provided scientific background throughout the experience while lead teacher Jason Tovani provided support on logistics and overall flawless daily operations in addition to leading discussions. We thank them for their time and enthusiasm and the teachers for their passion for science and dedication to their students. Great things can happen when we combine two bodies of expertise in order to collaborate. Every group of teachers has helped us gain new knowledge and better appreciation of the realities of K12 education which enable us to continue to improve our program. We are not stopping here.
---
Por Claudia Grant | Coordinador del proyecto GABI RET
Trabajar con los profesores de ciencias no es sólo una experiencia gratificante, sino también una actividad que ha producido varios resultados de impacto positivo en las salas de clases.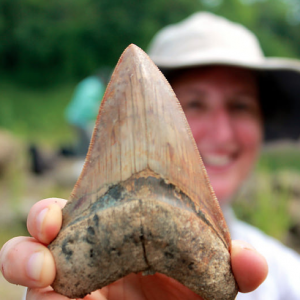 Como consecuencia de los resultados del PCPPIRETeach grupos 1 y 2, fuimos capaces de presentar una nueva propuesta a la Fundación Nacional para la Ciencia (NSF por sus siglas en inglés). La nueva propuesta consistió en el reclutamiento de 10 profesores por año (de California, Nuevo México y Florida) por un período de 3 años. Durante la primavera del 2014, recibimos noticias positivas de la NSF sobre el financiamiento de nuestra propuesta y poco después ya teníamos todo en su lugar para el primer año del GABI RET (Gran Intercambio Biótico Americano – Experiencias de Investigación para Profesores).
La experiencia GABI RET tiene 4 componentes: (1) Una orientación de tres días en los EE.UU. donde los maestros tienen la oportunidad de conocer y hablar con otros maestros de grupos anteriores; son introducidos a los conceptos científicos e investigaciones en curso relacionadas con el GABI; tienen una visión general del proyecto y de la logística del viaje; y tiempo para preguntas y respuestas. (2) Diez días de componente internacional en Panamá, donde los maestros hacen trabajo de campo, asisten a conferencias, visitan científicos en sus laboratorios y generan ideas sobre nuevas lecciones relacionadas con el GABI, entre otras actividades. (3) Tres días de recapitulación con una sesión en los EE.UU. donde los maestros visitan un museo de historia natural y tienen la experiencia de un tour "detrás de escena" mientras aprenden acerca de las colecciones de museos, preparación de las muestras, digitalización de colecciones, etc. La sesión de recapitulación también tiene un componente de trabajo de campo donde los maestros visitarán localidades con fósiles del mismo tipo o edad a los presentes en Panamá.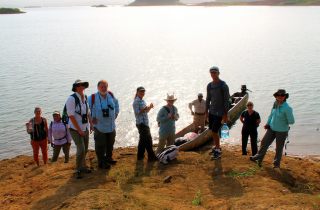 (4) El cuarto componente es una Comunidad de Práctica en línea donde continuaremos la conversación y nos ayudaremos mutuamente a llevar la experiencia internacional al salón de clases. Los impactos más amplios de este proyecto son fomentar colaboraciones de profesores y científicos para que los maestros puedan aprender sobre la ciencia y los científicos pueden aprender sobre la educación primaria. El mérito intelectual consta de profesores que investigan y co-publican con los científicos acerca de nuevos descubrimientos que podrían desafiar las teorías actuales del GABI.
Nuestro primer grupo de participantes GABI RET acaba de regresar de Panamá. El viaje fue fantástico; un gran sentido del humor combinado con un enorme deseo de aprender incrustado con toques de flexibilidad y pasión por la ciencia es una manera de describir la cohorte de este año. Los científicos Bruce MacFadden y Gary Morgan proporcionaron formación científica durante toda la experiencia y el maestro líder Jason Tovani brindó apoyo en la logística y la impecabilidad general de las operaciones diarias, además de liderazgo en las discusiones. Les damos las gracias por su tiempo y entusiasmo, así como a los maestros por su pasión por la ciencia y la dedicación a sus estudiantes. Grandes cosas pueden suceder cuando combinamos dos cuerpos de conocimientos con el fin de colaborar; cada año, cada cohorte nos enseña algo nuevo y nos permite mejorar y hacer las cosas mejor. No nos detendremos aquí.