By Aaron Wood | PCP PIRE Post Doc
Members of the PCP-PIRE internship programs are teaming up with educators at the Biomuseo to enhance public outreach at Panama's new and exciting natural history museum! Open to the public as of October 2, the BioMuseo includes eight exhibit galleries that tell the story of the geological development of the Isthmus of Panama and its impact on Earth's biodiversity.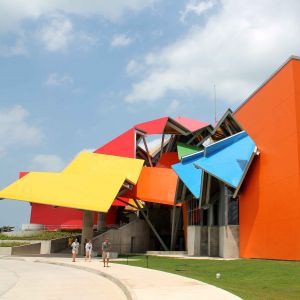 "Giant Sharks and Tiny Camels," a temporary exhibit at the Biomuseo, features recent fossil discoveries made in Panama by PCP-PIRE members and partners as well as PCP-PIRE efforts in training the next generation of scientists. Working side-by-side with Biomuseo docents, educators and exhibit coordinators will significantly contribute to the PCP-PIRE interns' training, giving them a unique opportunity to develop stronger outreach skills in the course of conducting research on the ancient biodiversity and environments of Panama.
Dovetailing one of our esteemed partnerships with the educational goals of our internship programs involves building upon the skills of our interns and the infrastructure already in place in PCP-PIRE for public outreach. For example, the current field interns have a strong background in the geosciences, making them content experts on the geological processes showcased in the Biomuseo's "Building the Bridge" gallery, a series of activities and vitrines that describe the tectonic evolution of the Isthmus and its environments. These interns are working with Jonathan Hernández Arana, the Biomuseo's chief exhibit guide, to supplement the narrative for this gallery and help Biomuseo docents increase visitors' interactions with the geology exhibits.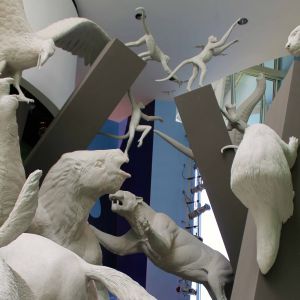 We are currently exploring ways the interns in the newly developed PCP-PIRE museum internship program can work with the Biomuseo staff as they develop their outreach programs for school groups and public events. PCP-PIRE already has bilingual outreach material in the form of educational panels and posters and digital presentations that can be easily used to train incoming museum interns on how to conduct outreach in both English and Spanish. The interns could then travel to Panama with other PCP-PIRE team members and actively convey the importance of understanding the origins and sustainability of Panama's tremendous biodiversity to the Panamanian public.
Such opportunities for our interns at the Biomuseo are a natural extension of the educational goals of PCP-PIRE. The "Boots on the Ground" field internship program has been successful in providing field-based research experiences to U.S. students in an international setting, and the recent opening of the Biomuseo will provide them with regular occasions to practice their bilingual skills in communicating science to the public, completing their immersion as globally-engaged young scientists. The PCP-PIRE team and I are grateful for the opportunities our partnership with the Biomuseo has provided for our students and interdisciplinary colleagues.
---
Por Aaron Wood | Post Doctorante del PCP PIRE
Los miembros de los programas de pasantías del PCP-PIRE se han unido con educadores del Biomuseo para mejorar la difusión del nuevo y emocionante museo de historia natural de Panamá. Abierto al público a partir del 2 de octubre, el BioMuseo incluye 8 galerías de exhibición que cuentan la historia de la evolución geológica del Istmo de Panamá y su impacto en la biodiversidad de la Tierra.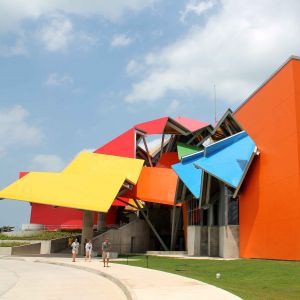 "Tiburones Gigantes y Camellos Diminutos", una exposición temporal en el Biomuseo, muestra recientes descubrimientos fósiles realizados en Panamá por el PCP-PIRE y sus socios, así como los esfuerzos de PCP-PIRE en la formación de la próxima generación de científicos. El trabajo mano a mano con docentes, educadores y coordinadores del Biomuseo contribuirá significativamente en la formación de los pasantes del PCP-PIRE, dándoles una oportunidad única para desarrollar habilidades de difusión mientras realizan investigaciones sobre la antigua biodiversidad y ambientes de Panamá.
Enlazar una de nuestras estimadas asociaciones con los objetivos educativos de nuestros programas de prácticas implica construir sobre las habilidades de nuestros pasantes y la infraestructura ya existente en el PCP-PIRE para llegar al público. Por ejemplo, los pasantes actuales tienen una sólida formación en ciencias de la tierra, haciéndolos expertos en los procesos geológicos exhibidos en la galería del Biomuseo "Construyendo el puente", una serie de actividades y vitrinas que describen la evolución tectónica del Istmo y su entornos. Estos pasantes están trabajando con Jonathan Hernández Arana, jefe de exposiciones del Biomuseo, para complementar la narración de esta galería y ayudar a los docentes del Biomuseo a aumentar la interacción de los visitantes con las exposiciones de geología.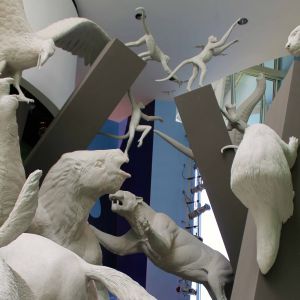 En marcha está la planificación con respecto a cómo el programa de pasantías en el museo del PCP-PIRE puede funcionar mientras el Biomuseo desarrolla sus programas de difusión para grupos escolares y eventos públicos. El PCP-PIRE ya cuenta con material de divulgación bilingüe en forma de paneles y carteles educativos y presentaciones digitales que se pueden utilizar fácilmente para formar a los nuevos internos del museo en cómo realizar actividades de difusión en inglés y español. Los internos pueden entonces viajar a Panamá con otros miembros del equipo PCP-PIRE y transmitir activamente la importancia de comprender los orígenes y la sostenibilidad de la enorme biodiversidad de Panamá al público panameño.
Tales oportunidades para nuestros pasantes en el Biomuseo son una extensión natural de las metas educativas del PCP-PIRE.
El programa de prácticas de campo "botas sobre el terreno" ha tenido éxito en proporcionar experiencias de investigación in situ a estudiantes de los Estados Unidos en un entorno internacional, pero la reciente apertura del Biomuseo les proporcionará numerosas ocasiones para practicar sus habilidades bilingües en la comunicación de la ciencia al público, completando su inmersión como jóvenes científicos con compromiso mundial. El equipo del PCP-PIRE y yo estamos agradecidos por las oportunidades que nuestra asociación con el Biomuseo ha provisto a nuestros estudiantes y colegas en distintas disciplinas.