By Jonathan Bloch | PCP PIRE Principal Investigator
Once every four years the International Palaeontological Association holds a meeting that promotes their mission to coordinate international cooperation, integration, and synthesis in paleontology of all kinds. The 2014 IPC meeting, hosted by the Centro Científico Tecnológico CONICET Mendoza and partner organizations in the foothills of the Andes in beautiful Mendoza, Argentina (September 28-October 3, 2014) was appropriately themed "The history of life: A view from the Southern Hemisphere." By all measures, the meeting was an incredible success, bringing together over 860 scientists from 46 countries around the world to present and discuss a diversity of topics on the cutting edge of paleobotany and paleozoology. Roughly 30% of attendees were students.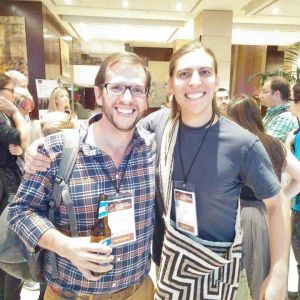 The PCP-PIRE project was well represented at the meeting. Most notable was an invited 40-minute keynote presentation for a symposium on the Cenozoic evolution of tropical-equatorial mammals by Bruce MacFadden (PCP-PIRE PI). His presentation on the age of the Tarija Fauna of Bolivia and its implications for the dispersal of Equus and calibration of the Great American Biotic Interchange generated a lot of interest and discussion among participants. Jonathan Bloch (PCP-PIRE PI) and coauthors (including PCP-PIRE participants Aaron Wood, Bruce MacFadden, Gary Morgan, and Aldo Rincon) presented the first fossils of a platyrrhine monkey from Panama and discussed evidence for mammalian dispersal across the Central American Seaway in the early Miocene, and Carlos Jaramillo (PCP-PIRE PI) presented on the hydrogeography of northern South American rivers.
In the open sessions, Jorge Vélez-Juarbe and coauthors (including PCP PIRE postdocs Aaron Wood and Austin Hendy) presented on fossils of a new pygmy sperm whale from the late Miocene of Panama that he found while supervising interns in the field as a PCP-PIRE postdoctoral researcher. Jorge D. Carrillo-Briceño and coauthors (including PCP-PIRE PhD student Catalina Pimiento) described and discussed two chondrichthyan assemblages from the late Miocene of Panama, and Javier Luque presented new research on crab eyes and relationships from the neotropics.
Other highlights included an impressive series of plenary lectures by distinguished paleontologists who discussed topics spanning the history of paleontological discovery and research in South America (Professor Beatriz Aguirre-Urreta, University of Buenos Aires) to the evolution of gigantism in plants and animals (Professor Geerat Vermeij, University of California, Davis).
---
Por Jonathan Bloch | Investigador Principal del PCP PIRE
Una vez cada cuatro años la Asociación Internacional Paleontológica celebra una reunión que promueve su misión de coordinar la cooperación internacional, la integración y la síntesis de todas las ramas de la paleontología. Este año, la reunión del IPC, organizada por el Centro Científico y Tecnológico CONICET-Mendoza y organizaciones asociadas en la hermosa Mendoza, Argentina (28 Setiembre-3 Octubre, 2014), ubicado en las estribaciones de los Andes, fue llamada apropiadamente "La historia de la vida: una visión desde el hemisferio sur". Desde donde se lo mire, el encuentro fue un éxito increíble, reuniendo a más de 900 científicos de países alrededor del mundo para presentar y discutir una variedad de temas en la vanguardia de la paleobotánica y la paleozoología.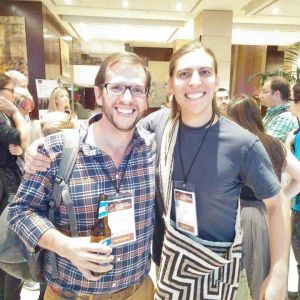 El proyecto PCP-PIRE estuvo bien representado en este encuentro. Lo más notable fue la presentación magistral de 40 minutos de Bruce MacFadden (PCP-PIRE PI) en el simposio sobre la evolución Cenozoica de los mamíferos tropicales-ecuatoriales. Su presentación sobre la edad de la fauna de Tarija en Bolivia y sus implicancias para la dispersión de Equus y la calibración del Gran Intercambio Biótico Americano, generó mucho interés y debate entre los participantes. En el mismo simposio, Jonathan Bloch (PCP-PIRE PI) y coautores (incluidos los participantes del PCP-PIRE Aaron Wood, Bruce MacFadden, Gary Morgan y Aldo Rincón) presentaron los primeros fósiles de un mono platyrrhino de Panamá y discutieron pruebas sobre la dispersión de mamíferos a través de la Vía Marítima Centroamericana en el Mioceno temprano. Por otro lado, Carlos Jaramillo (PCP-PIRE PI) habló sobre la hidrogeografía de los ríos del norte de América del Sur.
En las sesiones abiertas, Jorge Vélez-Juarbe y coautores (incluyendo investigadores postdoctorales del PCP PIRE Aaron Wood y Austin Hendy) presentaron los fósiles de un nuevo cachalote enano del Mioceno tardío de Panamá que él encontró mientras supervisaba el trabajo de campo de los internos como investigador postdoctoral del PCP PIRE. Jorge D. Carrillo-Briceño y coautores (incluyendo la estudiante de doctorado del PCP-PIRE Catalina Pimiento) describieron y analizaron dos conjuntos de condrictios de finales del Mioceno de Panamá mientras que Javier Luque presentó nuevas investigaciones sobre los ojos de cangrejos del Neotrópico.
Otros puntos destacados incluyeron una impresionante serie de conferencias plenarias de destacados paleontólogos que discutieron temas que abarcaron desde la historia del descubrimiento paleontológico e investigación en América del Sur (Profesora Beatriz Aguirre-Urreta, Universidad de Buenos Aires) hasta la evolución del gigantismo en plantas y animales (Profesor Geerat Vermeij, de la Universidad de California, Davis).