By Cristina Robins | PCP PIRE eNewsletter Editor
The UF Center for Latin American Studies 63rd Annual Conference was held March 19-21 on the University of Florida's campus. The focus of the conference was "Panama Considered: Remembering the Past, Embracing the Future." This interdisciplinary conference brought together scholars from the natural sciences, business, history and social sciences.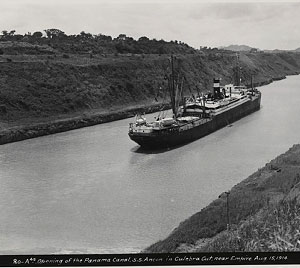 PCP PIRE was well represented at the conference. During the opening welcome reception, Aaron Wood, PCP PIRE Project Manager, and graduate students Carly Manz, Aldo Rincon and Natasha Vitek hosted an informational booth with casts of fossil specimens found in Panama by PCP PIRE researchers, as well as general information about PCP PIRE.
The following morning, Dr. Wood moderated a session entitled Early Natural History of Panama featuring Drs. Bruce MacFadden (PCP PIRE Principal Investigator, University of Florida), Carlos Jaramillo (PCP PIRE Principal Investigator, Smithsonian Tropical Research Institute) and Laurel Collins (Florida International University). Dr. MacFadden spoke about the overall PCP PIRE project, and specifically about his focus area of fossil mammals. Dr. Jaramillo presented new evidence regarding the date of the rise of the isthmus that is earlier than the conventional model. Dr. Collins spoke about how the preservation of differing suites of microfossils can lend support to timelines of the rise of the isthmus. All three talks were well received and very well attended.
Other sessions at the conference focused on business, development, culture and politics. A special roundtable discussion was held on Thursday evening about relations between Panama and the US featuring Bob Graham, former US Senator and Governor of Florida, and two former US Ambassadors to Panama: Ambler Moss and Simon Ferro.
A special session introduced the Panama Canal Museum Collection now housed at the University of Florida George A. Smathers Library. The Panama Canal Museum, formerly headquartered in Seminole, Florida, recently closed and donated their collections to UF. The collections principally came from "Zonians," or Americans who lived in what was then the US Canal Zone. Many of the papers and photographs in the collection have been digitized and can be accessed online. Numerous oral histories given by Zonians are also hosted online; these histories provide fascinating windows into a previous time.
The Smathers Library will host a Panama Canal Centennial Celebration August 15 – 17, 2014. As part of the event, there will be a special Panama Canal Zone Day at the Florida Museum of Natural History, including presentations and exhibits by PCP PIRE concerning the fossils found in Panama.
---
Por Cristina Robins | PCP PIRE
La 63ª Conferencia de Estudios Latinoamericanos de la Universidad de Florida tuvo lugar del 19 al 21 de marzo en el campus de la Universidad de Florida. El tema central de la conferencia fue "Panamá en conjunto: Recordando el Pasado, Abrazando el Futuro". Esta conferencia interdisciplinaria reunió a investigadores en ciencias naturales, negocios, historia y ciencias sociales.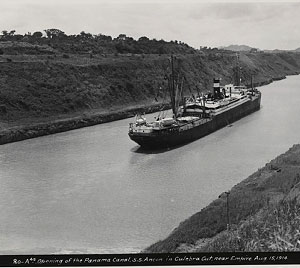 PIRE estuvo bien representado en la conferencia. En la recepción de bienvenida Aaron Wood (gerente del proyecto PCP PIRE) y los estudiantes de posgrado Carly Manz, Aldo Rincón y Natasha Vitek organizaron un stand con yesos de especímenes fósiles descubiertos en Panamá por investigadores del PIRE, así como información general sobre el PIRE.
En la mañana siguiente, el Dr. Wood moderó una sesión titulada "Historia Natural de Panamá" en la que participaron los Drs. Bruce MacFadden (investigador principal del PIRE, UF), Carlos Jaramillo (investigador principal del PIRE, Instituto Smithsonian de Investigaciones Tropicales), y Laurel Collins (de la Universidad Internacional de Florida). El Dr. MacFadden habló sobre el proyecto PIRE, específicamente sobre su área de estudio, los mamíferos fósiles. El Dr. Jaramillo presentó nuevas evidencias sobre la fecha del levantamiento del istmo de Panamá, ubicándola más temprano que los modelos convencionales. La Dra. Collins habló sobre cómo la preservación de distintos microfósiles puede ayudar a establecer cronologías del levantamiento del istmo. Las tres lecturas fueron bien acogidas y contaron con buena asistencia.
Otras sesiones en la conferencia se enfocaron en negocios, desarrollo, cultura y política. El jueves hubo una mesa redonda especial sobre las relaciones entre Panamá y los Estados Unidos con la participación de Bob Graham, ex-senador y gobernador de Florida, y dos ex-embajadores de Estados Unidos en Panamá: Ambler Moss y Simon Ferro.
Una sesión especial presentó la Colección del Museo del Canal de Panamá, ya situada en la Biblioteca Smathers de la Universidad de Florida. El Museo del Canal de Panamá, antes ubicado en Seminole, Florida, recientemente cerró y donó sus colecciones a UF. Estas colecciones pertenecieron principalmente a los "zoneros", o americanos que vivieron en lo que era la Zona del Canal de los Estados Unidos. Muchos de los artículos y fotos en la colección han sido digitalizados y se pueden encontrar en el siguiente enlace: online. Numerosas historias orales de los zoneros también se pueden encontrar en línea; estas historias proveen una fascinante ventana a tiempos pasados.
La Biblioteca Smathers organizará una celebración en conmemoración del Centenario del Canal de Panamá del 15 al 17 de agosto del 2014. Como parte de este evento, se llevará a cabo un día especial de la Zona del Canal de Panamá en el Museo de Historia Natural de Florida, incluyendo presentaciones y exposiciones sobre los fósiles encontrados en Panamá.