By Cristina Robins | PCP PIRE Project Assistant
August 15, 2014 marked the 100th anniversary of the first ship to traverse the Panama Canal – the SS Ancon. The University of Florida recently acquired the Panama Canal Museum Collection composed of material donated by former Zonians – US Canal Zone residents.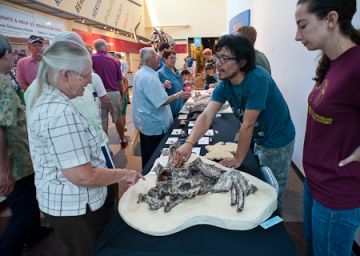 The University of Florida celebrated the Centennial with numerous events that weekend, Aug. 15-17, including a Saturday PCP PIRE exhibit in the Florida Museum of Natural History that showcased the vertebrate fossil finds along the Panama Canal and Lake Alajuela (formerly known as Madden Lake). Numerous Zonians attended the Centennial, including John Turner, who discovered the gomphothere tooth detailed in two previous eNewsletter articles and jump started the collecting efforts at the Lake Alajuela site.
PCP PIRE had two tables full of fossils; the first table was covered with casts of fossils found in Panama. These fossils included camel and rhinoceros jaws, a giant sloth claw, glyptodon armor, and a dugong skull. There were also fossil casts that had been reproduced using 3D printing, new technology that will allow us to accurately reproduce fossils for education and research far more quickly and at less cost than traditional methods.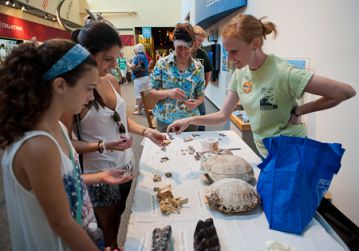 The second table consisted of fossils from Florida, including some species also found in Panama. The second table had an activity for children where they reached into a bag full of Florida fossils and selected one at random. If they could identify it by comparing it to the fossils on display, they got to keep it. The fossil table had a steady stream of visitors, with several reminiscing about fossils they had found during their youth in Panama.
Additional exhibits and events celebrated other facets of Panama life and culture including a chamber orchestra concert featuring signature pieces by Panamanian composers; traditional pollera dancing; a banquet serving Panamanian food; and a presentation by author Edith Crouch showcasing Mola art. Additional seminars and exhibits included information on the history of the canal – how the route was chosen, working conditions and living conditions, legalities, and business impacts of the Canal.
---
Por Cristina Robins | PCP PIRE Asistente de Proyecto
El 15 de agosto del 2014 marcó el centésimo aniversario del primer barco que atravesó el Canal de Panamá. La Universidad de Florida recientemente adquirió la colección del Museo Canal de Panamá compuesta por material donado por los antiguos "zonianos" –residentes estadounidenses de la zona del Canal.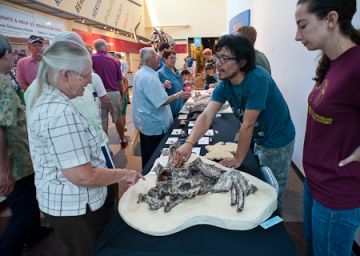 La Universidad de Florida celebró el Centenario con numerosos eventos ese fin de semana, del 15 al 17 Agosto, incluyendo una exhibición del PCP PIRE en el Museo de Historia Natural de la Florida que mostró fósiles de vertebrados encontrados a lo largo del Canal de Panamá y en el Lago Alajuela (previamente conocido como el Lago Madden). Numerosos "zonianos" asistieron al centenario, incluyendo John Turner, quien descubrió el diente de gonfoterio detallado en dos artículos eNewsletters pasados e inició los esfuerzos de colecta en el Lago Lajuela.
El PCP PIRE tuvo dos mesas llenas de fósiles; la primera mesa estuvo cubierta con réplicas de los fósiles encontrados en Panamá. Estos fósiles incluyeron mandíbulas de camellos y rinocerontes, una garra de perezoso gigante, una armadura de gliptodonte y un cráneo de dugón. También hubo copias de fósiles que han sido reproducidos usando impresión 3D, nueva tecnología que nos permitirá reproducir fósiles con precisión para fines educativos y de investigación de manera mucho más rápida y a menor costo que los métodos tradicionales.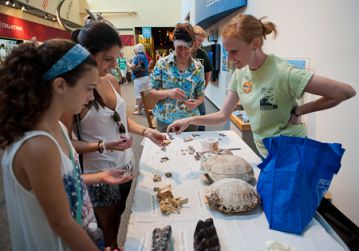 La segunda tabla consistió en fósiles de Florida, que incluyeron algunas especies también encontradas en Panamá. La segunda mesa tuvo actividades para niños en donde debían elegir al azar un fósil de muchos que se encontraban dentro de una bolsa. Si podían identificar el fósil al compararlo con los fósiles que estaban exhibidos, podían quedárselo. La mesa con fósiles tuvo un flujo constante de visitantes, con varios recordando los fósiles que habían encontrado durante su juventud en Panamá.
Exhibiciones adicionales y eventos celebraron otras facetas de la vida y cultura de Panamá incluyendo un concierto de una orquesta de cámara con piezas de compositores panameños; la tradicional danza de polleras; un banquete con comida panameña y la presentación de la autora Edith Crouch que mostró el arte de las molas. Otros seminarios y exhibiciones incluyeron información de la historia del Canal –cómo la ruta fue escogida, las condiciones de vida y de trabajo, aspectos legales e impactos de negocio en el Canal.