by Katy Cummings | MS Student, FLMNH
Paleontology and conservation aren't normally associated with each other, but the new field of "paleoconservation biology" is starting to change that.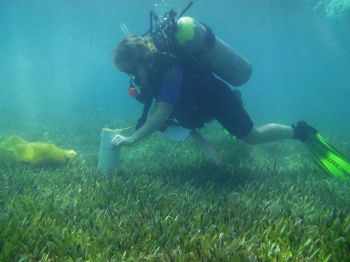 I recently went to Bocas del Toro, an archipelago on the Caribbean side of Panama, to collect pilot data for an interdisciplinary study focusing on seagrasses and interacting human populations. Bocas is a unique place – it's still relatively "undiscovered" by the hordes of vacation-goers that visit other Caribbean destinations, but in recent years has had a large increase in residential tourists, or visitors from developed countries who own or rent property here. This includes everyone from the college drop-out surf bums to retired ex-patriots living the good life in a tropical paradise. In order to conserve the beautiful coastal ecosystems of Bocas, it is important to understand not only how this new population is using the environment and what effects they're having on it, but also establish a baseline of what the ecosystems looked like before they arrived. Furthermore, major human influences are not new in this area, and significant land changes have occurred in the mainland for decades that could have already degraded the coastal systems before the recent tourism surge. But how can we understand what has happened in the past without detailed information and monitoring from that time?
Recently, researchers have started to use assemblages of fossil mollusks as a proxy for other ecosystems. Different species assemblages are indicative of certain ecosystems – i.e. species 1, 2, and 3 are found only in Ecosystem A, while an assemblage of species 2, 4, and 5 is indicative of Ecosystem B. This is what I'm doing for my research – I took sediment cores throughout current seagrass beds in the Bocas archipelago and will identify the molluscan assemblage at each site. Some of my sample sites were in highly-impacted areas (within 5km of a major urban center) and some were in the low-impact areas (greater than 15km from an urban center). Mollusk assemblages should be able to track the differences between these two types of sampling areas. As the project continues, we will be able to use this information from modern seagrasses as a proxy to go back deeper in the fossil record and see how seagrasses changed over time here.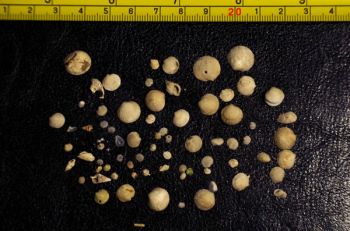 However, conservation is an interdisciplinary field – looking at just the ecology and paleontology is getting only part of the picture. Just as important is the human side, including social science, psychology and economics. In order for conservation efforts to succeed in Bocas del Toro, user-groups must be supportive and have knowledge of the ecosystems they impact. We therefore decided to interview residential tourists, a previously understudied user-group. We asked about their backgrounds, what they valued about living in Bocas, how they used and what they knew about the environment, and what they were willing to do to strengthen protection of the environment. It was very interesting hearing people's responses during the interviews, and I'm looking forward to going through the data in more detail.
This is a little different than usual PIRE projects, so I'm very grateful for PIRE, the Panama Canal Museum Research Fund, Tropical Conservation and Development program at the University of Florida, and the Florida Museum of Natural History for funding and support.
---
por Katy Cummings | Estudiante de MS, FLMNH
Paleontología y conservación normalmente no están asociados uno con el otro, pero la nueva rama de "biología de la paleoconservación" está comenzando a cambiar esto.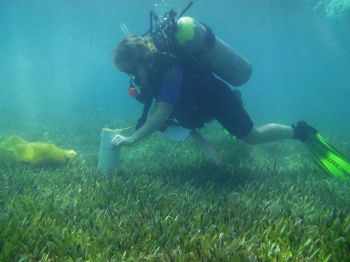 Recientemente fui a Bocas del Toro, un archipiélago en el lado caribeño de Panamá para colectar datos pilotos para un estudio interdisciplinario enfocado en los pastos marinos y las poblaciones humanas que interactúan con estos. Bocas es un lugar único – permanece aún relativamente "sin descubrir" por las hordas de vacacionistas que visitan otros destinos en el Caribe, pero en los últimos años ha tenido un gran aumento de turistas residenciales, o visitantes de países desarrollados que compran o arriendan propiedades ahí. Esto incluye a todos, desde los desertores universitarios-vagos del surf a ex-patriotas jubilados que viven la buena vida en un paraíso tropical. Con el fin de preservar los hermosos ecosistemas costeros de Bocas, es importante entender no sólo cómo este nuevo grupo de usuarios está utilizando el medio ambiente y los efectos que están teniendo en él, sino también establecer una línea de base de cómo lucían estos ecosistemas antes de que ellos llegaran. Por otra parte, influencias humanas mayores no son nuevas en esta zona, y cambios significativos de la tierra se han producido en el continente durante décadas lo que podría ya haber degradado los sistemas costeros antes del reciente aumento del turismo. Pero ¿cómo podemos entender lo que ha sucedido en el pasado sin la información detallada y la supervisión de esta época?
Recientemente, los investigadores han comenzado a utilizar los ensambles de moluscos fósiles como ejemplos de otros ecosistemas. Diferentes conjuntos de especies serán indicativos de determinados ecosistemas – es decir, especies 1, 2 y 3 se encuentran sólo en el ecosistema A, mientras que un conjunto de especies 2, 4 y 5 es indicativo del ecosistema B. Esto es lo que estoy haciendo para mi investigación – he muestreado núcleos de sedimentos a lo largo de campos de pastos marinos actuales en el archipiélago de Bocas e identificaré el conjunto de moluscos en cada sitio. Algunos de mis sitios de muestreo fueron en áreas altamente impactadas (a menos de 5 km de un centro urbano) y algunos estaban en zonas de bajo impacto (más de 15 km de un centro urbano). Los ensambles de moluscos deberían permitir monitorear las diferencias entre estos dos tipos de zonas de muestreo. A medida que avanza el proyecto, vamos a ser capaces de utilizar la información de los pastos marinos modernos como un proxy para ir más profundo en el registro fósil y ver como los pastos marinos cambiaron aquí con el tiempo.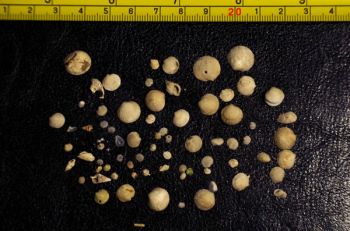 Sin embargo, la conservación es un campo interdisciplinario, mirar únicamente la ecología y paleontología nos da solo parte del cuadro. Igual de importante es el lado humano, incluyendo las ciencias sociales, la psicología y la economía. Para que los esfuerzos de conservación tengan éxito en Bocas del Toro, grupos de usuarios deben apoyar y tener conocimiento de los ecosistemas que utilizan. Por tanto, decidimos entrevistar a los turistas residenciales, un grupo de usuarios previamente poco estudiado. Las encuestas preguntaron acerca de sus orígenes, lo que valoran sobre la vida en Bocas, cómo utilizan el ambiente y lo que saben de él, además de lo que están dispuestos a hacer para fortalecer la protección del medio ambiente. Fue muy interesante escuchar las respuestas de la gente durante las entrevistas, y tengo muchas ganas de ver de los datos con más detalle.
Esto es un poco diferente de los proyectos usuales del PIRE por lo que estoy muy agradecida con el PIRE, los Fondos de Investigación del Museo del Canal de Panamá, el programa de Conservación Tropical y Desarrollo de la Universidad de Florida y el Museo de Historia Natural de Florida por el financiamiento y apoyo.