By Dr. John M. Turner | PCP PIRE Friend
Editor's Note: Last month, Dr. Bruce MacFadden wrote about an exciting new discovery of a Gomphotherium tooth in a locality that had not yet been explored by PCP PIRE researchers. This month, Dr. John M. Turner, who discovered the Gomphotherium fossil as a youth, tells of growing up in Panama, and some of his fossil discoveries.
I am a practicing Optometrist in Hattiesburg, Mississippi. I graduated from Stetson University in Deland, Florida in 1965 with a B.S. in Biology. I spent 4 years as a Medical Technologist in the US Air Force, mainly at McDill Air Force Base in Tampa, Florida. I graduated from Southern College of Optometry in Memphis, Tennessee in 1973.
I have been on the USAT (United States of America Triathlon) Age Group Olympic (Distance) Triathlon Team three times. I competed in the World Championships with the team in Budapest, 2010; Beijing, 2011; and London, 2013. I am hoping that Panama will be the host country before I get too old to compete. My favorite run is when I visit Panama, stay at the Comfort Inn, and run out to the end of the causeway and back.
I was born in Gorgas Hospital, in what was then the US Canal Zone, in September 1942. My father started working as a signalman at the Gamboa signal station where the Chagres River enters the canal, and he later became the 2nd Treasurer of the Panama Canal. I lived in Balboa, Canal Zone, until I graduated from Balboa High School in 1960. While in high school I chose to write a term paper on the rise of the Isthmus of Panama, in part due to my experiences exploring the region.
Our next door neighbor in Balboa was the Assistant Treasurer of the Panama Canal, Mr. William Lundy. As I remember, he occasionally wrote articles for the Natural History Magazine. For two of his articles, I collected a Peripatus — a "living fossil" that shows similarities both to arthropods and nematodes — as well as Leafhoppers from the jungle across the street from my house.
In 1957, as an Explorer Scout, our troop spent about 5 days earning our "50 Miler Afoot/Afloat Award" at Madden Lake, now known as Alajuela Lake. This was during the dry season, and the water level was very low. I became very good at finding all sorts of interesting stuff. Among my finds were arrowheads, a Neolithic Celt [tool], and a gold cufflink near the Camino Real Spanish trail, which crosses the Isthmus of Panama in the lake area.
In the summer of 1959, I had just finished my junior year in high school. I became a staff member at the new Boy Scouts of America, Canal Zone Camp Chagres. I was captain of the high school ROTC rifle team, so I helped at the target range for the camp. The scouts would spend about 5 days there and then go home. The next week, another group would come. I volunteered to stay over on the weekends to guard the camp, usually with one other scout. It was a great time. One weekday, Lady Baden Powell, wife of Sir Baden Powell, the founder of the Boy Scouts, visited our camp and I got to shake her hand.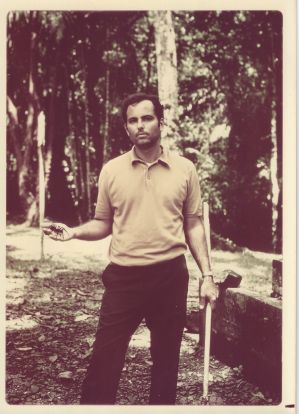 I used to collect tarantulas. One Christmas vacation, while home in Panama from Stetson University, I caught a tarantula crossing the road. My mother and I put it in a small box. I carried it back to the States on the plane in my coat pocket and kept it in my room until a college dean decided I couldn't keep it as it might multiply. I boxed it up and Air Mailed it back to Panama. My mother released it behind Albrook AFB. I later realized it was a male. I also caught a 14 ft., 7 in. (4.5 m) sawfish and numerous sharks on the causeway and was in the winning cayuco for both the 1959 and 1960 Ocean to Ocean Cayuco races. You might see this race if you are collecting fossils along the canal around Easter. Our cayucos were made out of one tree, not like the modern ones I saw last year on our visit to Panama.
One weekend my friend and I were in a cayuco exploring, and I told him to stop and back up, as I had seen something on shore. It was a perfect Megalodon shark tooth. I was hooked – after that find, I spent all my free time looking for fossils. I mainly was interested in shark teeth, although there were also lots of marine shells, which I didn't collect. I still occasionally have dreams about finding a good shark tooth fossil site. One day, walking around the shoreline, I discovered something, which I eventually decided was part of a mastodon tooth. No one seemed to think much of it, but I carefully put it away. It was this summer adventure that motivated me to write a term paper on the rise of the isthmus.
Luck would intervene. My wife, Lynn Boswell, also born in the Canal Zone, graduated from Balboa High School in 1963. We went to her 50th High School Reunion at the Panama Canal Society in Orlando in July, 2013. I took some of my shark teeth, as I had noticed someone was giving a talk about fossils.
Luck would intervene. My wife, Lynn Boswell, also born in the Canal Zone, graduated from Balboa High School in 1963. We went to her 50th High School Reunion at the Panama Canal Society in Orlando in July, 2013. I took some of my shark teeth, as I had noticed someone was giving a talk about fossils.
---
Por Dr. John M. Turner | Amigo del PCP PIRE
Nota del editor: El mes pasado, Bruce MacFadden escribió acerca del emocionante descubrimiento de un nuevo diente de Gomphotherium en una localidad que no había sido explorada por investigadores de PIRE. Este mes, Dr. John M. Turner, quien descubrió el fósil de Gomphotherium durante su juventud, nos describe cómo fue su vida en Panamá, así como algunos de sus hallazgos fósiles.
Soy un optómetra practicante en la ciudad de Hattiesburg, Mississippi. En 1965, obtuve una licenciatura en Ciencias biológicas en la Universidad Stetson en Deland (Florida). Durante los siguientes cuatro años, trabajé como tecnólogo médico en la Fuerza Aérea de los Estados Unidos, principalmente en la Base Aérea de McDill en Tampa, Florida. Obtuve mi título profesional en el Southern College of Optometry en Memphis, Tennessee en 1973.
He participado en el Triatlón de los Estados Unidos de América (USAT – United States of America Triathlon) tres veces. También competí con el equipo olímpico de edad avanzada en los campeonatos mundiales de triatlón de Budapest, 2010; Beijing, 2011; y Londres, 2013. Antes de que me ponga demasiado viejo para poder seguir competiendo, me gustaría que Panamá fuera el país anfitrión de uno de los mundiales de triatlón. Mi recorrido favorito es aquel que realicé en Panamá cuando me hospedé en el Comfort Inn y corrí ida y vuelta hasta el final del Causeway de Amador.
Nací en el Hospital Gorgas, en lo que solía ser parte de la Zona del Canal de los Estados Unidos, en septiembre de 1942. Mi padre trabajó como encargado de señales en la estación de Gamboa, cerca de donde el Río Chagres llega al Canal, antes de convirtirse en el segundo tesorero del Canal de Panamá. Viví en Balboa, otro sector de la antigua Zona del Canal, hasta que me gradué de la Escuela Secundaria de Balboa en 1960. Debido en parte a mis experiencias explorando la región, decidí escribir un proyecto final acerca del levantamiento del Istmo de Panamá para una de mis clases en la secundaria.
Mi vecino en Balboa, el Sr. William Lundy, era el tesorero auxiliar del Canal de Panamá. Según recuerdo, él escribió artículos para la revista Natural History Magazine en algunas ocasiones. Para dos de sus artículos, colecte para el algunos ejemplares de Peripatus – un "fósil viviente" que presenta semejanzas a ambos artrópodos y nemátodos – y algunos cicadélidos en el denso bosque ubicado frente a mi antigua casa.
En 1957, cuando yo era un joven scout, nuestra legión visitó por cinco días el Lago Madden – ahora conocido como el Lago Alajuela – con el fin de obtener el "Galardon de las 50 Millas a pie y flotando" ("50 Miler Afoot/Afloat Award"). Era la temporada seca del año y el nivel del agua en el lago era muy bajo. Eventualmente me convertí muy bueno colectando cosas interesantes. Entre ellas se destacan algunas puntas de flechas, una celta neolítica (una herramienta de piedra), y un gemelo de oro que descubrí cerca del Camino Real, un antiguo camino español que atraviesa el Istmo de Panamá.
En el verano de 1959, después de finalizar mi undécimo grado en la escuela secundaria, comencé a trabajar en el Campamento Chagres, un nuevo campamento de los Boy Scouts de América en la Zona del Canal. Debido a mi experiencia como capitán del equipo de tiro del Cuerpo de Capacitación de Oficiales de la Reserva (ROTC – Reserve Officers Training Corps) en la escuela secundaria, trabajé como asistente en el campo de tiro del campamento. Los grupos de Scouts visitantes se hospedaban cinco días en el campamento con la llegada de un grupo nuevo grupo cada semana siguiente. Fue entonces cuando me ofrecí como cuidador del campamento durante los fines de semana, normalmente en compañía de otro scout. Y esos fueron tiempos estupendos, tanto así que un día la Sra. Baden Powell (esposa de Sr. Baden Powell, el fundador de los Boy Scouts) visitó nuestro campamento e incluso estrechó mi mano.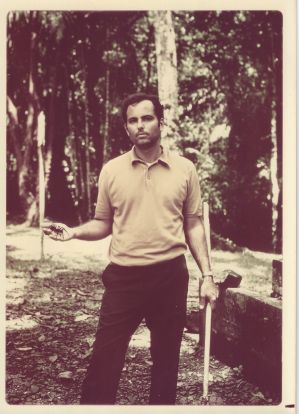 Yo solía buscar y atrapar tarántulas. En una de mis visitas a Panamá durante las vacaciones de universitarias de fin de año, atrape una tarántula que estaba cruzando la calle frente a mi casa. Mi madre y yo la pusimos en una caja pequeña y yo la llevé conmigo a los Estados Unidos dentro de unos de mis bolsillos. La tarántula vivió en mi cuarto hasta que el decano de la facultad decidió que no podía quedarme con ella por miedo de a que se reprodujera sin control. Entonces la empaque nuevamente en una caja y la envié por correo aéreo de regreso a Panamá donde mi madre la liberó cerca de la base aérea de Albrook. Tiempo después me di cuenta de que era una tarántula macho. Entre otros, también atrapé un pez sierra de 14 ft., 7 in. (4.5 m) y varios tiburones en el Causeway. Fui miembro del equipo ganador de la Regata de Cayucos de Océano a Océano en 1959 y 1960. Esta competencia aún puede ser vista en áreas del Canal si están colectando fósiles durante el periodo de Pascua. Por esos días, nuestros cayucos estaban hechos con madera proveniente de un solo árbol, no como los cayucos modernos que vimos el año pasado en nuestra visita a Panamá.
Un fin de semana mi amigo y yo explorábamos el lago en un cayuco cuando de repente vi algo en la orilla. Le dije a el que parara y que regresara. Era un diente de Megalodon perfecto. Yo estaba totalmente emocionado y después de ese hallazgo, pasé todo mi tiempo libre buscando fósiles. Mi principal interés eran los dientes de tiburón, pero también habían muchas conchas marinas las cuales nunca colecté. De vez en cuando sueño con encontrar un yacimiento paleontológico rico en dientes de tiburón. Un día navegando cerca de la orilla del lago, descubri algo que posteriormente decidí que era un diente de mastodonte. Nadie pareció muy interesado en el diente, por lo tanto lo guardé cuidadosamente. Esta fue la aventura de verano que me motivó a escribir mi proyecto final acerca de la levantamiento del istmo.
La fortuna después intervino cuando con mi esposa, Lynn Boswell (también nacida en la Zona del Canal y graduada de la Escuela Secundaria de Balboa en 1963), asistimos a la 50ª Reunión de Escuela Secundaria en la Sociedad del Canal de Panamá en Orlando en Julio de 2013. En esta ocasión, lleve conmigo algunos de mis dientes de tiburón, porque ya había notado que alguien daría una conferencia acerca de fósiles.
No era cualquier persona hablando acerca de fósiles: era Bruce MacFadden. Él identificó aquel diente que yo pensaba era de un mastodonte como un diente de Gomphotherium. El Gomphotherium, al igual que el mastodonte, son parientes antiguos de los elefantes. Este es el final de la historia; sin embargo, también en esa ocasión también encontré algunos dientes de caballo, así que esta historia podría tener un capítulo adicional.