By Evan Whiting | PCP PIRE Intern
Crocodylians are among the most iconic reptiles of today's world. The taxonomic group Crocodylia includes the largest extant (still living) reptile (Crocodylus porosus, the Salt- water Crocodile), a number of rare and highly endangered species such as Gavialis gangeticus (Indian Gharial) and Tomistoma schlegelii (Malaysian False Gharial), and a striking success story of the United States Endangered Species Act (as well as the mascot of the University of Florida), Alligator mississippiensis (American Alligator). Few people have trouble recognizing crocodylians among other extant animals but, at the same time, few people are aware of their evolutionary history and fossil record in "deep" (geologic) time.
Crocodylia, the crown group including all living crocodylians and their most recent common ancestor, has a fossil record extending all the way back to the Cretaceous period of the Mesozoic Era (the so-called "Age of Dinosaurs") over 70 million years ago. More encompassing taxonomic groups including Crocodylia and many other similar-looking reptiles extend all the way back to the Triassic period of the Mesozoic Era, shortly following the most catastrophic mass-extinction in Earth's history (the Permian-Triassic extinction, which occurred roughly 251 million years ago). This impressive fossil record is a testament not only to the evolutionary success of crocodylians, but also of their incredible adaptability with such a relatively conservative anatomical body plan (at least compared to other vertebrate groups such as mammals).
But sometimes, other elements of the skeleton are found, including beautifully-preserved skulls like one found this past March during the capstone field trip for the University of Florida course "Cenozoic Vertebrates of the Neotropics." I have prepared this partial skull at the Florida Museum of Natural History, and discovered that it bears striking resemblance to another caiman skull found from the same locality several years ago which was described and named in a paper by former University of Florida graduate student, Dr. Alexander Hastings and colleagues from the Florida Museum of Natural History and Smithsonian Tropical Research Institute. Also included in this paper is a description of another fossil caiman from a nearby exposure along the Panama Canal, which appears to represent a really basal (primitive) member of the group.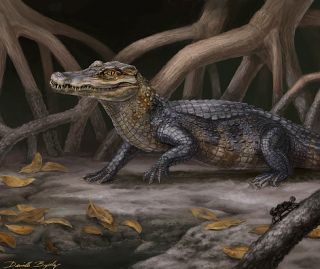 Other fossil crocodylians found in Panama include long, slender snouted types, although unfortunately none of the fossils are complete enough to provide adequate anatomical information for us to determine to which the family or subfamily they belong. Miocene exposures in Panama have produced numerous teeth and skull fragments of long, slender snouted crocodylians, including a skull fragment recently found by PCP PIRE Project Manager Dr. Aaron Wood at Lake Alajuela, in central Panama. I have prepared this fossil which had been encased in a protective plaster jacket in the field for safe transport back to the lab. The specimen is now ready for research and shipment to the Florida Museum of Natural History to be curated in the vertebrate paleontology collection. Hopefully future collecting trips to Lake Alajuela will turn up more crocodylian fossils that could better illuminate which taxonomic group of crocodylians was present in Panama during the interval of geologic history preserved in the sediments along the lakeshore.
Overall, Panama offers a wide array of crocodylian fossils which indicate that multiple groups of crocodylians occupied the isthmus during the Miocene epoch. Currently, only two species of crocodylians inhabit Panamanian waters: Crocodylus acutus (American Crocodile) and Caiman crocodilus (Spectacled Caiman). The diversity of Miocene crocodylians, as apparent from the fossil record, appears to have been significantly greater in Panama then than it is now. This could have important implications for understanding crocodylian diversity with respect to climate and sea level change, as well as the construction and emergence of the Panamanian isthmus.
If you're interested in reading more about the fossil crocodylians of Panama, here's a professional literature reference to check out that was published relatively recently:
Hastings, A. K., J. I. Bloch, C. A. Jaramillo, A. F. Rincon, and B. J. MacFadden. 2013. Systematics and biogeography of crocodylians from the Miocene of Panama. Journal of Vertebrate Paleontology 33(2):239-263.
---
Por Evan Whiting | Pasante del PCP PIRE
Los cocodrilianos son de los reptiles más icónicos del mundo de hoy. El grupo taxonómico Crocodylia incluye al más grande reptil actual (Crocodylus porosus, el cocodrilo de agua salada), a un número de especies raras y altamente amenazadas como el Gavialis gangeticus (gavial de la India) y Tomistoma schlegelii (falso gavial de Malasia), así como al Alligator mississippiensis (alligator americano), que representa una notable historia de éxito de la Ley de Especies en Peligro en EE.UU. (y también la mascota de la Universidad de Florida). Poca gente tiene dificultad reconociendo cocodrilos de otros animales actuales, pero al mismo tiempo, poca gente es consciente de su historia evolutiva y de su registro fósil en tiempos geológicos.
Crocodylia, el grupo corona que incluye a todas las formas modernas y a su ancestro común más reciente, tiene un registro fósil que se extiende hasta el periodo Cretácico en la era Mesozoica (la llamada "era de los dinosaurios") hace más de 70 millones de años. Grupos taxonómicos que incluyen a Crocodylia y a varios otros animales de aspecto similar a reptiles se extienden atrás hasta el periodo Triásico en la era Mesozoica, poco después de la extinción en masa más catastrófica en la historia de la Tierra (la extinción Permo-Triásica, que ocurrió hace 251 millones de años). Este impresionante registro fósil atestigua no solo el éxito evolutivo de los cocodrilos sino también su increíble adaptabilidad con un plan anatómico corporal relativamente conservador (por lo menos comparado con otros grupos de vertebrados como los mamíferos).
Entonces, ¿dónde calza Panamá en esta vasta porción de historia cocodriliana? Casi todos los fósiles colectados en Panamá vienen de afloramientos del Mioceno (~23 a 5 millones de años) e incluyen representantes de múltiples familias dentro del grupo corona. Los cocodrilos fósiles más comunes de la cuenca del canal de Panamá son caimanes; hemos encontrado principalmente dientes pequeños y cónicos (aunque algunas veces algo comprimidos) y osteodermos (placas a lo largo del lomo de un cocodrilo con función de termorregulación) agujereados y con quillas. Con frecuencia encontramos dientes y ostodermos mientras excavamos en el campo e incluso cuando lavamos los sedimentos a través de tamices para recuperar microfósiles.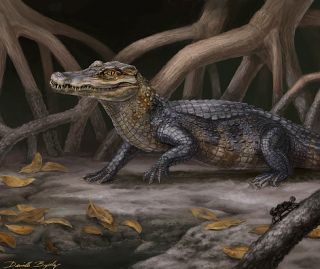 Pero a veces, otros elementos del esqueleto son hallados, incluso cráneos hermosamente preservados como el que encontramos este marzo pasado durante la salida de campo que coronó el curso dictado por la Universidad de Florida "Vertebrados Cenozoicos de los Neotrópicos". Yo preparé este cráneo parcial en el Museo de Historia Natural de Florida y descubrí que poseía parecidos notables con otro cráneo de caimán encontrado en la misma localidad varios años atrás y que fue descrito y nombrado por un ex-estudiante de la Universidad de Florida, el Dr. Alex Hastings, y colegas del Instituto de Investigaciones Tropicales Smithsonian. En esta publicación también se incluyó la descripción de otro caimán fósil proveniente de unos afloramientos cercanos a lo largo del canal de Panamá que parece representar un miembro realmente basal (primitivo) dentro del grupo. Otros cocodrilianos fósiles encontrados en Panamá incluyen tipos de hocico largo y delgado, aunque desafortunadamente ninguno de estos fósiles está lo suficientemente completo para proveer una adecuada información anatómica y poder determinar a qué familia o subfamilia pertenecen. Afloramientos miocénicos en Panamá han producido numerosos dientes y fragmentos de cráneos de cocodrilos de rostro largo, incluyendo un cráneo recientemente colectado en el lago Alajuela, en el centro de Panamá. Preparé este fósil, recientemente encontrado por el Dr. Aaron Wood-gerente del proyecto PCP-PIRE, que estaba protegido por una chaqueta de yeso para asegurar su integridad durante el transporte del campo al laboratorio. El espécimen ahora está listo para ser estudiado y enviado al Museo de Historia Natural de Florida y allí ser curado en la colección de paleontología de vertebrados. Ojalá futuros viajes al lago Alajuela provean más cocodrilos fósiles que permitan iluminar qué grupos taxonómicos de cocodrilos estaban presentes en Panamá durante el intervalo de historia geológica preservado en los sedimentos a lo largo de la orilla del lago.
En conjunto, Panamá ofrece una amplia gama de fósiles de cocodrilos que prueban que múltiples grupos de cocodrilos ocuparon el istmo durante la época Mioceno. En la actualidad, solo dos especies de cocodrilos habitan las aguas panameñas: Crocodylus acutus (cocodrilo americano) y Caiman crocodilus (caimán blanco). La diversidad de cocodrilos del Mioceno en Panamá, evidenciado por el registro fósil, parece haber sido significativamente mayor que en la actualidad. Esto podría tener importantes implicancias para el entendimiento de la diversidad de cocodrilos con respecto al clima y cambios en el nivel del mar, así como la instauración del istmo de Panamá.
Si está interesado en leer más acerca de los cocodrilos fósiles de Panamá, abajo encontrará la cita de una artículo publicado recientemente:
Hastings, A. K., J. I. Bloch, C. A. Jaramillo, A. F. Rincon, and B. J. MacFadden. 2013. Systematics and biogeography of crocodylians from the Miocene of Panama. Journal of Vertebrate Paleontology 33(2):239-263.