By Cristina Robins | PCP PIRE Staff
My name is Cristina Robins and I am the new PCP-PIRE Project Assistant. I started this position in January 2014, taking over for Kassie Hendy, who has moved on to managing a different project. I have enjoyed meeting many people so far, and look forward to meeting more people over the coming weeks.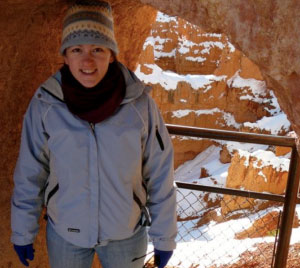 I received my PhD in 2013 from Kent State University, where my studies focused on invertebrate paleontology; specifically, the systematics and phylogeny of squat lobsters (Anomuran decapods; Jurassic – Recent). Squat lobsters are neither lobsters nor crabs – although they are lobster-like in appearance, they seem to be more closely related to hermit crabs. You may have encountered them without knowing it. Although most species are too small to be commercially valuable, others are harvested and sold under the catch-all name "langostino lobster."
So far, I have published descriptions of 26 new species of squat lobsters. These new species are mainly from the Jurassic of central Europe. My free time goes to additional research on the squat lobsters, formatting for journal publication the descriptions of 20 more new species (also from the Jurassic), and a proposed phylogeny for the group. Fossil squat lobsters have yet to be reported from the Panama excavations, but I remain hopeful that they are hiding out there. After all, their descendants call the place home!
In addition to my PCP-PIRE duties, I work in the Florida Museum of Natural History's Invertebrate Paleontology collections as a Collections Assistant with Roger Portell. I prepare and catalog various invertebrate fossils, some of which were found in Panama, but most of the preparation work deals with invertebrate material from other localities. I enjoy being able to handle and be surrounded by fossils every day.
---
Por Cristina Robins | PCP PIRE Staff
Mi nombre es Cristina Robins y soy la nueva asistente de proyecto PCP-PIRE. Inicié esta labor en Enero del 2014 en reemplazo de Kassie Hendy. Kassie actualmente está vinculada a un proyecto diferente. En este corto tiempo he disfrutado de conocer tantas personas diferentes, y espero seguir conociendo más de cada uno ustedes en las próximas semanas.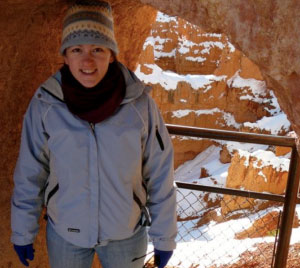 Me gradué con un PhD en el 2013 de la Kent State University, donde estudié paleontología de invertebrados, específicamente estudié la Sistemática y filogenia de galateas (Decapoda, Anomura; Jurásico – Reciente). La Galateas no son ni langostas ni cangrejos – aunque parecen ser langostas, están más relacionadas con los cangrejos ermitaños. Usted probablemente ha encontrado galateas sin saberlo. Aunque la mayoría de las especies son demasiado pequeñas para tener un valor comercial, algunas se cosechan y se venden como "langostas langostinas."
A la fecha, he publicado descripciones de 26 especies nuevas de tales como "langostas langostinas." La mayoría de las especies nuevas que he descrito provienen del Jurásico de Europa central. Adicionalmente, en mi tiempo libre estoy finalizando la descripción de 20 especies nuevas de langostinos propiamente dichos (también del Jurásico), así como una filogenia para el grupo. Galateas fosiles aún no han sido encontradas en las excavaciones del Canal de Panamá, pero tengo la esperanza de que están allí, a la espera de ser encontradas ¡Después de todo, sus descendientes habitan en esta región actualmente!
Además de mi trabajo con el PCP-PIRE, trabajo en las Colecciones de Paleontología de Invertebrados del FLMNH bajo la supervisión de Roger Portell. En las colecciones preparo y catalogo fósiles de diferentes grupos de invertebrados, algunos de los cuales fueron encontrados en Panamá. Aunque la mayor parte del material con el que trabajo proviene de otras localidades. Como pueden imaginar, disfruto estar rodeada así como trabajar con fósiles en todo momento.