By Sarah Widlansky | PCP PIRE intern
After graduating from the University of Florida last spring with a BS in Geology, I was faced with a question that is familiar to many college graduates: What do I do next? I knew I was interested in paleontology and wanted to continue with this path for my future career, but I also knew that I wanted to gain more experience in this field prior to delving into the world of graduate school and research. I wanted to expand my field experience and develop new scientific collaborations. Above all else though, I wanted a chance to travel outside of the United States and have the opportunity to live and work in a foreign country. I came to learn about PCP-PIRE and the work that's being done in Panama while I was working at the Florida Museum of Natural History as an undergraduate. The research, outreach and international goals of their internship program seemed like a perfect fit, so I decided to apply for the Fall 2013 cohort of interns.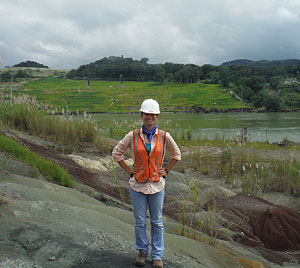 I'm currently in my second month of living in Panama as a PCP-PIRE intern and already I've had so many new experiences. I didn't know any Spanish going into this internship and, in the beginning, it was tough. Everyday things, like buying food and getting around the city, all of sudden seemed so difficult. Gradually though, it became easier to find my place and new opportunities to practice my Spanish have become something I look forward to. Even simple things, like asking "¿Qué es esto?" at the fruit and vegetable market when I find something particularly exotic looking has led to some fun conversations and opportunities to try new things.
Although I was expecting to be immersed in Panamanian culture during my time here, it really didn't hit me until I arrived just how diverse Panama City really was. While working at STRI, I've had the opportunity to meet and become friends with people from all over the world, including, Germany, Spain, Colombia, Argentina, Panama and other parts of the United States. The fact that all of us have come together in Panama for the purpose of studying very different scientific fields is exactly the kind of international experience I was looking for during my time abroad!
During my last month in Panama, I plan on continuing to travel to different parts of the country and finding new opportunities to experience everything that Panama has to offer. I can say that after my time in Panama is over, I will have a new appreciation for what it means to work in a foreign country and the importance of international collaboration in science. I know I'll carry these new ideas with me after I leave and I look forward to incorporating them into my own research in the future.
---
El paso perfecto luego de la graduación
Después de graduarme de la Universidad de Florida en la primavera pasada con una licenciatura en Geología, me encontré con una pregunta que es familiar para muchos graduados de la universidad: ¿Qué hago ahora? Sabía que estaba interesada en la paleontología y que quería continuar este camino en mi futuro profesional, pero también sabía que quería ganar más experiencia en este campo antes de adentrarme en el mundo de la escuela de posgrado y la investigación. Quería ampliar mi experiencia en el trabajo de campo y desarrollar nuevas colaboraciones científicas. Por encima de todo quería tener la oportunidad de viajar fuera de los Estados Unidos y vivir y trabajar en un país extranjero. Llegué a conocer el proyecto PCP-PIRE y lo que se está haciendo en Panamá mientras trabajaba en el Museo de Historia Natural de Florida como estudiante. La investigación, la extensión y los objetivos internacionales de su programa de pasantías parecían ajustarse perfectamente, así que decidí aplicar a las pasantías del otoño del 2013.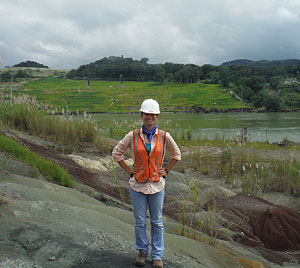 En el momento estoy en mi segundo mes viviendo en Panamá como pasante del PCP-PIRE y ya he tenido muchas experiencias nuevas. Yo no sabía nada de español de cara a esta práctica y al principio fue duro. Las cosas cotidianas, como la compra de alimentos y moverse por la ciudad parecían de repente muy difíciles. Poco a poco, sin embargo, se hizo más fácil encontrar mi lugar y las nuevas oportunidades de practicar mi español se han convertido en algo que esperamos con interés. Incluso las cosas simples, como preguntar "¿Qué es esto?" en el mercado de frutas y verduras cuando encuentro algo con un aspecto particularmente exótico ha dado lugar a algunas conversaciones y oportunidades de diversión para probar cosas nuevas.
Aunque yo esperaba estar inmersa en la cultura panameña durante mi tiempo aquí, realmente no me di cuenta hasta que llegué, lo diverso que en realidad es Ciudad de Panamá. Mientras trabajo en STRI, he tenido la oportunidad de conocer y hacer amistad con personas de todo el mundo, entre ellos, Alemania, España, Colombia, Argentina, Panamá y otras partes de los Estados Unidos. El hecho de que todos nosotros nos hemos reunido en Panamá con el propósito de estudiar campos muy diferentes de la ciencia es exactamente el tipo de experiencia internacional que estaba buscando durante mi tiempo en el extranjero.
Durante mi último mes en Panamá, planeo seguir viajando a diferentes partes del país y buscar nuevas oportunidades para experimentar todo lo que Panamá tiene para ofrecer. Puedo decir que después de mi estancia en Panamá, voy a tener una nueva apreciación de lo que significa trabajar en un país extranjero y la importancia de la colaboración internacional en ciencia. Sé que voy a llevar estas nuevas ideas conmigo después de mi partida, y espero incorporarlas en mi propia investigación en el futuro.