Christina Byrd | PCP PIRE former intern
From the shores of Panama to the rolling hills and mountains of Virginia, my post-academia adventure in paleontology continues. When I arrived in Panama for my internship with PCP-PIRE, I was a recent Master's of Biology graduate from Marshall University. I was bright-eyed and excited for the opportunity to broaden my field experience and explore the challenges and rewards of studying abroad. My time spent in Panama was rewarding in a multitude of aspects: from working in the field, collecting and preparing vertebrate fossils, learning Spanish to experiencing Panamanian culture. I will never forget the researchers, post-docs, Ph.D. students and fellow interns I met. Sharing stories and experiences and teaching about Panamanian culture enriched my overall experience. I plan to keep in contact with many of the people I met while attending professional conferences.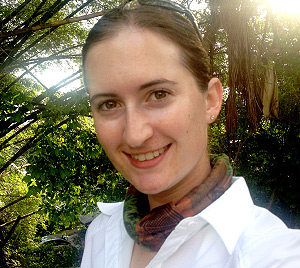 But what to do with all this new knowledge and experience? Get a job, of course. And I did. By a fortuitous turn of events, a job posting at the Virginia Museum of Natural History in Martinsville, VA, opened. Position title: Paleontology Technician; Primary job: Digitize fossil insects from the Triassic of Virginia for addition to the iDigBio data cloud. This job for me was meant to be! Here's why: in April I attended an iDigBio workshop which sparked my interest in digitization of natural history collections; while in Panama, Bruce MacFadden visited and gave a talk about the digitization efforts that are occurring at UF (which is also the headquarters for iDigBio); finally when the job was posted, I learned about the technician's future involvement with iDigBio. I was seeing iDigBio EVERYWHERE. So I applied and was chosen for an interview, which was conducted via Skype while in Panama. Five minutes later, the job offer arrived. Thus began my whirlwind adventure of leaving Panama, moving to Martinsville, and starting my new job. I was also asked to serve as an Adjunct Professor of Biology for the local community college. In this second job, I teach two sections of Anatomy and Physiology II online and can utilize what I learned about anatomy from the various specimens we found while excavating in Panama as comparative material to help students understand the differences in morphology of bones and the physiological factors that are involved.
I am very excited to see where these current adventures take me within the realm of science and paleontology and am ready to share my experiences with the world.
---
Christina Byrd | PCP PIRE ex pasante
Desde las costas de Panamá hasta las colinas y montañas de Virginia, mi aventura post-academia en la paleontología sigue. Cuando llegué a Panamá para mi pasantía con el PCP-PIRE, yo era una recién graduada de posgrado en Maestría en Biología de la Universidad de Marshall. Estaba emocionada por la oportunidad de ampliar mi experiencia en el campo y explorar los retos y beneficios de estudiar en el extranjero. Mi tiempo de permanencia en Panamá fue gratificante en una multitud de aspectos: desde el trabajo en el campo, la colecta y preparación de fósiles de vertebrados, hasta aprender español para experimentar la cultura panameña. Nunca olvidaré los investigadores, post-docs, estudiantes de doctorado y compañeros pasantes que conocí. El compartir historias, experiencias y la enseñanza sobre la cultura panameña enriquecieron mi experiencia en general. Tengo la intención de mantenerme en contacto con muchas de las personas que conocí mientras asistía a conferencias profesionales.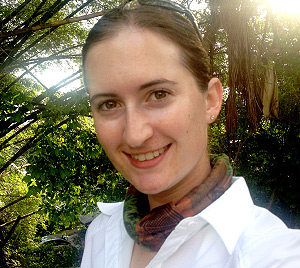 Pero, ¿qué hacer con todo este nuevo conocimiento y experiencia? Conseguir un trabajo, por supuesto. Y lo hice. Por una serie de acontecimientos inesperados, se abrió una oferta de trabajo en el Museo de Historia Natural de Virginia en Martinsville, VA. Título del puesto: Técnico de Paleontología,. Tarea principal: Digitalizar insectos fósiles del Triásico de Virginia para adicionar a la nube de datos iDigBio. ¡Este trabajo era para mí! He aquí por qué: en abril asistí a un taller de iDigBio que despertó mi interés por la digitalización de las colecciones de historia natural; en Panamá; Bruce MacFadden dio una charla sobre las actividades de digitalización en UF (que es también la sede de iDigBio); y, por último, cuando se publicó el trabajo, me enteré de la futura participación de los técnicos con iDigBio. Estaba viendo iDigBio en TODAS PARTES. Así que me presenté y fui elegida para una entrevista que se realizó a través de Skype mientras estaba en Panamá. Cinco minutos más tarde la oferta de trabajo llegó. Así comenzó mi aventura torbellino de irme de Panamá, mudarme a Martinsvilley y empezar mi nuevo trabajo. También me pidieron servir como Profesor Adjunto de Biología de la universidad local. En este segundo trabajo, enseño dos secciones en línea de Anatomía y Fisiología II y puedo utilizar lo que he aprendido acerca de la anatomía de los distintos especímenes que encontramos mientras excavaba en Panamá como material comparativo para ayudar a los estudiantes a entender las diferencias en la morfología de los huesos y los factores fisiológicos que están involucrados.
Estoy muy emocionada de ver a donde me pueden llevar estas aventuras en el ámbito de la ciencia y la paleontología y estoy dispuesta a compartir mis experiencias con el mundo.