By Pastora Franceschi
Editor's Note: I first met Pastora in 2002 when I came to Panama to do field work. I did not know how to get into the Canal to look for fossils, or even where to go. Pastora, a professional geologist at ACP (Autoridad del Canal de Panama), was instrumental in helping me start this work. She took me into the field and even showed me the Stewarts' original localities, which are mostly along the west side of the Canal close to the current location of the Centenario Bridge (which had not yet been built). Pastora has always been helpful to our group and calls us if she thinks there is an important locality for us to assess, e.g., the recent Borinquen Dam Fossil Leaf Locality. Pastora has invited the PCP PIRE to be part of the Central American Geological Congress that will take place in Panama City from 10-12 September 2013. In sum, Pastora has always been a good colleague to the PCP PIRE, and I am therefore pleased that she is being highlighted in this month's e-newsletter. Bruce MacFadden. PCP PIRE Principal Investigator
I received the title of Mining Engineer at the Federal University of Minas Gerais, Belo Horizonte, Brazil, (1976), where I studied thanks to a Panama-Brazil Cultural agreement. Then I earned a graduate degree in Prospecting, Exploration and Mining for developing countries in Austria (1977), University of Leoben Mountain; a scholarship from the United Nations; a postgraduate degree and a Master of Geotechnical Engineering at the Technological University of Panama, funded by the Panama Canal Authority (2005-2008).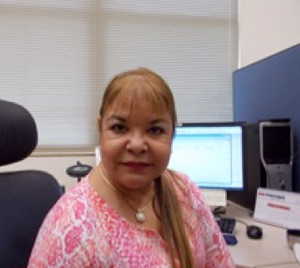 At the beginning of my studies in Austria, we were visited by the country's ministers. Since then, the country started having gender parity in government—half of the ministers that visited us were women. This was important because my scholarship was an opportunity to women as previously women were not allowed to work in mining. In 1978, I returned from Austria and started working in the Panama Canal as a Geologist; since February 2009 I have served as a Professional Expert in Geology at the Panama Canal. Among my most relevant and rewarding duties as Panama Canal Geologist, is our leadership in the work of stabilizing East Cucaracha collapse in Gaillard Cut. I played a critical role in planning for the proposed Gaillard Cut widening, including geological studies for the proposed Panama Canal Expansion (third set of locks, auxiliary dams, new Pacific approach channel and straightening and deepening of the Gaillard Cut) and paleo-seismological studies to determine the presence of active faults and related training.
During daily field work in the Canal it is impossible to ignore the fossil remains of animals and plants. For example, I found a Megalodon tooth within a core diameter of 4 inches. It was a miracle I did not destroy it with the drill! I also found a fossil tooth of the rhino Floridaceras whitei in the Cucaracha formation in West Paraiso Hill, which was recently removed as part of the excavation of the Canal expansion project.
In addition to my professional work and my studies, I have played an active role in professional organizations. This includes chairing the Panamanian Society of Engineers and Architects-(SPIA), the Technical Board of Engineering and Architecture, the Panamanian Association of Geologists and participation in the creation of the Geological Engineering program at the University of Panama.
A few months of chairing the SPIA in 1991, the Limon earthquake devastated the Panamanian province of Bocas del Toro located in the Northwest Atlantic. The President of the Republic, through its Ministry of Public Works, requested the services of the SPIA assets to establish a commission of Geological Engineers and seismologists to assess the situation, inform the public and help with the reconstruction of the affected populations. Every weekend Engineer Franceschi traveled with a group of Civil Engineers in various fields who instructed the locals on proper construction of their homes.
---
Por Pastora Franceschi Saavedra
Conocí a Pastora en el 2002 cuando llegué a Panamá a hacer trabajo de campo. No sabía cómo entrar al Canal a buscar fósiles o incluso dónde ir. Pastora, geóloga profesional de la ACP (Autoridad del Canal de Panamá), fue fundamental para ayudarme a comenzar este trabajo. Me llevó al campo e incluso me mostró localidades originales de Stewart, las cuales están en su mayoría al lado oeste del Canal, cerca de la ubicación actual del Puente Centenario (que aún no se habían construido). Pastora siempre ha sido de gran ayuda para nuestro grupo y nos llama si piensa que hay una localidad importante para nosotros. Por ejemplo, la reciente localidad de hojas de la presa Borinquen. Pastora ha invitado al PCP-PIRE a ser parte del Congreso Geológico de América Central, que tendrá lugar en la Ciudad de Panamá del 10 al 12 septiembre 2013. En resumen, Pastora siempre ha sido una buena colega para el PCP-PIRE y por lo tanto estoy complacido que ella está siendo destacada en el boletín electrónico de este mes. Bruce MacFadden. PCP PIRE Investigador Principal
Obtuve el título de Ingeniera de Minas en la Universidad Federal de Minas Gerais, Belo Horizonte, Brasil, (1976) donde estudié mediante un Convenio Cultural entre Panamá y Brasil. También obtuve un postgrado en Prospección, Exploración y Minería para países en vías de desarrollo en Austria (1977), en la Universidad de Montaña de Leoben, becada por la Naciones Unidas, y un Postgrado y una Maestría en Ingeniería Geotécnica obtenidas en la Universidad Tecnológica de Panamá, financiado por la Autoridad del Canal de Panamá (2005-2008).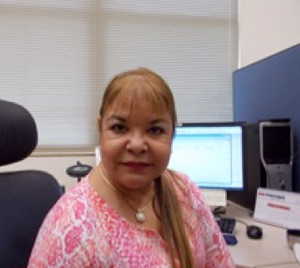 Al inicio del curso en Austria nos visitaron varios Ministros el país, donde a partir de ese momento habia paridad de género en el gobierno, de manera que la mitad de los Ministros eran mujeres. Cabe destacar que mi beca constituyó una apertura a la mujer, ya que en Austria es prohibido que las mujeres trabajaran en Minería.
Desde 1978, luego de mi paso por Austria, colaboro en el Canal de Panamá como Geóloga y desde febrero de 2009 me desempeño como Profesional Experta en Geología del Canal. Entre mis funciones más relevantes y gratificantes, podemos citar el liderazgo en los trabajos de estabilización en campo del derrumbe de Cucaracha Este en el Corte Gaillard, el ensanche del Corte en la década de los 90, los estudios geológicos para el proyecto de Ampliación del Canal de Panamá (tercer juego de esclusas, represas auxiliares, nuevo canal de aproximación del Pacífico y enderezamiento y profundización del Corte Gaillard), preparación de los contratos para estudios paleo-sismológicos para determinar la presencia de fallas activas y entrenamiento en estos trabajos.
En el diario trabajo de campo es imposible ignorar los restos fósiles de animales y plantas. Por ejemplo, encontré un diente de Megalodón dentro de un núcleo de 4 pulgadas de diámetro, milagrosamente no lo destrozamos con la broca de perforación. También encontré un diente fósil de rinoceronte Floridaceras whitei, en la formación Cucaracha, en Cerro Paraíso Oeste, el cual fue removido recientemente como parte de las excavaciones del proyecto de ampliación del Canal.
He combinado mi trabajo profesional y mis estudios con la participación en las asociaciones profesionales de mi país y el aporte a la academia. Esto incluye presidir la Sociedad Panameña de Ingenieros y Arquitectos—SPIA y la Junta Técnica de Ingeniería y Arquitectura, órgano oficial del Estado Panameño que regula las profesiones de Ingeniería y Arquitectura del país y también el Colegio Panameño de Geólogos, así como mi participación en la creación de la carrera de Ingeniería Geológica en la Universidad de Panamá.
A los pocos meses de estar presidiendo la SPIA, ocurrió el terremoto de Limón, Costa Rica, (abril de 1991) el cual devastó la provincia de Bocas del Toro, ubicada en el Atlántico noroccidental. El Presidente de la República, mediante su Ministro de Obras Públicas, solicitó los servicios activos de la SPIA, lo que me llevó a constituir una comisión de Ingenieros Geólogos y Sismólogos para evaluar la situación, informar a la población y ayudar con la reconstrucción de las poblaciones más afectadas. Durante todos los fines de semana, a partir de la fecha del terremoto y hasta el fin de mi periodo presidencial, viajé con comisiones de Ingenieros Civiles, expertos en las diversas especialidades, quienes instruyeron a los lugareños en la construcción adecuada de sus viviendas.