By Chanika Symister | PCP PIRE Research Assistant
Have you ever wanted to see a museum space before it was completed and experience what the designers, contractors and builders feel when their exhibits come together? Well, we were given the opportunity to get a "sneak peak" of the galleries that will be on display at BioMuseo in Panama City.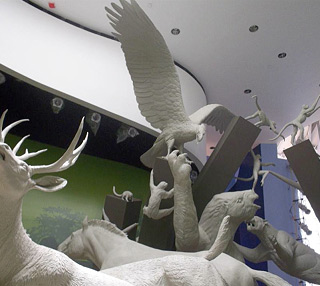 PCP PIRE participants visited Panama for the Panama Canal Authority (ACP) meeting on April 26th 2013. During our trip there, we met with George Angehr, the Curator of Exhibitions for the BioMuseo. The BioMuseo is an exquisite Frank Gehry design that is intended to impact thousands of persons each year once open. It will showcase Panama's biological diversity and will provide visitors with links between the emergence of the Isthmus of Panama and climatic and biological changes.
The first exhibit is the "Gallery of Biodiversity." This section serves as a welcome to guests and an introduction into Panama's spectacular diversity. "Panamarama" provides guests with a life-like experience into Panama's various environments. This exhibit will come alive with the sights and sounds of the irreplaceable surroundings through the eyes and ears of the animals that reside there. "Building the Bridge" is the third gallery where visitors can experience the creation of the Isthmus of Panama.
The fourth gallery, "Worlds Collide" will be an amazing showcase of the interchange of plants and animals from North and South America. Giant sculptures of these animals can be seen as you walk through the various galleries of the museum. This gallery is sure to be a hit with kids and parents alike! "Human Path" illustrates human life and culture in Panama. The sixth exhibit is "Oceans Divided." This gallery explains that Panama is the reason why two oceans very close to each other can be so different. "The Living Web" is a huge sculpture that illustrates how different species can be connected. Finally, "Panama is the Museum" will be a digitally interactive gallery that teaches visitors about the natural and cultural gems of Panama. The first five galleries will be open to the public by January 2014.
PCP PIRE has been collaborating with BioMuseo for the past three years by providing them with fossil casts to put on display in some of the galleries. We are very excited for the grand opening of the BioMuseo!
---
Por Chanika Symister | Asistente de Investigación PCP PIRE
¿Alguna vez has querido ver un museo antes de ser terminado y experimentar lo que diseñadores, contratistas y constructores sienten cuando sus exhibiciones están listas? Bueno, tuvimos la oportunidad de darle un vistazo a las galerías que estarán en exhibición en el BioMuseo en Ciudad de Panamá.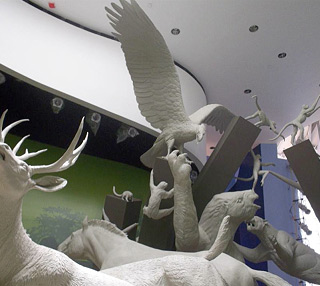 Los participantes del PCP PIRE visitaron Panamá para la reunión con la Autoridad del Canal de Panamá (ACP) celebrada el 26 de abril de 2013. Durante nuestro viaje nos reunimos con George Angehr, el curador de exposiciones del BioMuseo. El BioMuseo es un distinguido diseño de Frank Gehry que una vez abierto pretende impactar a miles de personas cada año. Allí se mostrará la diversidad biológica de Panamá y brindará a los visitantes información acerca de las relaciones entre el surgimiento del Istmo de Panamá y los cambios climáticos y biológicos.
La primera exposición es la "Galería de la Biodiversidad." Esta sección sirve de bienvenida a los invitados y ofrece una introducción a la espectacular diversidad de Panamá. "Panamarama" ofrece una experiencia de la vida en diversos entornos de Panamá. Esta exposición cobrará vida con las miradas y sonidos de alrededores irremplazables a través de los ojos y los oídos de los animales que viven allí. "El puente surge" es la tercera galería donde los visitantes pueden experimentar la creación del Istmo de Panamá.
La cuarta galería, "El gran intercambio" mostrará el intercambio de plantas y animales entre América del Norte y del Sur. Al caminar por las salas del museo se pueden ver las esculturas gigantes de estos animales. Esta galería seguro será un éxito con los niños y padres por igual. "Huella humana" ilustra la vida humana y la cultura en Panamá. La sexta exposición es "Océanos Divididos." Esta galería explica como Panamá es la razón por la cual dos océanos tan cercanos entre sí pueden ser tan diferentes. "La red viviente" es una enorme escultura que ilustra cómo se pueden conectar diferentes especies. Por último, "Panamá es el museo" será una galería digital interactiva que enseña a los visitantes acerca de las joyas naturales y culturales de Panamá. Las primeras cinco galerías estarán abiertas al público en enero de 2014.
PCP PIRE ha estado colaborando con BioMuseo durante los últimos tres años, proporcionándoles moldes de fósiles para exhibir en algunas de las galerías.