Luz Helena Oviedo | PCP PIRE former graduate student
Spanish was the official language at the 2013 All Hands meeting! The PCP PIRE All Hands was held in Panama City on September 12 as part of the XI Central American Geological Congress. This year's presenters gave their talks in Spanish and posters were bilingual given that PCP PIRE's event was open to the Congress' attendees.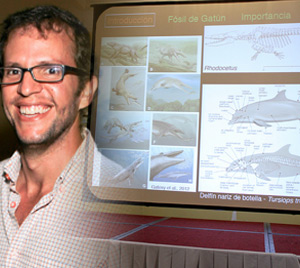 There was a special effort from non-native speakers to give their talks in Spanish. For some of them it was the first time presenting or in front of a large audience. It was a good way for native English speakers to practice their Spanish skills and experience the challenge of presenting in public in a foreign language—a common experience for the PCP PIRE team members who are native Spanish speakers.
PCP PIRE members presented 14 talks and more than a dozen posters about current research, education and outreach activities. Talks included reports on the fauna found in some localities like Las Cascadas, the oldest formation in the Panama Canal area and the Gatun formation where 677 species have been identified so far including sharks, rays, fishes and snails. Other researchers presented new species like the first fossil monkey found in the area, new bat species and a dugong, the biggest and most complete fossil mammal collected at the Panama Canal. Several researchers also covered the geochronology and thermochronology methods used to understand the age of the rocks and the Panama Isthmus exhumation.
About 50 PCP PIRE members attended to the All Hands 2013 including students, interns, evaluators and researchers.
---
Por Luz Helena Oviedo
¡Español fue el idioma oficial en la reunión "All Hands" 2013! Esta reunión del PCP PIRE se llevó a cabo en Ciudad de Panamá el 12 de septiembre en el marco del XI Congreso Centroamericano de Geología. Los presentadores de este año dieron sus charlas en español y los posters eran bilingües, dado que el evento del PCP PIRE estaba abierto a los asistentes al Congreso.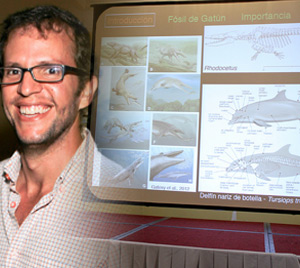 Hubo un esfuerzo especial de los hablantes no nativos para dar sus charlas en español. Para algunos de ellos era la primera vez que presentaban en español o que lo hacían para una gran audiencia. Fue una buena manera para que los angloparlantes practicaran sus habilidades en español y experimentaran el desafío de presentar en público en una lengua extranjera—una experiencia común para los miembros hispanoparlantes del equipo.
Los miembros del PCP PIRE presentaron 14 ponencias y más de una docena de posters sobre la investigación actual, la educación y las actividades de divulgación. Las charlas incluyeron informes sobre la fauna fósil encontrada en algunos lugares como Las Cascadas, la formación más antigua de la zona del Canal de Panamá y de la formación Gatún donde se han identificado 677 especies hasta el momento, incluyendo tiburones, rayas, peces y caracoles. Otros investigadores presentaron nuevas especies como el primer mono fósil encontrado en la zona, nuevas especies de murciélagos y un dugón, el fósil más grande y completo de mamífero que se ha encontrado hasta ahora en el Canal de Panamá. Varios investigadores también trataron los métodos de geocronología y termocronología utilizados para entender la edad de las rocas y la exhumación del Istmo de Panamá.
Cerca de 50 miembros PIRE PCP asistieron a la reunión All Hands 2013 entre estudiantes, pasantes, evaluadores e investigadores.