By Luz Helena Oviedo
International collaborations and experiences are key to the success of PCP PIRE. Members of several institutions in Latin America, the US and Europe shared research updates and experiences in Panama at the second All Hands meeting held November 1 – 2 in Gainesville.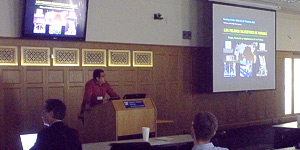 Researchers from a wide array of institutions including the University of Florida, Smithsonian Tropical Research Institute (Panama), Universidad de los Andes (Colombia), Universidad de Caldas (Colombia), University of Gothenburg (Sweden) and Florida Institute of Technology presented talks and posters.
Graduate students Jorge Pino, Catalina Pimiento and Carson Phillips presented their projects interacting with Panamanian organizations. Such collaborations vary from a traveling exhibit featuring wild cats of Panama funded by SENACYT, a unique course in Paleontology for Biology undergrads at University of Panama and a two way partnership with local institutions SOMASPA, CATHALAC and INDICASAT.
In addition to these joint initiatives, Panama is also hosting a number of PCP PIRE volunteers, teachers and interns. Members in Panama have increased the number of people looking for fossils in the field and strengthened education and outreach activities. Jason Carr, Jill Holliday, Daniel Johnston, Cheryl McLaughlin, Stacey Falls, Nicolas Perez and Elena Stiles presented talks on their international experiences.
Collaboration is critical in science and this is certainly true in PCP PIRE. The variety of organizations involved in the project help to accomplish its goals while providing it with unique nuances that make PCP PIRE a suitable opportunity for students and faculty to develop partnerships with other institutions and take advantage of international experiences.
---
Por Luz Helena Oviedo
Las colaboraciones y experiencias internacionales son clave para el éxito del PCP PIRE. Integrantes de varias instituciones en América Latina, EE.UU y Europa compartieron los avances de sus investigaciones y experiencias en Panamá durante la segunda reunión "All Hands" celebrada del primero al dos de noviembre en Gainesville.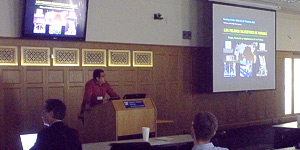 Investigadores de una gran gama de instituciones incluyendo la Universidad de la Florida, el Instituto Smithsonian de Investigaciones Tropicales (Panamá), Universidad de los Andes (Colombia), Universidad de Caldas (Colombia), Universidad de Gothenburg (Suecia) y el Instituto de Tecnología de la Florida presentaron charlas y posters.
Los estudiantes de posgrado Jorge Pino, Catalina Pimiento y Carson Phillips presentaron sus proyectos realizados en conjunto con organizaciones panameñas. Este tipo de colaboraciones van desde una exhibición itinerante sobre los felinos silvestres de Panamá financiada por SENACYT, un singular curso en Paleontología para estudiantes de licenciatura de Biología de la Universidad de Panamá hasta asociaciones de doble vía con las instituciones locales SOMASPA, CATHALAC e INDICASAT.
Además de estas iniciativas conjuntas, Panamá también está acogiendo voluntarios, maestros y pasantes del PCP PIRE. La presencia de estos participantes en Panamá ha aumentado el número de personas buscando fósiles en el campo y ha fortalecido las actividades de educación y divulgación. Jason Carr, Jill Holliday, Daniel Johnston, Cheryl McLaughlin, Stacey Falls, Nicolás Pérez y Elena Stiles presentaron sus experiencias internacionales.
La colaboración es fundamental en la ciencia y esto es cierto en el PCP PIRE. La variedad de organizaciones involucradas en el proyecto ayuda a lograr sus objetivos. Al mismo tiempo esta combinación proporciona matices únicos que hacen del PCP PIRE, una oportunidad propicia para que estudiantes y profesores puedan establecer asociaciones con otras instituciones y aprovechar al máximo las experiencias internacionales.