By Sean Moran
Over the summer, I was awarded the Mitchell Hope Scholarship from the Southwest Florida Fossil Club. On Saturday, September 15, I traveled from Gainesville to Punta Gorda to express my thanks and deliver a presentation about my current research interests. I pulled into the parking lot at the Punta Gorda Historical Society around 6:30 and was greeted by the Club President, Chuck Ferrara, and Treasurer and Newsletter Editor, Roxane Wilson. After I said my hellos to Roxane, Chuck, and other club members, I took notice of the wide range of fossils collected over the past few months and fossil memorabilia galore spread throughout the room. Chuck quickly ran through some of the meeting's matters, such as upcoming trips, recent events, and the like before handing me the floor to give my presentation.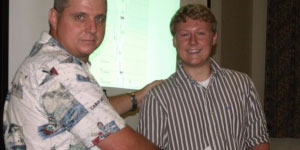 I was excited to address this audience as many are very familiar with the fossil horse teeth that abound throughout Florida, but not necessarily how they can be an important tool in investigating the evolution of diet. Early horses, before about 20 million years ago, fed on shrubs and trees much like the browsers of today, say giraffes for example. However, in the early Miocene we see evidence for a shift in the diets of select horses to an incorporation of some amount of grass in their diets. One of the more important horses around this time was the three-toed horse, Parahippus leonensis. This horse, which is estimated to have weighed around 160 pounds, is known to be one of the first horses to eat a fair amount of grass and is hypothesized to have given rise to all the grazing horses, some of which are still present today. My talk focused on how I am using techniques such as stable carbon isotope geochemistry and dental microwear patterns to look more deeply at the diet of P. leonensis and try to figure out why they may have shifted to feeding on grasses. More specifically, I described how I am going to look at possible patterns in diet that may have been driven by seasonal differences, such as temperature or precipitation, or by ontogeny, differences in diet during the growth of the individual.
Some great questions were asked after the presentation and I was able to talk with a few club members who were especially interested in the subject. Unfortunately, I wasn't able to stay for the rest of the meeting with the return drive still looming before me. However, I did have a great time presenting my research interests to the Southwest Florida Fossil Club and I hope they found the topic thought provoking and interesting. I cannot thank the club enough for allowing me this opportunity and for presenting me with the Mitchell Hope Scholarship.
---
Por Sean Moran
Durante el verano me otorgaron la Beca Hope Mitchell del Club de Fósiles del suroeste de la Florida. El sábado 15 de septiembre viajé desde Gainesville a Punta Gorda para expresar mi agradecimiento y presentar mis actuales intereses de investigación. Entré al estacionamiento de la Sociedad Histórica de Punta Gorda alrededor de las 6:30 y fui recibido por el presidente del club, Chuck Ferrara, y la Tesorera y Editora del Boletín, Roxane Wilson. Después de los saludos a Roxane, Chuck y otros miembros del club, me di cuenta de la gran variedad de fósiles colectados durante los últimos meses, y de los numerosos de objetos relacionados con fósiles desplegados por todo el salón. Chuck habló rápidamente sobre algunos asuntos del club, tales como los próximos viajes, acontecimientos recientes y similares, antes de darme la palabra para iniciar mi presentación.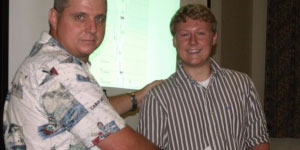 Yo estaba emocionado de estar frente a este público ya que muchos están muy familiarizados con los dientes de caballos fósiles que abundan en toda la Florida, pero no necesariamente sobre cómo pueden ser una herramienta importante de investigación sobre la evolución de su dieta. Los primeros caballos, de hace unos 20 millones de años, se alimentaban de arbustos y árboles, muy parecidos a los ramoneadores de hoy en día, por ejemplo las jirafas. Sin embargo, en el Mioceno inferior vemos la evidencia de un cambio en la dieta de algunos caballos, incorporando una cierta cantidad de hierba en sus dietas. Uno de los caballos más importantes de todo este tiempo fue el caballo de tres dedos, Parahippus leonensis. Este caballo, que se estima que pesaba alrededor de 160 libras, es conocido por ser uno de los primeros caballos que comía una buena cantidad de hierba. La hipótesis es que este ha dado origen a todos los caballos forrajeros, algunos de los cuales persisten en la actualidad. Mi charla se centró en cómo estoy utilizando técnicas como la geoquímica de isótopos estables de carbono y patrones dentales de microdesgaste para mirar más profundamente la dieta de Parahippus leonensis, y tratar de averiguar por qué han pasado a alimentarse de hierbas. Más específicamente, describí cómo voy a buscar los posibles patrones en la dieta que pudieron estar direccionados por diferencias estacionales, como la temperatura o la precipitación, o por ontogenia, es decir las diferencias en la dieta durante el crecimiento del individuo.
El público realizó algunos preguntas muy buenas luego de la charla y tuve la oportunidad de hablar con unos pocos miembros del club que estaban especialmente interesados en el tema. Desafortunadamente, no pude permanecer por el resto de la reunión ya que tenia el viaje de regreso todavía delante de mí. Sin embargo, pasé un gran rato presentando mis intereses de investigación en el Club de Fósiles del Suroeste de la Florida y espero que el tema les haya parecido tentador e interesante. No puedo agradecer lo suficiente al club por darme esta oportunidad y por presentarme a la beca Hope Mitchell.