By Cheryl Mclaughlin
Two years ago I was enjoying the beautiful beaches of Jamaica and waiting for documents from UF International Center to confirm my trip's itinerary. Now I am here and working with scientists and educators in the PCP-PIRE. I couldn't have made this up if I tried!

— Cheryl Mclaughlin
I am an international student from the island of Jamaica pursuing a doctoral degree in Science Education at the University of Florida. My research interests include the various ways practicing science teachers develop their professional knowledge about inquiry teaching and how this knowledge enables their practice.
I am currently participating in the California Teacher Project, which is part of the education and outreach component of the PCP-PIRE. Specifically, I am exploring how international field experiences in Panama will develop teachers' content knowledge and how this professional knowledge will shape their teaching practice.
After completing an undergraduate degree in Zoology and a master in Botany at the University of the West Indies, I moved to the Bahamas to begin my teaching career. After several years lecturing Biology at a Community College in Nassau, I decided to change gears by moving to New York to pursue a master in Education. I came to Florida shortly after completing that degree to pursue a doctorate in Curriculum and Instruction with a concentration in science education.
As a doctoral fellow in the College of Education, I am required to teach university level courses in addition to my research activities. Currently I teach a science methods course for pre-service elementary school teachers as well as a curriculum development course for in-service science teachers who are enrolled in a job-embedded masters program. I particularly enjoy working with in-service science teachers and I am interested in exploring emerging approaches to their development in the profession. I believe that the traditional mode of professional development typically does not legitimize the personal and practical knowledge or experiences that teachers have acquired over the course of their careers. I think that less conventional opportunities such as authentic research experiences with scientists could contribute enormously to the science teacher's personal and professional development.
I am forever grateful to Dr. MacFadden for including me in this once-in-a-century experience along the Panama Canal. It has contributed tremendously to my personal, educational and professional growth.
---
Por Cheryl Mclaughlin
Hace dos años estaba disfrutando de las hermosas playas de Jamaica y a la espera de los documentos del Centro Internacional de la Universidad de la Florida para confirmar el itinerario de mi viaje. Ahora estoy aquí trabajando con los científicos y educadores del PCP-PIRE. ¡No podría haber inventado esto así lo hubiera intentado!

— Cheryl Mclaughlin
Soy estudiante internacional de la isla de Jamaica haciendo un doctorado en Ciencias de la Educación en la Universidad de la Florida. Mis intereses de investigación incluyen las diferentes formas en que los profesores de ciencias desarrollan su conocimiento profesional sobre la enseñanza de la investigación y cómo este conocimiento permite su práctica.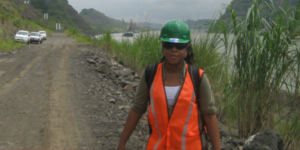 Actualmente estoy participando en el Proyecto de Maestros de California, que es parte del componente de educación y difusión del PCP-PIRE. En concreto, estoy explorando cómo las experiencias internacionales en Panamá desarrollarán el conocimiento de los profesores y cómo este conocimiento profesional dará forma a su práctica docente.
Luego de terminar una licenciatura en Zoología y una maestría en Botánica de la Universidad de las Indias Occidentales, me mudé a las Bahamas para comenzar mi carrera como docente. Después de varios años dando clases de biología en una institución educativa en Nassau, decidí cambiar el rumbo y mudarme a Nueva York para hacer una maestría en Educación. Vine a la Florida un poco después del grado, para hacer un doctorado en Currículo e Instrucción, con una concentración en la educación científica.
Como becaria de doctorado de la Facultad de Educación, tengo la obligación de impartir cursos de nivel universitario, además de mis actividades de investigación. Actualmente enseño un curso de métodos científicos a estudiantes para maestros en escuelas primarias, así como un curso de desarrollo curricular para profesores de ciencias que están inscritos en una maestría con trabajo-integrado. Particularmente me gusta trabajar con los profesores de ciencias en servicio y estoy interesada en la exploración de nuevos enfoques para su desarrollo en la profesión. Creo que el modo tradicional de desarrollo profesional por lo general no legitima el conocimiento personal y práctico o las experiencias que los maestros han adquirido a lo largo de sus carreras. Creo que las oportunidades menos convencionales, tales como experiencias auténticas de investigación con los científicos podrían contribuir enormemente al desarrollo personal y profesional de los educadores de la ciencia.
Estoy eternamente agradecida con el Dr. MacFadden por incluirme en esta experiencia única en el Canal de Panamá. Esto ha contribuido enormemente a mi crecimiento personal, educativo y profesional.