By Rebecca Koll
I was the child in elementary school who was consistently late coming in from recess because, as I would explain to my teachers, there was a great shiny beetle and I simply had to see where he was headed. Or maybe I had stumbled across a patch of wild strawberries that I couldn't just ignore. I would then hand the teacher a pile of colored leaves I had collected. This inquisitive nature has certainly matured over the years–but it has never waned–which has allowed me to develop a passion for the study of palynology and paleobotany.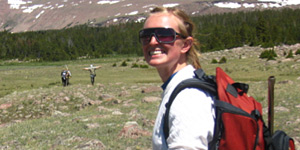 As a new PhD student at the University of Florida, I come to PCP-PIRE with an undergraduate background in tropical horticulture and a Master of Science in Geography. Through my undergraduate studies, I was involved in several projects focused on the collection and description of extant tropical aquatics. This research encouraged me to pursue ecology, ultimately leading me to focus on the paleoecology. My thesis work focused on the influence of paleofire disturbance and climate regimes on high elevation plant communities in the Intermountain West of North America.
My research focuses on environmental reconstructions both from climatology and biogeographical viewpoints. Major themes of this research include the evolutionary relationships of plant communities as well as the influence these communities have on the environment and what this indicates for future climate. My research uses fossil pollen, plant and wood fragments as the primary proxies to investigate these lines.
I will be working with Drs. Carlos Jaramillo of the Smithsonian Tropical Research Institute and Steven Manchester of the Florida Museum of Natural History to investigate Tertiary floral patterns of Panama. I am interested in learning what plant families first colonized emergent Panamanian land and the biogeographical relationship of these communities to other regions, such as Africa, Australasia and South America. Additionally, I would like to explore what disturbance factors are acting on species diversification and radiation patterns of Eocene-Miocene Panamanian flora.
---
Por Rebecca Koll
Yo era la niña en la escuela primaria que siempre llegaba tarde después del receso porque, como les explicaba a mis maestros, había un gran escarabajo brillante y yo simplemente tenía que ver a dónde se dirigía. O tal vez me había encontrado con unas fresas silvestres que yo no podía pasar por alto. Luego le pasaba a la profesora un montón de hojas de colores que había recogido. Esta naturaleza indagadora sin duda ha madurado a lo largo de los años, pero nunca ha disminuido, lo cual me ha permitido desarrollar una pasión por el estudio de la palinología y la paleobotánica.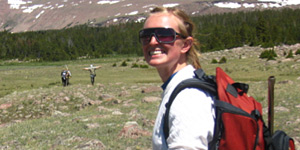 Como nueva estudiante de doctorado en la Universidad de Florida, llego al PCP-PIRE con un pregrado en horticultura tropical y una Maestría en Geografía. A través de mis estudios universitarios he participado en varios proyectos centrados en la recopilación y descripción de los acuáticos tropicales actuales. Esta investigación me animó a seguir la ecología y en última instancia, a centrarme en la paleoecología. Mi trabajo de tesis se centró en la influencia de las perturbaciones de paleoincendios y regímenes climáticos en comunidades de plantas de elevaciones altas en la región montañosa del Oeste de América del Norte.
Mi investigación se centra en las reconstrucciones ambientales desde el punto de vista de la climatología y biogeografía. Los temas principales de esta investigación son las relaciones evolutivas de las comunidades vegetales, así como la influencia que estas comunidades tienen sobre el medio ambiente y lo que esto indica para el clima futuro. En mi investigación uso fósiles de polen, plantas y fragmentos de madera como indicadores principales para investigar estas líneas.
Voy a estar trabajando con los doctores Carlos Jaramillo del Instituto Smithsonian de Investigaciones Tropicales y Steven Manchester del Museo de Historia Natural de la Florida para investigar patrones florales del Terciario de Panamá. Estoy interesada en conocer las primeras familias de plantas que colonizaron Panamá al momento de su surgimiento y la relación biogeográfica de estas comunidades con otras regiones como África, Australasia y América del Sur. Además me gustaría explorar que factores de perturbación están actuando en la diversificación de las especies y los patrones de radiación del Eoceno-Mioceno de la flora panameña.