By Bruce MacFadden
As a result of discussions last year at the All-Hands meeting, the PCP PIRE planned to develop new partnerships with institutions in Colombia. This was precipitated by the move of Dr. Camilo Montes, who had worked with us at STRI, to University of the Andes in 2011. Thanks to the invitation of Camilo, from 16 to 20 September I travelled to Colombia and was hosted by the Department of Geosciences at the University of the Andes, a modern campus located in the center of Bogota. I presented two talks. The first was a formal seminar attended by more than 100 faculty and students entitled: "Miocene mammals of Panama: The ancient Neotropics as a cradle of biodiversity." The second talk on the Great American Biotic Interchange (GABI) was presented in a graduate course with about a dozen students and co-taught by Camilo and faculty in the biology department.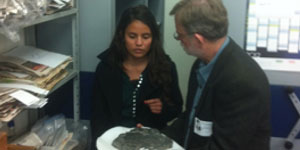 During my visit I talked with faculty, administrators and students as well as toured various research laboratories and—thanks to Dr. Santiago Madriñán—the natural history museum in the Biology Department. Although the natural history museum has traditionally been focused on living species, thanks to the work of graduate students like Camila Martinez (photo), research on fossil plants has now become incorporated into Santiago's lab and into the museum collections. The museum primarily functions to serve research and the university community. Nevertheless, understanding the importance of the public, they also host school classes, other public events and have displayed a biodiversity exhibit in a public gallery at the university. I also had the opportunity to visit Dr. Leslie Noé, a vertebrate paleontologist in the Department of Geoscience, who studies Cretaceous marine reptiles from Colombia and Dr. Germán Prieto, a seismologist who studies the fascinating phenomenon of earthquake nests, of which Colombia has one of the best examples in the world.
I was most impressed with the facilities and the positive energy and enthusiasm of the faculty, students and administration at U. de los Andes. Colombia is well positioned geographically to understand the details of the Great American Biotic Interchange (GABI) on the south side of the land bridge. There are extensive Neogene sediments in Colombia that potentially provide the fossil evidence of GABI, and therefore there is much to contribute to knowledge of GABI. I thank Camilo, the students and faculty at U. de los Andes for a very warm welcome and look forward to continuing development of scientific collaborations in the future.
---
Por Bruce MacFadden
Como resultado de las discusiones del año pasado durante la reunión All-Hands, el PCP-PIRE planeó el desarrollo de nuevas asociaciones con instituciones en Colombia. Esto fue precipitado por el traslado del Dr. Camilo Montes, quien había trabajado con nosotros en STRI, a la Universidad de los Andes en 2011. Gracias a la invitación de Camilo, viajé a Colombia del 16 al 20 septiembre. Este viaje fue organizado por el Departamento de Geociencias de la Universidad de los Andes, un campus moderno situado en el centro de Bogotá. Allí presenté dos ponencias. La primera fue un seminario formal con la asistencia de más de 100 profesores y estudiantes, titulada: "Los mamíferos del Mioceno de Panamá: el Neotrópico antiguo como cuna de biodiversidad." La segunda charla sobre el Gran Intercambio Biótico Americano (GABI) se presentó en un curso de postgrado con cerca de una docena de estudiantes y fue dictado junto a Camilo y otros profesores del departamento de biología.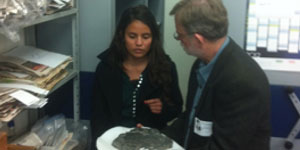 Durante mi visita hablé con profesores, administradores y estudiantes. También recorrí varios laboratorios de investigación y gracias al Dr. Santiago Madriñán, el Museo de Historia Natural en el Departamento de Biología. Aunque el museo de historia natural ha estado tradicionalmente centrado en las especies actuales, gracias a la labor de los estudiantes de postgrado como Camila Martínez (foto), la investigación de plantas fósiles se ha incorporado en laboratorio de Santiago y en las colecciones de los museos. El museo esta dedicado principalmente a la investigación y al servicio de la comunidad universitaria. Sin embargo, entendiendo la importancia del público, ellos también acogen grupos escolares, realizan eventos públicos y han organizado exhibiciones de biodiversidad en una galería pública en la universidad. También tuve la oportunidad de visitar al Dr. Leslie Noé, un paleontólogo de vertebrados en el Departamento de Ciencias de la Tierra, que estudia reptiles marinos del Cretácico de Colombia y al Dr. Germán Prieto, un sismólogo que estudia el fenómeno fascinante de nidos sísmicos, de los cuales Colombia tiene una de los mejores ejemplos en el mundo.
Me quedé muy impresionado con las instalaciones, la energía positiva y el entusiasmo de profesores, estudiantes y la administración en la U. de los Andes. Colombia está bien posicionada geográficamente para entender los detalles del Gran Intercambio Biótico Americano (GABI) en el lado sur del puente de tierra. Hay extensos sedimentos del Neógeno en Colombia que potencialmente proporcionan la evidencia fósil del GABI, y por lo tanto hay mucho que aportar al conocimiento de este intercambio. Doy las gracias a Camilo, los estudiantes y profesores de la U. de los Andes por una bienvenida muy cálida y quedo con ganas de continuar el desarrollo de colaboraciones científicas en el futuro.