By Stephanie Lukowski
When I first found out that I was going to Panama, I wasn't sure what I'd be getting into. Prior to working in Panama, I had plenty of field experience. As a graduate student at the South Dakota School of Mines, I spent my summers collecting fossils in the Crazy Mountains Basin in Montana and the Bighorn basin in Wyoming. I also had the opportunity to volunteer in Badlands National Park in South Dakota before they closed the "Big Pig Dig". Subsequent to graduate school, I worked in a small museum where I helped remove giant mammoth fossils from the in situ bonebed. Later, I even worked as a paleontological consultant searching for and removing fossil material–everything from dinosaurs to plants and invertebrates to small mammals– throughout much of the western United States. However, none of those experiences entirely prepared me for how challenging and rewarding it has been to work in Panama.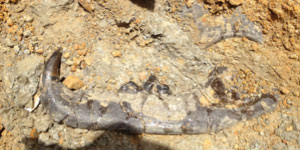 Collecting fossils in Panama has been a unique and wonderful experience. All of our localities are along the Canal, which allows us to watch ships pass as we work at the various quarries. This provides us not only an interesting perspective of the Canal itself, but on field work in general. It is not often that one gets to quarry for fossils and watch cruise ships and cargo ships sail by in the Panama Canal. Because we are in the tropics and so close to a large water source, the area is much more vegetated than in other areas I have worked. The vegetation can obscure outcrop that would otherwise be of interest, and at times it can just be an annoyance to hike through although it can occasionally provide some much needed shade. Also, being in the tropics has meant hot and humid days with the occasional torrential downpour in the field, which is a definite contrast to the dry, hot days I am used to in the Western United States. Luckily, all of our localities are close to roads, which give us access to amazing fossils either right off the road or within a short hike.
I have been surprised at the abundance of fossils we find within our field area. The most common material recovered is turtle shells which can range from being mostly complete to just small fragments. We have also found numerous crocodile teeth as well as crocodile scutes. In my opinion, however, the most interesting fossils that have come from the canal have been from mammals. We have found many isolated mammal teeth, from small rodents to large rhinos. We have also found limb bone fragments and vertebrae from a number of different mammal species. The most exciting finds have been the jaws we found in the last few weeks. Three of the jaws belong to different artiodactyls , such as protoceratids and oreodonts, which were animals somewhat similar to deer or sheep. My favorite fossil from the Canal, thus far, is a jaw of an amphicyonid, also known as a bear dog. Carnivores are pretty rare to find in the field, as they are less common that herbivorous animals in general, so I was very excited when I uncovered it!
Every week we continue to find more fossil material that will ultimately contribute to our knowledge of the Miocene in Panama. I feel very lucky to be a part of such an important project, and such an unforgettable experience.
---
Por Stephanie Lukowski
Cuando supe que iba para Panamá, no estaba segura en que me estaba metiendo. Antes de trabajar en Panamá, tenia gran experiencia en el trabajo de campo. Como estudiante de posgrado en la Escuela de Minas de Dakota del Sur, pase mis veranos colectando fósiles en Montana en la cuenca de las Crazy Mountains y en Wyoming en la cuenca Bighorn. También tuve la oportunidad de ser voluntaria en el parque nacional Badlands en Dakota del Sur antes de que cerraran la excavación "Big Pig Dig". Posteriormente en el pregrado, trabaje en un pequeño museo donde ayudé a sacar fósiles de mamut gigante. Más adelante, trabaje como consultora paleontológica buscando y removiendo material fósil por gran parte del oeste de los Estados Unidos, desde dinosaurios hasta plantas y desde invertebrados a pequeños mamíferos. Sin embargo, ninguna de esas experiencias me prepararon totalmente para lo desafiante y gratificante que ha sido trabajar en Panamá.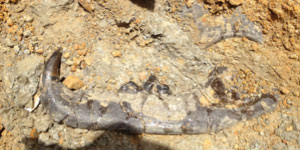 Colectar fósiles en Panamá ha sido una experiencia única y maravillosa. Todas nuestras localidades están a lo largo del Canal, lo cual nos permite ver los barcos que pasan a medida que trabajamos. Esto nos da no solo una perspectiva interesante del Canal como tal, sino del trabajo de campo en general. No siempre uno tiene la oportunidad de sacar fósiles y ver cruceros y barcos de carga navegar por el Canal de Panamá. Debido a que estamos en los trópicos y muy cerca de una fuente grande de agua, el área tiene mucha más vegetación que en otros lugares en los que he trabajado. La vegetación puede ocultar afloramientos que de otro modo serían de interés. En ocasiones la vegetación también puede ser una molestia para caminar y a veces puede dar un poco de sombra la cual es muy necesaria. Estar en los trópicos también ha implicado días calientes y húmedos con torrenciales aguaceros ocasionales en el campo, lo cual es un claro contraste a los días secos y calurosos a los que estoy acostumbrada en el oeste de Estados Unidos. Afortunadamente todas nuestras localidades están cerca de caminos, lo que nos da acceso a fósiles increíbles al lado de la carretera o luego de una corta caminata.
La abundancia de fósiles que encontramos en nuestra área de campo me ha sorprendido. El material más común que colectamos son caparazones de tortugas los cuales pueden estar casi completos o solo ser pequeños fragmentos. También hemos encontrados numerosos dientes y osteodermos de cocodrilos. Sin embargo en mi opinión, los fósiles más interesantes provenientes del Canal han sido de mamíferos. Hemos encontrado muchos dientes aislados de mamíferos, desde pequeños roedores hasta grandes rinocerontes. También hemos encontrados fragmentos de huesos y vertebras de diferentes especies de mamíferos. Los descubrimientos más importantes han sido las mandíbulas que encontramos en las ultimas semanas. Tres de ellas son de diferentes artiodáctilos, como protoceratidos y oreodontes, los cuales eran animales similares a los venados y ovejas. Mi fósil favorito del Canal hasta ahora, es una mandíbula de un anficiónido, también conocido como oso perro. Es muy raro encontrar carnívoros en el campo ya que son poco comunes que los herbívoros en general, entonces estaba muy emocionada cuando lo encontré!
Cada semana seguimos encontrando más material fósil que en ultima instancia contribuirá al conocimiento del Mioceno en Panamá. Me siento muy afortunada de ser parte de tan importante proyecto y de tan inolvidable experiencia.