By Jorge Luis Pino
After a year of designing it as class project, the exhibit "Wild Cats of Panama" is now a reality traveling across Panama. This exhibition was planned during the course Broader Impacts, offered by the PCP-PIRE at the University of Florida. The exhibition is targeted to local students and teachers and it has updated information about the diversity, ecology and conservation of this threatened group of mammals in Panama.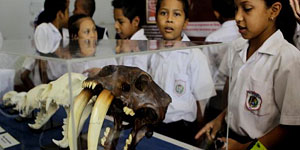 The exhibit opening was on July 25th at the Natural Sciences Museum in Panama City. Members of the National Secretary of Science, Technology and Innovation (SENACYT), National Environment Authority (ANAM), Ministry of Education (ME), National Institute of Culture (INAC) and the Summit Municipal Park participated in the event. Researchers and members of mass media were also present, as well as the most important guests: students from local schools. Collaboration among the Panama Mammal Society (SOMASPA), SENACYT and ME made it possible for this traveling exhibit to start its journey. So far, the exhibit has been at "El Empalme" high school in Bocas del Toro province and at "Instituto David" school in Chiriquí province. In addition to the exhibit, a conference was also held at both schools about research and monitoring of felids conducted by SOMASPA. These conferences have allowed a more direct interaction with students.
In both places, I was able to see faces of admiration and intrigue while people read and looked at the text, pictures and replicas of the cats' skulls; meanwhile, I was also bombarded by questions. This exhibit has been a totally different experience for me compared to being at molecular biology labs or in classrooms discussing theories of ecology and conservation. However t is an important opportunity to disseminate knowledge to a community that demonstrates a strong interest in this type of information and where future decision makers are.
In addition to promoting a better understanding of wild cats, this activity contributes to the work that local and international conservation organizations like PANTHERA and SOMASPA are developing in the region. You can follow the journey of this exhibition at: www.exhibicionfelinospanama.weebly.com
---
Por Jorge Luis Pino
Un año después de haber ideado un proyecto para una clase, la exhibición "Los Felinos silvestres de Panamá", es hoy una realidad que se encuentra viajando a través de ese país. Esta exhibición fue planeada durante el curso Impactos de la Ciencia en la Sociedad, auspiciado por el PCP-PIRE en la Universidad de Florida. La exhibición ha llegado principalmente a estudiantes y profesores locales con información actualizada sobre la diversidad, ecología y conservación de este grupo de mamíferos amenazados en Panamá.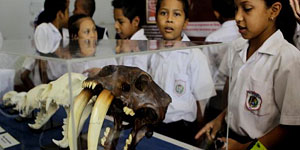 El lanzamiento de la exhibición se realizó el 25 de julio en el Museo de Ciencias Naturales, en ciudad de Panamá. Representantes de la Secretaría Nacional de Ciencia, Tecnología e Innovación (SENACYT), la Autoridad Nacional del Ambiente (ANAM), el Ministerio de Educación (ME), el Instituto Nacional de Cultura (INAC) y el Parque Municipal Summit, participaron en el evento. También estuvieron presentes investigadores, medios de comunicación y los más importantes de este evento: los estudiantes de escuelas locales. La colaboración interinstitucional entre la Sociedad Mastozoológica de Panamá (SOMASPA), SENACYT y el ME, ha permitido iniciar el recorrido de esta exhibición. Hasta el momento, la exhibición ha sido presentada en la escuela secundaria "El Empalme" en la provincia de Bocas del Toro y en el colegio "Instituto David" en la provincia de Chiriquí. En ambos colegios se ha brindado una conferencia sobre los trabajos de investigación y monitoreo de felinos que la SOMASPA realiza en Panamá, lo cual ha permitido una interacción más directa con los estudiantes.
En estos dos lugares, pude notar en la audiencia rostros de admiración y de intriga al leer el material, y al mirar las fotos y réplicas de los cráneos de felinos. Así mismo, las preguntas no se hacían esperar. Esta es una experiencia totalmente diferente a la que se vive en los laboratorios de biología molecular y en las aulas en donde se discuten teorías de ecología y conservación, sin embargo es una oportunidad importante para diseminar el conocimiento a una comunidad que demuestra un gran interés en este tipo de información y en dónde se encuentran los futuros tomadores de decisiones del país.
Además de promover un mejor entendimiento sobre los felinos silvestres, esta actividad también contribuye a con las iniciativas locales e internacionales de conservación de felinos en que organizaciones como SOMASPA y PANTHERA se encuentran desarrollando en la región. Los interesados en esta exhibición podrá seguir sus pasos a través del internet en el sitio: www.exhibicionfelinospanama.weebly.com.